Post Date: 06/10/2020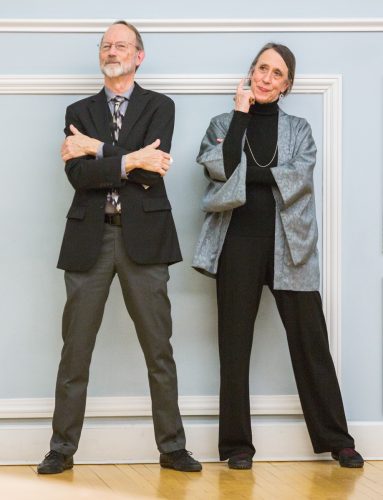 Joan Kimball and Bob Wiemken – artistic co-directors of the Philadelphia-based period music ensemble Piffaro, the Renaissance Band – will retire from directing and performing with the ensemble that they founded over four decades ago. Kimball and Wiemken will step down at the end of the ensemble's 2021/2022 season and turn over the leadership to Priscilla Herreid, a longtime member of the ensemble.
In 1980, the ensemble began as a local effort to explore the then largely unknown world of Renaissance double reed instruments and to create performing opportunities for early wind players in the Philadelphia region. In the ensuing 40 years of Kimball and Wiemken's leadership, Piffaro has become a highly regarded ensemble in the expanding field of early music, both in this country and abroad. In addition to its annual concert series in Philadelphia and Wilmington, Piffaro has toured throughout North America and performed at major early music festivals in Europe and South America.
In addition to their extensive concertizing, Kimball and Wiemken worked closely with instrument makers to build an unsurpassed collection of over 60 instruments modeled on their historical antecedents, learning lessons through the process that have changed performance practice in their discipline. They have unearthed long-overlooked instrumental works from the late 15th to the early 17th centuries and added them to the canon through Piffaro's 20 recordings, including four on the prestigious Deutsche Grammophon Archiv label, which devoted an entire CD of its massive History of Classical Music on 100 CDs to the ensemble.
Kimball and Wiemken approached retirement with the same thoughtful deliberation that they brought to building nearly 150 musical programs, beginning with the question, "Should Piffaro continue?" The answer, especially from the ensemble's musicians, was a resounding "yes!" Erik Schmalz, one of the group's two historical brass specialists, wrote, "It would be a shame to let everything that you've built just go away. Not only would it be a sad day for Philadelphia, but it really would leave a big hole in concert repertoire of the U.S. Almost nobody else is doing the music that Piffaro does or playing those instruments."
After a two-year process to select a successor and develop a strategy ensuring that the organization successfully transitions from its founders to its future, Piffaro's board of directors is pleased to announce the appointment of Priscilla Herreid as artistic director designate. "The best choice for the ensemble would be someone from within the group," said Kimball and Wiemken. "Someone who could maintain the distinctive Piffaro sound and continue to pursue its mission, yet also guide it into new ventures. Priscilla was the clear choice. She has our full support, as well as that of the band and the board of directors."
Herreid has been a member of the ensemble since 2007. A graduate of Temple University and Juilliard, she enjoys a thriving career performing with top early music ensembles in the United States, but Piffaro has always been at the center of her professional life. Herreid is in the midst of a 2-year administrative mentorship with Kimball and Wiemken and will assume her new role at the beginning of the 2022/23 concert season.
To read the artistic directors' full statement, visit piffaro.org.