Post Date: 02/25/2022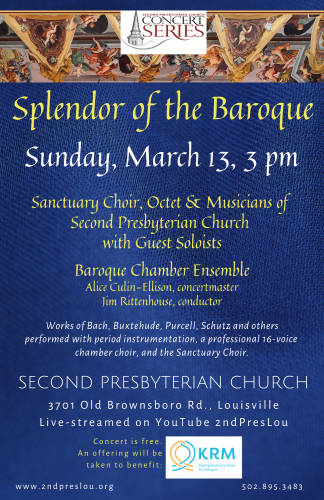 LOUISVILLE, February 7 – Almost on the exact date it was canceled in 2020 when a state shutdown for Covid was announced, The Concert Series of Second Presbyterian Church will present SPLENDOR OF THE BAROQUE – Sunday, March 13, 2022, at 3:00 p.m. Second Presbyterian's Sanctuary Choir, professional Octet, and 8 additional vocal professionals, and period-instrument chamber orchestra will perform gems of the Baroque period, conducted by Jim Rittenhouse. The concert will be in the church's sanctuary at 3701 Old Brownsboro
Road, near the intersection of Brownsboro Road and Chenoweth Lane in Indian Hills, as well as live-streamed on YouTube channel 2ndPresLou. Admission is free. A reception will follow.
The program will include favorite motet of Bach, Komm, Jesu, Komm along with Ehre sei dir, Gott gesungen from his Christmas Oratorio and Sing Praises, Ye Faithful from Cantata 172. Also featured is the rarely performed Membra Jesu Nostri of Buxtehude for choral and instrumental ensemble; Henry Purcell's Cold Song from his opera King Arthur, performed by Cincinnati-based countertenor Nicholas Kelliher, who has just advanced in the Metropolitan Opera Council Auditions in the Philadelphia District. Solo selections from Purcell and Hildegard von Bingen will be performed by Second Presbyterian's mezzo-soprano Laura Atkinson and Sarah Tubbesing Coleman. The ensemble will also present a series of instrumental gems for violins, viola,
violoncello, theorbo, and Baroque portativ organ with Second Presbyterian's Samuel Libra, and concertmaster Alice Culin-Ellison, violinist.
In Second's continuing spotlight on mission partners, a freewill offering will be taken to support
Kentucky Refugee Ministries (www.kyrm.org). KRM is dedicated to providing resettlement services to refugees through faith- and agency-based co-sponsorship in order to promote self-sufficiency and successful integration into our community.
*******
Sunday, March 13, 2022 * 3 p.m.
Second Presbyterian Church, 3701 Old Brownsboro Rd., Louisville, KY 40207
Live-streamed on YouTube 2ndPresLou
Admission is free.
Information about the concert: Jim Rittenhouse jrittenhouse@2ndpreslou.org or 895-3483 x212.
www.2ndpreslou.org Interviews with Concert Series personnel are available.
—–
About Second Presbyterian's Concert Series:
Second Presbyterian's Concert Series was begun as a musical and artistic outreach of the church in 2010. It is the vision of our Concert
Series to offer sacred and culturally relevant musical experiences in a variety of styles that touch the heart, stir the soul, and inspire
audiences to connect their love of the arts to their relationship with God. We are delighted to bring in artists from outside our region, along
with featuring the fine musical gifts of Second Presbyterian's ensembles, local musicians, and to feature our 48-rank Casavant organ