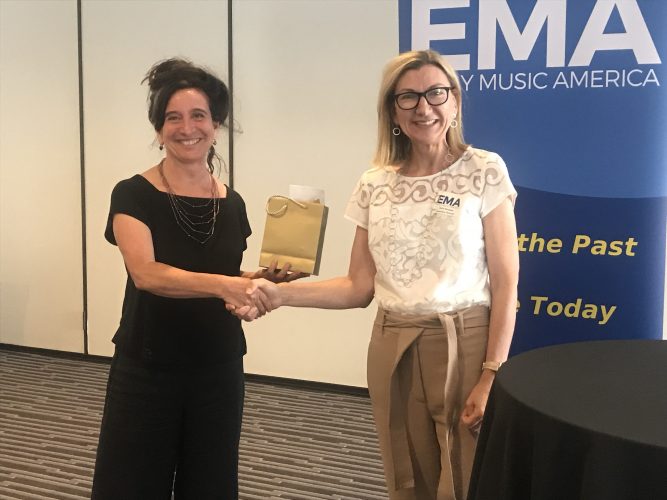 On Wednesday, June 12, Early Music America presented Nina Stern and S'Cool Sounds with the 2019 Laurette Goldberg Award for lifetime achievement in early music. Below is a copy of her acceptance speech.
Learn more about the Goldberg Award and EMA's other Annual Awards
---
"Thank you, Karin; we are so honored to receive this award.
In 2002, when first we founded this program – at the time referred to as the Education Program for the New York Collegium, now called S'Cool Sounds – I had no idea how it would grow and develop, how many lives it would touch, and how deeply it would inspire me.
I am inspired by my board members – people like Peter Faber, a recently retired and prominent tax lawyer, or another board member, the retired CTO of a major bank, or another who is Executive Director of a foundation which seeks to empower a new generation of women leaders in Southeast Asia, or a young financial advisor, and more. All of these highly accomplished and very busy people care enough about the S'Cool Sounds mission to contribute a great deal of time, thought, and expertise to furthering that mission – to inspire, educate, and connect children and communities through music.
Without Peter, we never would have become an independent non-profit, we wouldn't be working with hundreds of children and adults on three continents., we wouldn't be connecting people through music. So, thank you Peter.
You inspire me!
We have an incredible team of teaching artists – supremely talented young professional performing musicians who are also dedicated to sharing their passion and their talents with people less fortunate than they.
I have learned so much from them, about teaching styles, learning styles, and performance styles, about jazz, about traditional Kenyan music, about traditional Arabic music, about improvisation. Young musicians are just incredibly poised, well-trained, and fearless these days!
They inspire me!
Most of all, though, I am inspired by our students whether it's a second-grader in the Bronx fearlessly taking a solo in "C Jam Blues"or a 5th grader break dancing to a Cantiga de Santa Maria, or a group of kids from one of our schools in the Kibera slum of Nairobi having the courage to compete – in their tattered school uniforms – in a national music competition against schools from all over the country and winning – not once, not twice, but three times! Whether it's formerly homeless tenants in one of our partner organization Breaking Ground's residences, daring to perform for everyone, including invited guests, at a Thanksgiving dinner – showing off their new skills. (One of our recorder players from a residence in Brooklyn has now been spotted on several occasions at his local subway station busking. I understand that he is doing quite well!)
They all inspire me!
The recorder is, of course, a much beloved early music instrument. For me – a professional recorder player and early music specialist – to see the instrument used to open hearts and minds, to see it give the opportunity for creative expression and connect people and communities gives me great joy. Thank you EMA for recognizing what we do."