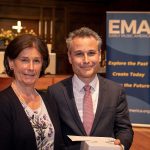 Early Music America is pleased to announce Eric Rice as the recipient of the 2019 Thomas Binkley Award for outstanding achievement in performance and scholarship by the director of a university or college early music ensemble. This award is named for the legendary lutenist and educator Thomas Binkley, who taught at the Schola Cantorum Basiliensis, made ground-breaking recordings with the Studio der Frühen Musik, and served as founding director of the Early Music Institute at Indiana University.
I am deeply honored to receive Early Music America's Thomas Binkley Award. Robert Greenlee, who introduced me to the richness of early repertory at Bowdoin College, was a student of Binkley's, and so in some ways, the gratitude I feel for entering a field that has given me so much joy is due to Binkley as well. I am grateful to my colleagues at the University of Connecticut and in Ensemble Origo, particularly Mary Gerbi, who has shouldered many a logistical burden for me. I am also extremely grateful to my students, whose hard work and advocacy for the repertory and their ensemble is an inspiration.

-Eric Rice
Rice's recent performing work has involved both his professional group, Ensemble Origo, and the Collegium Musicum he directs at the University of Connecticut (UConn), with occasional collaboration between the two ensembles.
Ensemble Origo has presented and recorded three musical reconstructions. The most recent was a Lutheran mass as it might have been heard ca. 1530 (in commemoration of the 500th anniversary of the start of the Protestant Reformation), including polyphony by Josquin des Prez and Johann Walter. Prior to that was a group of four musical vignettes by Orlando di Lasso from the 1568 wedding celebration of Wilhelm V to Renate of Lorraine at the Munich court of Albrecht V —which initially captured his interest because of Lasso's moresche, musical representations of black African slaves. The group's first recording project was the coronation mass of Charles V in Bologna in 1530, with polyphony by Costanzo Festa and Nicolas Gombert; parts of the recording are being used in a virtual reality reconstruction of the event in development with Greenhouse Studios at UConn. All three of these recordings are in various stages of post-production.
The UConn Collegium Musicum collaborated with Ensemble Origo in a modern premiere of Sebastian Knüpfer's polychoral cantata Christ lag in Todesbanden, which had been edited by baroque violinist Daniel Lee (of The Sebastians) as part of his UConn doctoral dissertation on the piccolo violin in the Leipzig orbit. The Collegium has also collaborated with professional early-music specialists in a North American premiere of Reinhard Keiser's Brockes-Passion. Other recent programs include a "Shakespeare's Songbook" concert (to commemorate the 400th anniversary of the Bard's death), with music from the plays (thanks to Ross Duffin's extraordinary work) and Tallis's 40-part Spem in alium; a "Magical Motet History Tour" with motets and ricercars from Perotin to Poulenc that the ensemble was able to perform on tour in some of the European cities that produced them; "Early Music and the African Diaspora" (in commemoration of the 50th anniversary of the African-American Cultural Center at UConn), and "Vox feminae," a survey of composers before 1750 (to commemorate the 400th anniversary of Barbara Strozzi's birth).
---
Musicologist and conductor Eric Rice is a specialist in the history and performance of music composed before 1750. He is Head of the Music Department at the University of Connecticut in Storrs, where he teaches undergraduate and graduate courses in music history, notation, and historical performance, and he also serves as a member of the Medieval Studies faculty. He demonstrates the relationship between scholarship and performance as director of the University of Connecticut Collegium Musicum.
In his scholarship, Rice focuses primarily on medieval and Renaissance music of the Western liturgy and its relationship to architecture, politics, and secular music. He is the author of Music and Ritual at Charlemagne's Marienkirche in Aachen (Merseburger Verlag, 2009) and co-editor of Young Choristers, 650-1700 (Boydell & Brewer, 2008), the first scholarly volume dedicated to the history of professional child singers. His articles have appeared in Current Musicology, the Journal of Musicological Research, the Revue de Musicologie, and Viator. He has received fellowships from the Deutscher Akademischer Austauschdienst and the Andrew W. Mellon Foundation to pursue archival research in Germany and France.
As a performer, Rice seeks to pique interest in the cultures of the distant past through the immediacy of historically informed performance. He directs Ensemble Origo, hailed by The New York Times as "a fine, flexible ensemble," presenting concerts that reflect the context in which early repertory was originally produced and heard. As Artistic Director of the Connecticut Early Music Festival from 2007 to 2015, he served as both a curator and a performer, choosing the theme for the festival, selecting nationally and internationally known ensembles to perform in it, and conducting concerts by the Connecticut Early Music Ensemble. He served as music director and tenor in the Boston-based period vocal ensemble Exsultemus from 2003 to 2009.
Raised in Brooklyn, New York, Rice discovered his interest in early music as an undergraduate at Bowdoin College. After a four-year career as a schooner captain and marine educator at the South Street Seaport Museum in New York City, he returned to his music studies at Columbia University, where he earned a Ph.D. in Historical Musicology and a Certificate in Medieval and Renaissance studies. While pursuing these degrees, he also studied conducting and voice, and he sang professionally in New York City churches that feature medieval and Renaissance repertoire in their liturgies. He taught at Brandeis University from 2001 to 2003 before joining the faculty at the University of Connecticut. He lives with his wife, Anne, and their two sons, Gregory and Nathaniel, in Hampton, Connecticut.