by
Published May 11, 2018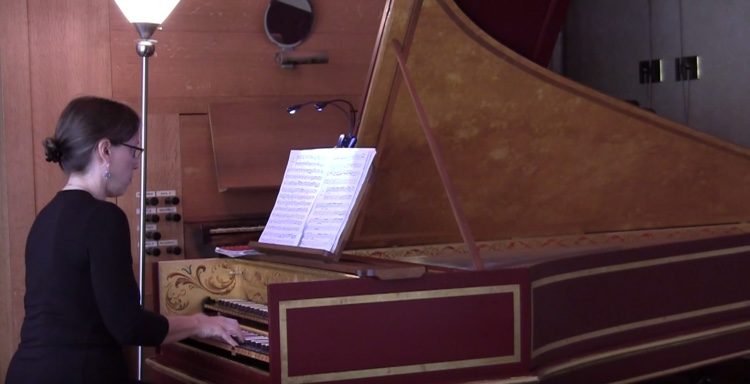 Bach: The Well-Tempered Clavier Book Two
Rebecca Pechefsky, harpsichord
Quill Classics QC 1013-2
By Andrew J. Sammut
CD REVIEW — While not necessarily underrepresented on record, Bach's second volume of The Well-Tempered Clavier doesn't garner as much attention as his first book. In her liner notes for this release, harpsichordist Rebecca Pechefsky points out that volume two, coming about 20 years later, builds upon the first volume's technical challenges; students may have needed to build up their chops for this sequel, which was also never published in a definitive score. Whatever the reasons for WTC Book Two's secondary status, Pechefsky makes an engaging addition to the catalog with confident, characterful interpretations of Bach's "other" 24 preludes and fugues composed in all major and minor keys.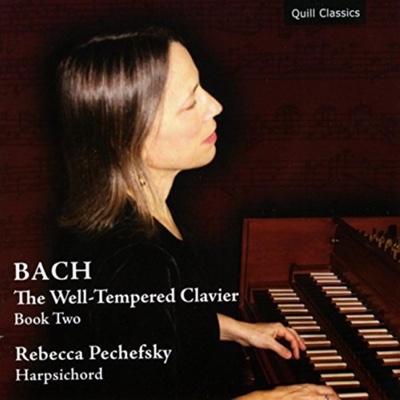 Bach's journey across the key spectrum is, of course, responsible for much of this music's interest. Pechefsky even discusses the particular tuning she decided upon for this release and highlights the "jangly…colorful and tangy" sound of certain keys. Prelude 1 in C major does provide a bright introduction to the set, and the voices in Fugue 2 in C-sharp minor close in on themselves for an attractively claustrophobic contrast. The E-flat major pieces are serene and graceful. The E major ones sounds downright earnest. The spiky F-sharp minor Fugue seems like 18th-century avant-garde. Yet it's definitely Pechefsky guiding the tour of Bach's brambles and his other harmonic experiments here.
Flowing lines and crisp rhythms are the real attraction. For the Prelude 5 In D major, with its fanfare-like ascending figures, she catches the swagger of Bach's rhyming phrases before the still stately but more pensive Fugue 5 In D major. Pechefsky avoids the excessive mannerisms that irk many reviewers of this storied literature. There aren't any halting agogics making things stop and start over again or over-enunciated staccato phrases. Instead, the subtly-underscored suspensions of Fugue 4 in C minor convey a sense of constant cascading pressure. Prelude 6 in D minor picks up harried momentum via spindly lines over a bulwark bass line. Prelude 7 in E-flat major unfolds sweetly, gently stepping in its rhythm and probably the most aria-like part of this recital. Prelude 8 in D-sharp minor, with its pinpoint articulation, meticulous attention to detail through the end of every phrase and precise but organic feel might be the disc's most virtuosic moment. The pumping motor rhythm of the Prelude 15 in G major is the most sheer fun — without any hint of a sewing machine.
Pechefsky performs on a double-manual harpsichord constructed by Yves Beaupré based on a French model made by Blanchet and Hemsch. Its tone is full, with a slight edge and clean decay that further clarify intricate passagi. Its transparent sound and distinct timbre in each register aid in the overall clarity of this recital. Fugue 21 in B-flat major is a good spot to appreciate the instrument: The soprano voice rings out while the bass colors the lines from within rather than booming underneath them. Good Shepherd Catholic Church in Brooklyn, NY, provides just enough resonance to carry the sound without washing it out. The engineering is close enough to sound like you are sitting in the first pew (not on the instrument). The music remains front and center, treated with respect as well as deep personal engagement throughout.
Andrew J. Sammut has written about early music and traditional jazz for Early Music America, The Boston Musical Intelligencer, All About Jazz, and his own blog. He lives in Cambridge, MA.
Recent EMA Recording & Book Reviews
In a revealing look into the lives of 'ordinary' folks in 17th and 18th c. Germany, author Tanya Kevorkian taps a wealth of sources that detail city life, from religious beliefs to weddings to the rhythms and rules of town watchmen. With compassion and wisdom, the author notes that historians who look at street life "have to some degree replicated the perspective of the authorities."
Emily Zazulia's valuable 'Where Sight Meets Sound: the Poetics of Late-Medieval Music Writing' explores notational aesthetics in polyphonic music, where it's not obvious how you're meant to sing what's on the page.
Long undervalued, Alessando Scarlatti's vocal writing naturally weds singable lines with the Italian language. Ars Lyrica Houston's colorful new recording of a Scarlatti oratorio, with an outstanding cast, makes a brilliant case for this rarely heard music.