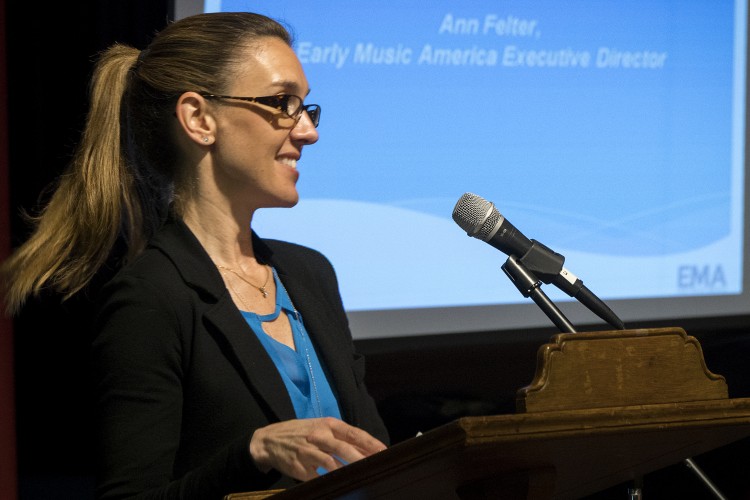 Ann Felter, Executive Director of Early Music America, has announced her decision to step down at the end of July 2017, after almost five years leading the national arts service organization. A search for her successor is underway. Felter will begin a new position with the Laughlin Children's Center which has a long tradition of offering multi-disciplinary educational support services to children from preschool through high school.
A highly dedicated and resourceful senior nonprofit leader with broad experience, Felter initiated and implemented many critical updates during her tenure including the hiring of a new magazine editor, the re-design of EMAg, The Magazine of Early Music America, and a much-improved re-designed website with integrated database. Other significant projects included the launch of Early Music Month and MeetUps.
"Ann's dedication, leadership, organizational and administrative skills, knowledge of our field, and more deserve much praise. We are grateful for her work with us," said Miguel Rodriguez, EMA President.
Ann Felter became the Executive Director of Early Music America in October 2012. Prior to her work with Early Music America, Felter was the Major Gifts Officer for Magee-Womens Research Institute & Foundation, the largest women's health research facility in the country. She has also served as Executive Director of The Renaissance & Baroque Society and Director of Operations at The New York Collegium, both early music organizations. Felter has a BA in Music from Gettysburg College and a Masters in Arts Administration from Indiana University in Bloomington. She has served on a number of boards and grant panels most recently as the Board President of Gateway to the Arts, a Commissioner with the Pennsylvania Commission for Women, and she also served as a panelist for the National Endowment for the Arts.