by Anne E. Johnson
Published April 3, 2023
The Baroque Chamber Orchestra of Colorado's apprentice program is about 'seeing who is out there and being open to the next generation of thinkers and players and what they're turned on by.'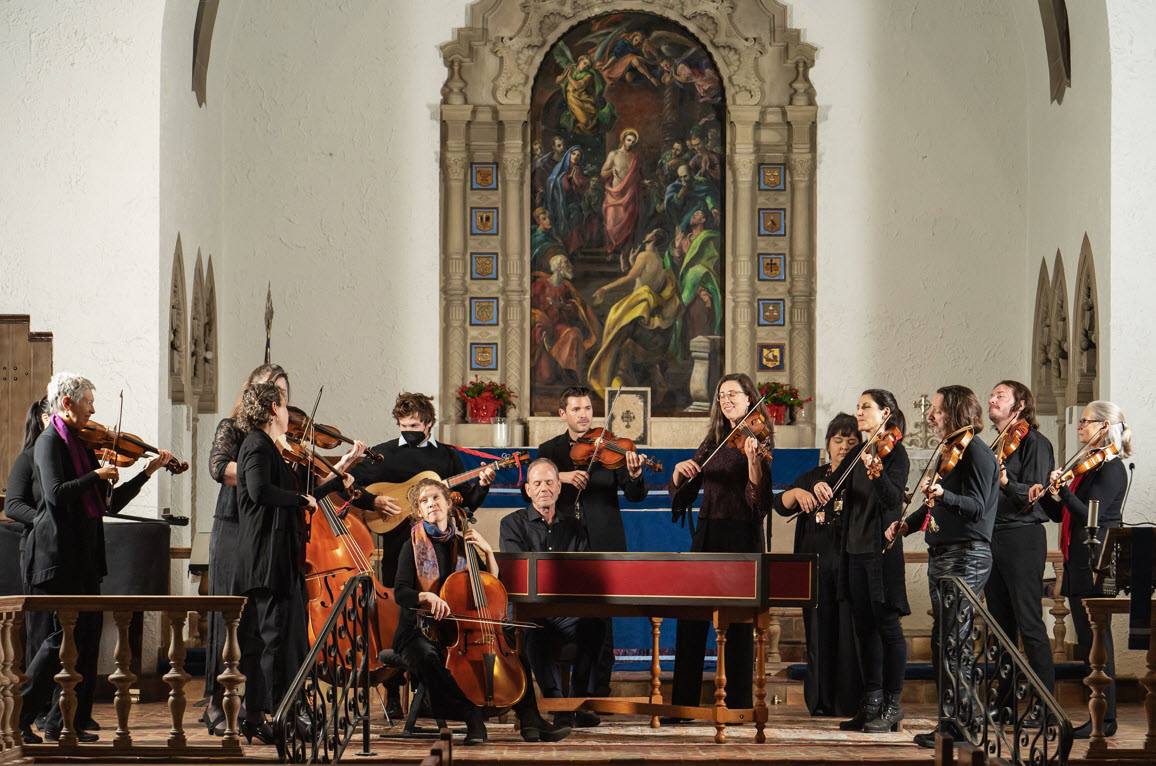 There's nothing unusual about a carol at a holiday concert. But during a December 2022 performance by the Denver-based Baroque Chamber Orchestra of Colorado, one ordinary French carol was given multilayered cultural context that made it unique. It was a direct result of the orchestra's apprentice program.
The BCOC apprentice program started two years after the orchestra's founding in 2005. A primary goal, according to BCOC founder and artistic director Frank Nowell, "is to nurture the next generation of musicians in the early-music field." Most apprentices are between college and graduate school or are current grad students. "The idea is for that person to spend a year intensively to see what it's like to be part of a professional Baroque orchestra. The musician is paid an apprentice fee and receives free lessons, and we have them play with us."
More than just play—the apprentices are encouraged to contribute. This season, the three apprentices are Baroque violinists Julia Taylor and Ian Jones and Baroque violinist Breana McCullough.
The so-called "Huron Carol" seemed like the perfect way for Nowell and current BCOC apprentice McCullough to explore the relationship between European early music and the musical life of Native Americans of that time. The song, brought to North America by the French, was passed to the Wyandot Indigenous people, who added words in their own language.
McCullough connected the melody to her own heritage, the Karuk people: "I introduced that carol with a song from my tribe that we turned into a drum song." In performance, she sang it as a duet and the drum beat carried into the carol, McCullough explains, "Then we went about it in an improvisatory way." Not your standard fare at a Baroque concert, perhaps, but indicative of the unique and pioneering spirit of BCOC.
As a violist now working on an ethnomusicology doctorate at UCLA, and with an undergrad degree from the University of Colorado-Boulder, McCullough is halfway through the first-ever two-year BCOC apprenticeship. "Colorado is such a wonderful place to be, so when I heard that they had a mentorship program, I decided to audition."
"One of the exciting things about our field is that there are so many different paths," says Nowell. "For example, one of our apprentices this year is about to finish her doctorate at the University of Colorado in modern violin, and her journey around Bach naturally led her to wonder what can I learn from playing Bach on the Baroque violin? It's been a year of discovery for her."
In contrast, another violinist, Lindsie Katz, was practically part of the BCOC family long before she became an apprentice in 2018. Currently in the master's program in historical performance at Juilliard, she grew up in Boulder, where her violin teacher was a member of BCOC. The orchestra helped Katz organize an early-music ensemble at her high school. After college in Minnesota, she returned for a master's in modern music at UC-Boulder. But she couldn't get early music out of her system.
"I applied to be the apprentice because I wanted to be officially part of the team," she says. "I have always loved all of the people who play with them and just the general energy they give." She thinks her personality was a factor in her application: "My goal anytime I interact with anyone is to connect on a basic level. I'm also a very curious person. I guess they thought I would fit in well."
"There's definitely a sense of bringing everybody into the fold," says Cynthia Miller Freivogel, the orchestra's concertmaster. "I think everybody feels equal when they're there. The community is small enough in Colorado that people are just excited to have more people they can play with." She looks forward to meeting each new apprentice. Personality matters, she adds, and "whoever Frank brings into the ensemble is going to be somebody who I enjoy and is a nice, lovely person."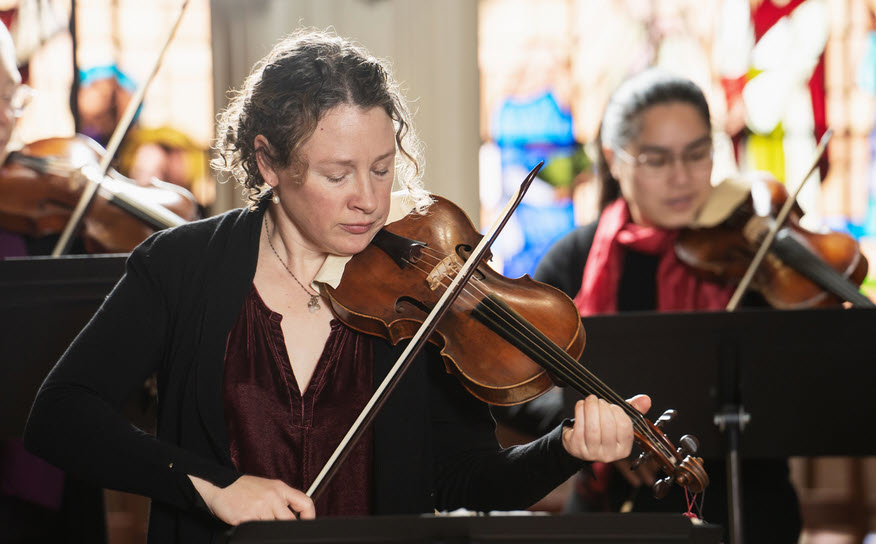 The enthusiasm is mutual. "It feels good to play with them," violinist Katz says. "I never felt judged. Everyone was willing to answer any questions that I had." She learned some essential skills while being treated like a professional. "It's not about playing perfectly. It was more about how we were talking about the music and how we were making decisions, and I felt like I could be involved in that."
That willingness to let the apprentices participate in a meaningful way led to Breana McCullough's experiment with the "Huron Carol." But her vision stretches way beyond a single tune. "A huge part of what I've been wanting to do is focus on indigenous representation in early art music and finding ways to explore identity and ethical engagement with our musics. It's been wonderful to build those connections between the indigenous community and BCOC, centering native voices." She is particularly excited to connect BCOC with the Heartbeat Music Project, which brings music education to the Navajo Reservation.
"We got lucky with Breana," says Freivogel. "She's a very special person with a very special category of knowledge." Freivogel applauds Nowell for keeping on the lookout for interesting opportunities. "He's always been conscious of what the apprentices have to bring to the ensemble and what we gain from that."
A primary purpose of the apprentice program, Freivogel believes, is the chance to find new orchestra members. "Frank cares so much for the ensemble that he sees it going on without him. The apprentice program is part of that, seeing who is out there and being open toward the next generation of thinkers and players and what they're turned on by."
"We've had two of our apprentices who have gone on to join the orchestra," says Nowell. "I always say to our candidates, we are never able to promise that, but that's something that has happened in the past." Katz hopes for an official post someday; she still flies to Denver from New York to play with the group, never mind that her apprenticeship ended four years ago. "I would love to be a part of it," she admits.
A key aspect of earning such dedication is mentoring, which the orchestra members appreciate as much as the apprentices. "Everyone loves the opportunity to do some mentoring and to meet people who are just starting their careers," says Nowell. "I think it's been a joyful experience for everyone."
"I'm very touched when these younger people come in," says Freivogel, "and they say, 'I really want to know everything that you know and how you're doing what you're doing.'" As an experienced, well-traveled musician, she has some valuable insights to offer. "I can be a connection to the bigger world."
That appreciation from the orchestra inspired an extraordinary act of trust on McCullough's part when she shared the Kuruk song. "You have to be gifted songs in order to sing them," she says. "It's a special part of our culture. It was really nice to be able to work with that ensemble and for them to be so open in engaging with these concepts that a lot of them have probably never had to engage with before."
The experiment, she acknowledged, was not without risk. "When it comes to performing music from a different culture, especially a culture that has a history of oppression and violence inflicted on them, it can be really scary. Questions of appropriation always come up. But the way that we talked about it during this collaboration was that I'm here as a person from the culture, and I'm here saying that it's OK. I was surprised by their willingness to step away from the music and their openness in basically going into rehearsals with nothing except the tune itself."
Then again, McCullough sees a parallel with an essential element of early music. "Being trained in the classical sphere, things like improv don't come naturally because it's trained out of us. There always seemed to be this missing element." She found that element in early music, "having artistic freedom and this opportunity to attempt to move the affections of your audience as well as the other musicians with you. That to me reflected the way that I, as an indigenous person, thought."
Katz remembers improvisation as an equalizing force during her time as an apprentice. "Cynthia was playing a Mozart concerto, and on that same program we did some improv work, and I just really enjoyed the communal atmosphere."
That sense of belonging has made both apprentices and orchestra members fiercely loyal to BCOC. Katz spent a year in the Hague for a certificate program before starting at Juilliard. "I told Frank when I moved to the Netherlands that, no matter how far I am, I always want to be involved." Amsterdam-based Freivogel shares that commitment: "I go back [to Denver] even though it's so far away because I can really be my best self. It's a safe place to take risks and experiment."
The concept of a safe space also comes up when Katz talks about her apprenticeship. "BCOC provided a space, and still does, to be curious about the way we think and trying different things."
It's not just the orchestra that makes the apprentices feel welcome. The audience loves them too. "We have a loyal core of followers that love to talk to musicians after the concert," says Nowell. "So that's just naturally expanded into the apprentices as well." Colorado has a special kind of scene, in Freivogel's view: "When we started the ensemble, there wasn't an early-music audience. It wasn't like Boston or San Francisco, where you had people that came only to the early-music concerts. In Colorado, people went to baseball games, went to bluegrass, and then they came to BCOC concerts."
Presumably, an audience that's up for anything will welcome a challenge. This includes increasingly diverse programming, says Freivogel. "Frank has been taking that seriously in a very authentic way by being mindful of opportunities as they've gradually presented themselves."
"Starting in 2020, we have made diversity a primary goal," confirms Nowell. "Over the history of the program, about 40 percent of our apprentices have been BIPOC musicians. Of our three apprentices this year, two of them are people of color."
Choosing apprentices from a variety of backgrounds can inspire new types of programming. That's just what happened with the "Huron Carol," Nowell explains. "We were looking for a way to honor and let people know about the context of that tune. Breana suggested that she connect it with a song from her tradition. It was a really joyful and fulfilling experience for everyone."
"I don't claim to be able to speak on behalf of all native peoples," says McCullough. "I think that the ensemble recognized that I can't do that and was empowered through my own perspectives and identity." She acknowledges that their approach to the tune may not be perfect; nevertheless, it's an important step: "We might look back on this performance in 15 years and be like, ooh, maybe that wasn't the greatest idea, but we learned from it, and now here we are."
Besides increasing diversity, Nowell also hopes BCOC can attract apprentices who don't specialize in violin or viola. "We'd definitely like to expand to include some people on the continuo side," he said. "And wind players." Because the orchestra plays opera and sacred music, he might consider a vocal apprentice at some point.
Community outreach is another area to explore. "I'm hoping we can establish or tighten our relationships with universities locally and around the country so that what we offer is well integrated into what people are doing in their degree programs."
Although there is not yet a timetable for accepting new applicants, Nowell offers a wide definition of who would make a good candidate: "One of the things that we ask is: 'What would you like to get out of the program?' There's not one right answer to that, but we're really hoping for someone who has some concrete goals, and we can shape the program around them."
Asked why someone should apply, McCullough extemporized a compelling sales pitch: "It's a space where you're not only learning about how to perform and engage with early music, but you're also encouraged to bring your own perspectives and ideas into the sphere, and all of the musicians are willing to engage in those ideas."
The next Baroque Orchestra of Colorado program featuring its apprentices is called "Invitation to the Dance," in May.
Anne E. Johnson is a freelance arts journalist based in Brooklyn, and has taught music history and theory in the Extension Division of Mannes School of Music. Her most recent article for EMA was about the thriving early-music scene on Philly's Main Line.
Recent EMA Features
Do students need a degree in historical performance to enter the field of early music? Most instrumentalists are positive about the need for a specialized degree. Singers? Not so much. But for anyone considering a degree in early music, ask yourself, "What does the program offer?"
Are clothes of the period part of a historically accurate performance? Opinions vary about what constitutes an acceptable period outfit, but advocates of historical attire in early music have one thing in common: They believe the costume helps enrich the music's context.
For Early Music Month, we check out a historical performance scene that is taking off in the north Philadelphia suburbs of Main Line and Bucks County, with quality ensembles and venues perfect for early music.