by Stephanie Manning
Published April 3, 2023
Beneath A Tree's My Cup of Tea, Gail Hernández Rosa, Paul Holmes Morton, Daniel Turkos. Independent release.
When the pandemic sent musicians' lives into turmoil, many turned to music-making to find solace—often emerging with a new appreciation for the pieces and genres closest to their hearts. Gail Hernández Rosa did just that with her self-produced album My Cup of Tea, which draws on the Baroque violinist's love of both historical performance and traditional Celtic folk ballads. Recorded in 2020 with her group Beneath A Tree, the album was released in 2022. The whole album impresses with its musical choices as much as its attention to musical and production details. Early music fans will remember Beneath A Tree's performance at EMA's 2021 Emerging Artists Showcase.
As soloist, Hernández Rosa performs three unaccompanied works, spaced out over the course of the 51-minute runtime. The first, Passacaglia in G minor from Biber's Rosary Sonatas, immediately establishes the warm resonance in her sound—a quality further enhanced by the recording's church acoustic.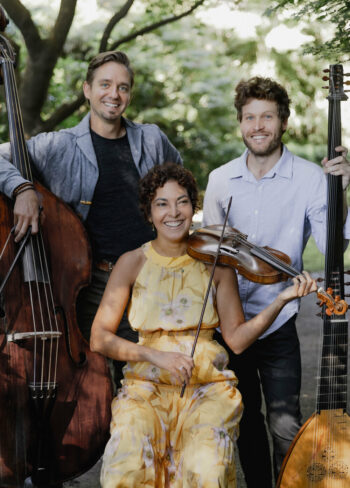 Of the two works by J.S. Bach, the Largo from Sonata No. 3 in C, (BWV 1005) is ideally situated at the album's midpoint, its calm aura accentuated by the occasional dip into Hernández Rosa's soft, sweet upper register. But it was Gigue from the Cello Suite No. 4 in E-flat (BWV 1010) that stands out. Hernández Rosa performs it on viola, and her easy confidence with the instrument gives the brief movement a sparkling energy.
She is not the only one to switch between instruments. Bandmates Daniel Turkos (contrabass, octave mandolin) and Paul Holmes Morton (theorbo, baroque guitar) are integral to the ensemble pieces, particularly they're folk-inspired, and all three of them contribute vocals and arrangements. The opening Telemann Folk, arranged by the trio, boasts a warm and unpretentious style accentuated by clean technique. This polished and fun nature is equally applicable to numbers like The Parson Boasts of Mild Ale, a traditional Irish tune, here arranged by Holmes Morton.
The group also approaches the old Baroque music with enthusiasm. In Telemann's Sonata in D (TWV 41:D1) the ensemble sounds especially full, with the contrabass (instead of viola da gamba) adding an extra, rumbling depth. In the Allemande, they dig in and savor each chord without dragging, and the playful Corrente features lively strumming and hand slapping.
For all the joy that suffuses most of the album, the finale—a traditional Scottish tune The Parting Glass, arranged by Turkos—breaks that trend with a melancholy aura, making for a beautifully bittersweet sendoff. But it would take more than that to dampen the overall mood of the project. The fiddle medley mashup The Fisherman / Flower of Edinburgh / Spike Island Lasses spotlights the group's creativity, each song arranged by a different band member yet segueing gracefully into the next. The smoothness of the violin in Flower of Edinburgh (another Turkos arrangement) evenly contrasts with the plucked accompaniment, and the jovial dotted rhythms in Spike Island Lasses (arranged by Holmes Morton) practically burst off the page. The love for this project is evident in all respects—like a carefully home brewed cup of tea just waiting for someone to enjoy it.
Stephanie Manning is a regular correspondent for ClevelandClassical.com and served as a fellow at the 2022 Rubin Institute for Music Criticism. As a bassoonist, she is in her final year of study at Oberlin Conservatory.
Recent EMA Recording & Book Reviews
In a revealing look into the lives of 'ordinary' folks in 17th and 18th c. Germany, author Tanya Kevorkian taps a wealth of sources that detail city life, from religious beliefs to weddings to the rhythms and rules of town watchmen. With compassion and wisdom, the author notes that historians who look at street life "have to some degree replicated the perspective of the authorities."
Emily Zazulia's valuable 'Where Sight Meets Sound: the Poetics of Late-Medieval Music Writing' explores notational aesthetics in polyphonic music, where it's not obvious how you're meant to sing what's on the page.
Long undervalued, Alessando Scarlatti's vocal writing naturally weds singable lines with the Italian language. Ars Lyrica Houston's colorful new recording of a Scarlatti oratorio, with an outstanding cast, makes a brilliant case for this rarely heard music.