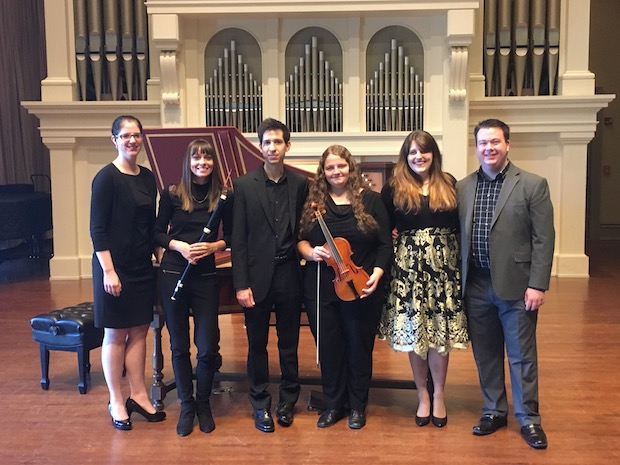 B'more Bach Ensemble plays the music of Bach and his contemporaries and
is comprised of selected graduate (MM, GPD, and DMA) students from the school's Historical Performance Department. Members all participate in the Peabody Renaissance Ensemble and/or the Baltimore Baroque Band and have performed professionally with ensembles such as American Bach Soloists, Apollo's Fire/Cleveland Baroque Orchestra, Burning River Baroque, Mountainside Baroque, Michigan Bach Collective, Musica Spira, the Nashville Symphony, Tempesta di Mare/Philadelphia Baroque Orchestra, and the Washington Bach Consort.
2018 Festival Program: A program consisting of arias for soprano, duets for soprano and baritone, and trio and solo sonatas for baroque flute and violin with harpsichord and baroque cello continuo.
Johann Sebastian Bach

Sonata in B Minor, BWV 1030

Andante

Largo e dolce

Presto

Ich hatte viel Bekümmernis, BWV 21

Georg Philipp Telemann

Trietto No.1 in G major, TWV 42:G2

Allegro

Grave

Presto

Bach

Schwingt freudig euch empor, BWV 36

Auch mit gedämpften, schwachen Stimmen

Trio Sonata in E minor (

Adapted from the Sonata in D minor for organ, BWV 527, by Richard Stone)

Andante

Adagio (ma non tanto) e dolce

Vivace