by
Published August 5, 2019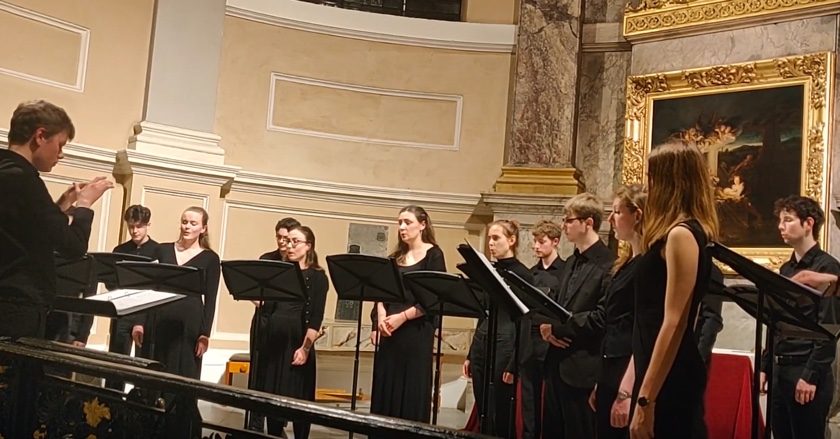 So You Want to Sing Early Music: A Guide for Performers. Martha Elliott. Lanham, Boulder, New York, and London: Rowman & Littlefield Publishing Group, 2019. 252 pages.
By Ellen Harris
Books that purport to teach you "how to sing" ­— and there have been many over centuries — have always struck me as more theoretical than practical. Surely, learning how to sing demands studio work with an excellent teacher. Martha Elliott would be the last person, I imagine, to suggest otherwise, but she has accomplished more in this book than I could have thought possible. The 15th of 18 volumes in the "So you want to sing" series (covering such styles as musical theater, rock 'n' roll, and world music), it follows a shared template: All the volumes contain the same chapters on the mechanics of vocal production and maintaining vocal health. I suspect, however, that Elliott's volume on singing early music is exceptional.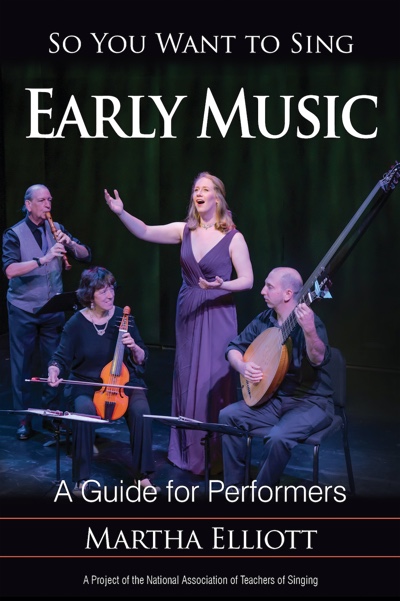 Elliott states in her Introduction that she will focus on "baroque era music," as she largely does. However, the "Historical Overview of the Repertoire" in the first chapter establishes "a context for the core of our Baroque repertoire by exploring some of the traditions that began in the medieval and Renaissance periods." In other words, this 25-page nutshell of a chapter provides a history of vocal music from plainchant to Handel. Elliott's text is excellent, but the success of the chapter lies in its symbiotic relationship with the best online supplement I have seen. The chapter makes use of 41 first-rate performances of complete pieces on YouTube, each a click away. One could easily base a semester course on the history of vocal music to 1750 on this short chapter and its musical examples (printed and audio).
Following the chapters on vocal production and vocal health common to the series, the book turns to what a singer of early music needs to know. A chapter on the "Grandfathers of Voice Pedagogy" offers an encyclopedic history of written vocal instruction from the 13th to the 18th century, so that "you can compare the instructions from teachers in the sixteenth, seventeenth, and eighteenth centuries with the information you just learned from twenty-first-century experts." The next chapter, "Elements of Baroque Style," represents the heart of the book, and, once again, the chosen audio examples in the online supplement add enormous value. I particularly admire Elliott's emphasis on the importance of the text. As she states, the meaning, grammatic structure, and word accent of the text underscore the expressive and stylistic features of the music. The text provides the best guide to tempo and helps to determine dynamics down to the syllable. The text and affect of an aria even suggest when to soften dotted rhythms into triplets or make them sharper with double dotting. All of these points and more are discussed with detailed musical examples. Ornamentation is treated with equal care with detailed comparisons of good, but highly varied, performances.
In "It's all Chamber Music," Elliott illustrates that early music is collaborative in all its forms. She emphasizes the importance of the continuo, showing why singers should have some keyboard skills; explicates the frequent necessity to choose one's accompanimental instruments (both treble and bass); and describes the effect of performing spaces on performance decisions and repertoire choices. Her discussion of pitch and tuning systems is particularly good: She explains the impact of lower Baroque pitch on the singer and stresses the importance of knowing the pitch of the performance and then practicing it at the correct pitch (in particular, not practicing with a piano for a performance at Baroque pitch). These things cannot be said enough.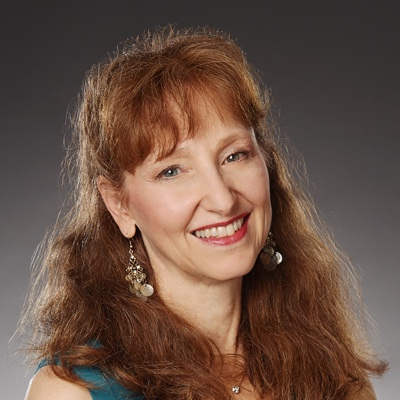 The last two chapters, "Knowing the Score" and "Using all the Tools," provide practical advice. I cheered when Elliott recommended that singers should begin their search for scores in the library, where there are editions unavailable online. But in her discussion of online resources, I was duly chastised by her declaration that even if one uses IMSLP only a few times, one should subscribe and support the work. I've paid up. Elliott is excellent in discussing how to read Baroque scores, closely comparing various published versions (including facsimile, early publication, 19th-century edition, and complete works edition) of a single piece. And she provides a very comprehensive set of online links to academic programs, performing organizations, competitions, festivals, and early-music organizations.
Three fine appendices close the book: on consort singing by Gabriel Crouch, on "singing with players" by members of the Viola da Gamba Consort La Spirita, and understanding medieval notation by Jamie Reuland. In sum, Elliott's book on singing early music is outstanding, and unlocking all of its riches would be a long-term endeavor. I could quibble here and there, and the musical examples are not reproduced as crisply as one would like, but Elliott has provided an excellent introduction for singers beginning to engage with this music, and she even offers new perspectives to those well-versed in the repertoire.
Ellen T. Harris is Professor Emeritus of Music at the Massachusetts Institute of Technology and Visiting Professor at The Juilliard School. Her work includes the award-winning books George Frideric Handel: A Life with Friends (2014) and Handel as Orpheus: Voice and Desire in the Chamber Cantatas (2001).
Recent EMA Recording & Book Reviews
In a revealing look into the lives of 'ordinary' folks in 17th and 18th c. Germany, author Tanya Kevorkian taps a wealth of sources that detail city life, from religious beliefs to weddings to the rhythms and rules of town watchmen. With compassion and wisdom, the author notes that historians who look at street life "have to some degree replicated the perspective of the authorities."
Emily Zazulia's valuable 'Where Sight Meets Sound: the Poetics of Late-Medieval Music Writing' explores notational aesthetics in polyphonic music, where it's not obvious how you're meant to sing what's on the page.
Long undervalued, Alessando Scarlatti's vocal writing naturally weds singable lines with the Italian language. Ars Lyrica Houston's colorful new recording of a Scarlatti oratorio, with an outstanding cast, makes a brilliant case for this rarely heard music.