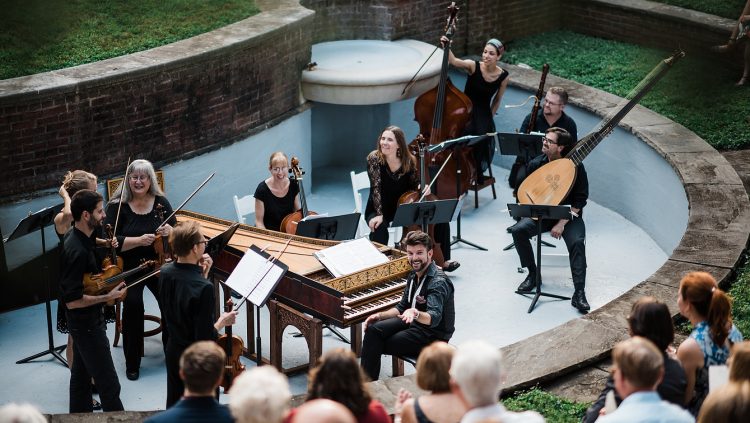 The second in our series of guest articles for Early Music Month
Bourbon Baroque's upcoming Pop-Up Concerts, to be held public spaces in a government services center and in a community health clinic in Louisville KY, were inspired by Early Music America's Early Music Month festivities. In the hopes that there will be EMM events in every state, we are doing our part in Kentucky! We have embodied EMM's statement "to bring early music to it's widest audience ever", and in the spirit of outreach and community, we decided to take the music to those who might otherwise be unable to attend arts events. By bringing our historically informed music to diverse communities, we hope to bring joy and enrich the experience of ordinary people as they go about their daily lives.
The two performance locations, the Nia Center and the Portland Family Health Center, offer a variety of services to the community. At the Health Center, we will perform near the urgent
and family health facilities, hoping to bring peace and healing to those giving and seeking services. At the Nia Center, we will perform in the Cafe area of the large open lobby, hoping to attract not only those utilizing the center, but also its employees.
Also inspired by New York City's "Bach in the Subways," this will be the first in what we hope to be an annual musical offering of historically-informed performance in unusual spaces. This year, our program offers a variety of music for violin and harpsichord, from Bach to Gavinies, performed by Bourbon Baroque Artistic Directors violinist Alice Culin-Ellison and harpsichordist John Austin Clark.
Performance Schedule:
Tuesday, March 13, 10:00 am
Portland Family Health Center,
(Lobby, near the Urgent and Primary Care door)
2215 Portland Ave., Louisville KY
Wednesday, March 14, 1:00 pm
Nia Center
(Lobby, near the café tables)
2900 W. Broadway, Louisville KY