by Maya Kherani
Published January 24, 2023
European Baroque and Indian classical have freedom within structure. As a singer you have so much agency.
My voice feels at home in Handel and other highly ornate composers of the Baroque. It goes beyond coincidence that I know many other South Asian singers, still building their careers, who excel in this repertoire. I suspect it has something to do with growing up around Carnatic or Hindustani music— the dominant Indian classical music styles. The approach to high Baroque ornamentation and improvisation, to me, feels somehow innate and natural.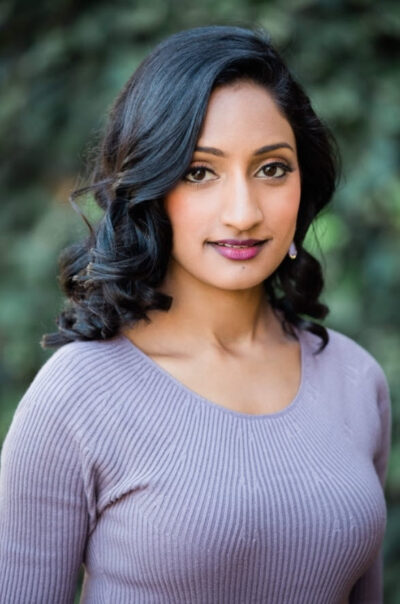 I'm no expert on Carnatic music, although I studied it for a few years in my youth and have family members who are very skilled in the style. But I can draw a few salient parallels. In Carnatic music, along with Hindustani music and even light music—including Bollywood—you hear a lot of ornamentation within the melodic structure. Individual singers are celebrated for their facility in original ornamentation. Growing up, although I was born in Indiana and raised in Texas, I was surrounded by it, especially during the summers I spent in India.
Both styles—European Baroque and Indian classical—have freedom within structure. As a singer you have so much agency. In Indian music, that 'freedom within structure' comes from the fact that it's an oral tradition, not written. Students are taught to internalize all the different raga modes and scales and tala rhythms and time signatures, and then they practice for years improvising on those foundations. Although in Carnatic music the vocal range is often limited to about an octave or a tenth, I find it has a real similarity with the music of the high Baroque. You start with melodic brilliance, and then the singer makes their mark on the composition through their use of ornamentation.
Now, for all my exposure to those styles and that mindset, I don't have the skills to be able to improvise Handel ornaments on the fly (although I have brilliant colleagues who do!). Historically, that's how it was probably done, which really blows my mind. But working with like-minded collaborators, I enjoy sitting down and figuring out any embellishment options ahead of time. Together we come up with ornaments that complement the melodic, stylistic, and dramatic structure of the piece and that, just as important, fit my voice.
Once you start looking, you can find a trove of South Asian classical singers who tend to have excellent coloratura and what, to me, seems like a real sense of style for historically informed and early-music delivery and ornamentation. My sense is that there are a lot of us who specialize in early music because of those parallels, and that our lived experience has informed our musical intuition. (One measure of this growing trend might be observed through a Facebook group called South Asians in Western Classical Music that Baroque violist Vijay Chalasani and I launched. We expected a couple of dozen to join, but it quickly jumped to almost 350 members and growing.) In many ways, I feel that early music is more similar to South Asian classical music than to, say, European Romantic or contemporary classical music.
One of my central artistic goals is improving diversity, representation, and especially South Asian visibility in early-music ensembles and opera companies, highlighting that these are strong elements in our skill set. I think that there is something deep within us that colors our interpretation of these Western classical masterpieces.
It can be frustrating to see a production that's done in a full Bollywood style—the costumes, the dancing, the whole thing—but without any South Asians in the cast or the creative team, when there are so many of us that are performing at a high level. As producers, collaborators, performers, and audience members, we owe it to our art form to push the boundaries of what's expected. Early music continues to lag behind in DEI efforts, and as we move towards the future, I challenge all of us to open our doors wider and celebrate how different backgrounds can actually make our early-music-making richer.
Indian-American soprano Maya Kherani sings repertoire from early music to contemporary, and on stages from Aix-en-Provence and Boston Baroque to American Bach Soloists and Pacific MusicWorks. She is a graduate of Princeton (in Mechanical and Aerospace Engineering) with a Master's degree in Vocal Performance from the San Francisco Conservatory.