by Jacob Jahiel
Published January 23, 2023
The Playhouse Sessions. Barokksolistene, led by violinist Bjarte Eike. Rubicon Classics. RCD1096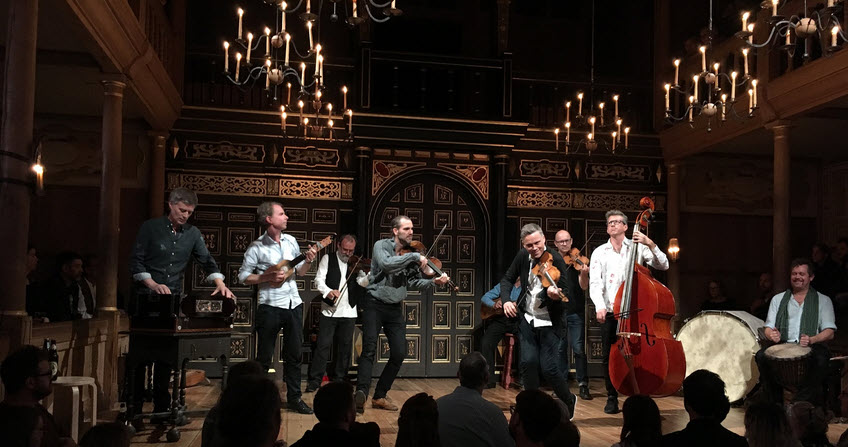 In 2017, Norwegian baroque violinist Bjarte Eike and the ensemble Barokksolistene released The Alehouse Sessions, a delightful and eclectic album combining familiar music by Purcell and Playford with a smorgasbord of sea shanties, folk tunes, and (because why stop there?) elements of jazz, klezmer, and free improvisation. As a studio rendition of the group's ongoing live-performance project—their motto: "It's just old pop music"—the album aimed to bring listeners into the raucous common room of a 17th-century tavern, adding more than a splash of contemporaneity to its historical setting.
Now, five years later, Eike and his troupe have returned to the sonic world of a London pub with The Playhouse Sessions, an album which, like its predecessor, represents a genre-bending and time-defying project that refuses to take itself too seriously. (For proof, see the album cover.)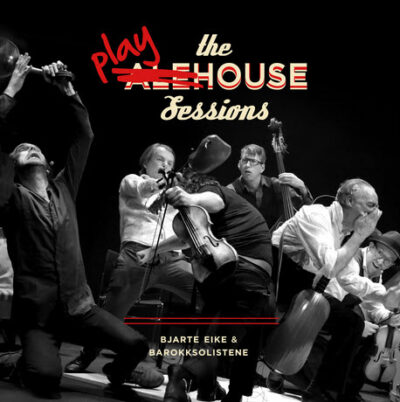 Playhouse's imagined musical setting extends from the tavern's common room to its somewhat more clandestine back room: a place of musical cross-pollination between pub musicians and their newly unemployed colleagues from professional theaters, venues that had been shuttered during Oliver Cromwell's puritanical quasi-dictatorship.
It is perhaps less strange, therefore, that reels and jigs might be heard side-by-side with the likes of Henry Purcell, whose compositional output spanned from drinking songs to music for royal coronations. In a podcast interview hosted by The Gramophone magazine, Eike analogizes Purcell as the musical equivalent to Shakespeare, arguing that both shared the rare ability to bridge the gap between the low and high brows of their art forms.
The evocation of Shakespeare is no accident; over the last few years, Barokksolistene has participated as on-stage musicians in productions of A Midsummer Night's Dream, where Eike has been cast as Puck. In turn, both Shakespeare's play and Purcell's adaptation of its libretto, The Fairy Queen, form the backbone of Playhouse's loose narrative arc, imbuing the album with compelling theatrical elements.
Many of the ingredients that made The Alehouse Sessions so inviting are also present here: inventive arrangements, brave forays into unfamiliar genres, and just the right amount of irreverence. Eike's own original music set to texts from A Midsummer Night's Dream, where the Romani-influenced "Over Hill, Over Dale" and an otherworldly lullaby, "You Spotted Snakes," mark two of the album's most memorable tunes. Foot-tapping jigs such as "Irish Washerwoman" work in counterpoint with poignant arias, placid chorales, and stirring sea shanties. The final set, in which Eike performs one of Puck's monologues over a quasi-barbershop quartet arrangement of Dowland's "Can She Excuse My Wrongs," offers a farewell both simultaneously amusing and touching.
At times, Playhouse may strike fans of the original album as a little too well-manicured. Alehouse made it easy to imagine sharing a belly laugh with a 17th-century drinking companion: unwashed, unkempt, and sporting an overflowing tankard of mead. The earlier album's undeniably rough edges were its most endearing feature, creating texture but not coarseness.
There is still much of that in Playhouse, but the new album's clean transitions, pared-down improvisation sections, and carefully calibrated instrumental textures smooth over those rough edges just a hair too much. The imagined tavern occasionally feels instead like a place frequented by mustachioed, man-bun-wearing hipsters who sip kombucha behind thick-rimmed eyeglasses.
Even so, such shortcomings—if that is what they even amount to—are only detectable in relation to the brilliance of the first album and are thus forgivable. The bottom line is that Playhouse offers good music and great fun, an album where both humor and tragedy, art song and folk song, not to mention dreams and reality, all share center stage.
Jacob Jahiel is a writer and violist da gamba residing in Montréal. He was a 2022 Rubin Institute for Music Criticism Fellow and is a recent graduate of the Jacobs School of Music at Indiana University, where he received an M.A. in musicology with an outside field in historical performance.
Recent EMA Recording & Book Reviews
In a revealing look into the lives of 'ordinary' folks in 17th and 18th c. Germany, author Tanya Kevorkian taps a wealth of sources that detail city life, from religious beliefs to weddings to the rhythms and rules of town watchmen. With compassion and wisdom, the author notes that historians who look at street life "have to some degree replicated the perspective of the authorities."
Emily Zazulia's valuable 'Where Sight Meets Sound: the Poetics of Late-Medieval Music Writing' explores notational aesthetics in polyphonic music, where it's not obvious how you're meant to sing what's on the page.
Long undervalued, Alessando Scarlatti's vocal writing naturally weds singable lines with the Italian language. Ars Lyrica Houston's colorful new recording of a Scarlatti oratorio, with an outstanding cast, makes a brilliant case for this rarely heard music.