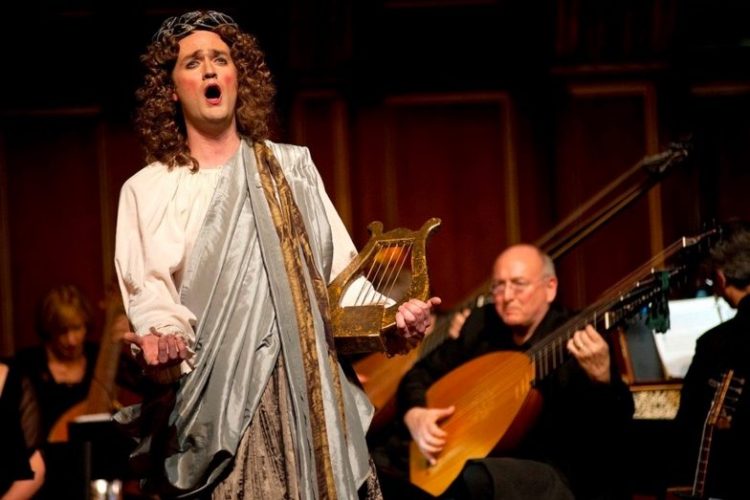 Handel: Total Eclipse: Music for Handel's Tenor
Aaron Sheehan, tenor; Stephen Stubbs, conductor, lute, and guitar; Pacific MusicWorks Orchestra (Tekla Cunningham, director)
Naxos 8.573914
By Karen Cook
In 1732, a teenaged John Beard sang in a performance of Handel's oratorio Esther as part of the composer's 47th-birthday celebrations. Two years later, he crossed paths with Handel again, this time singing the role of Silvio in the composer's Il pastor fido at the Covent Garden Theatre. This would prove to be a defining moment for both Handel and Beard, and one that would shape a small part of English music to come.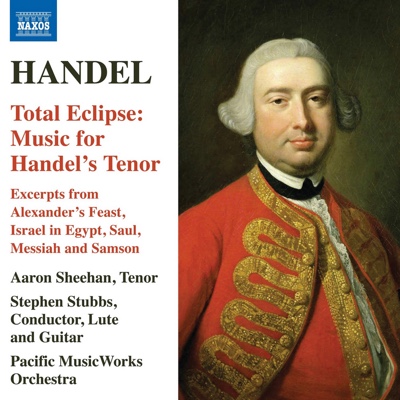 Handel met a muse in Beard, or at least an artistic partner. According to contemporary reports, Beard had a tremendously powerful voice and was an energetic, intelligent singer. But Beard was a tenor, and at a time when the most heroic and virtuosic male parts were still routinely written for the star castrati, or even women. Beard's talent apparently challenged Handel's musical sensibilities, for he began to compose specifically for Beard as the leading man, creating the heroic tenor in England. Beard sang for Handel more than any other singer, starring in 10 operas and performing in every single English oratorio by the composer, in addition to numerous other works. This collaboration made Beard a star, and he went on to perform at the Chapel Royal and in works by other big-name composers, such as Thomas Arne, until his increasing deafness forced him to retire in 1767. He died in 1791.
This new album — the solo debut for tenor Aaron Sheehan — explores the partnership between Handel and "his tenor," beginning with the first role Handel composed specifically for Beard in the oratorio Alexander's Feast (1736). The rest of the album comprises recitatives and arias culled from Israel in Egypt, the Ode for St Cecilia's Day, Saul, Messiah, and Samson, with two of Handel's Concerti Grossi in Bb Major acting, as they would have in his day, as entr'actes.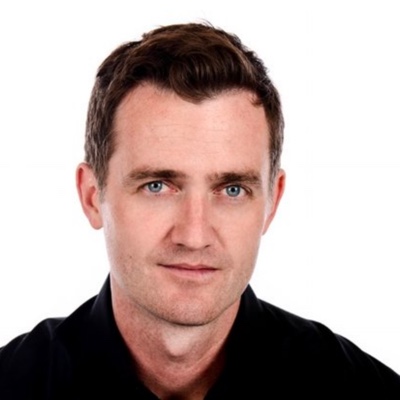 From the first notes of the Pacific MusicWorks Orchestra and the opening words of the aria "Give the vengeance due," it is clear that this album is superlative. The ensemble performs with technical and emotive prowess — strong, vivacious, graceful, with a tremendous sense of rise and fall throughout. The warm, rich resonance they achieve in the continuo is especially commendable. Sheehan manages to create the kind of pathos, urgency, anguish, and sincerity that might otherwise only be achievable onstage, with all the benefits of body language and facial expression. Handel's arias call for both strength and flexibility, and Sheehan provides both in spades. His approach to "No, cruel father, no!" from Saul is positively visceral, evoking the twinned senses of defiance and grief, while each of the concluding selections from Samson get impossibly better than the one before. "Total eclipse!," the aria which lends its name to the album's title, is breath-taking.
It might be fair to say, after hearing this album, that Handel has a new tenor.
Karen Cook specializes in the music, theory, and notation of the late medieval and early Renaissance periods. She is assistant professor of music at the University of Hartford in Connecticut.