by Andrew J. Sammut
Published April 20, 2020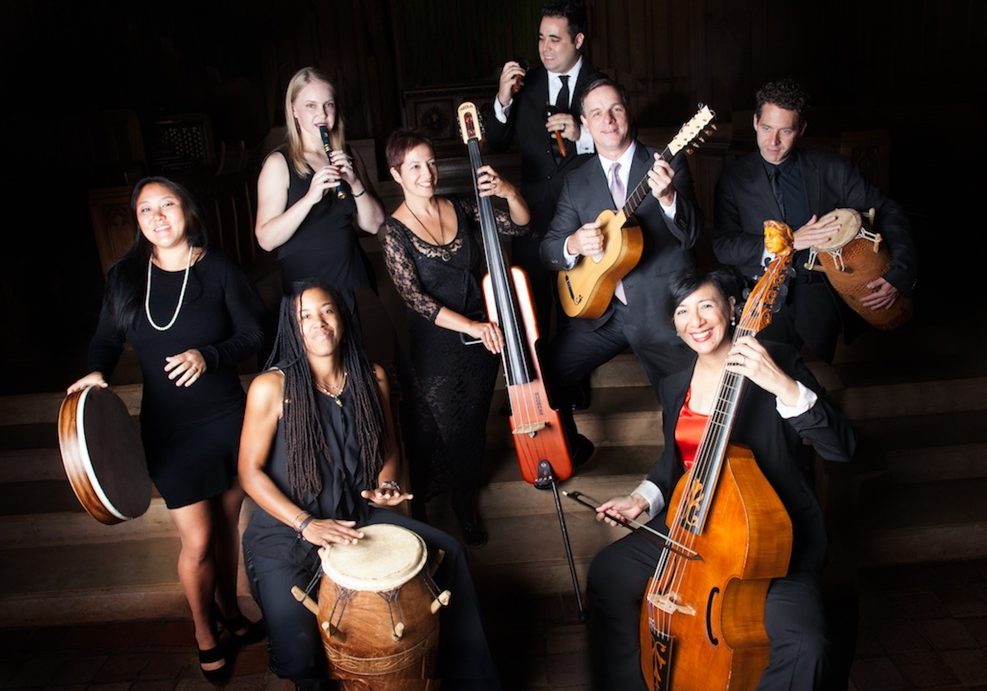 Latinas in Fusion. La Donna Musicale and Rumbarroco; Laury Gutiérrez, director. Self-Released
Boston-based violist Laury Gutiérrez leads two ensembles known for smart and exciting performances of overlooked music. La Donna Musicale focuses on female composers from the Renaissance through Classical eras. Rumbarroco explores connections between Europe, Africa, and the Americas across centuries. With a wide array of musicians, styles, and vivacious rhythms, both groups combine the brains of a conservatory and the guts of a nightclub. There is considerable overlap in personnel between La Donna Musicale and Rumbarroco, but Latinas in Fusion is the first recording featuring both groups.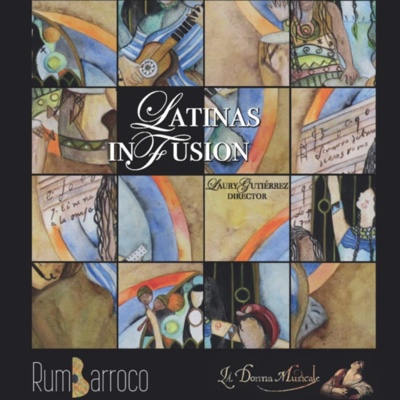 "Fusion" alludes to both the collaboration and the resulting music. A Spanish villancico shows rhythmic influences from Africa. Hildegard von Bingen's liturgical songs are set to Cuban bolero-son. Contemporary composers expand on earlier Classical forms, and compositions are realized on Baroque and folk instruments. There is a lot of cross-pollination across the disc's 14 tracks. Yet it always reflects actual cultural bridges, rather than experiments for the sake of novelty. Nearly 30 musicians in various settings turn these linkages into an energetic and spontaneous experience.
Soprano Camila Parias and mezzo Daniela Tošić partner in evocative harmonies and pliant lines. They move from festive merengue to hushed tranquility in the Spanish song "Qué bonito niño chiquito!" Tošić's wailing melismas over organ drones in Hildegard 's "O splendidissima gemma" set up a sense of mystery and tension before the ecstatic worship of instrumental solos. Wordless harmonies and riffs from additional vocalists color and push the anonymous Afro-European "El son de la Ma'Teodora" and Puerto Rican contemporary composer Diana V. Sáez's "Plena."
Vocalists and instrumentalists emerge as real partners in the structure and the narrative throughout the disc. The sacred Portuguese villancico "Senhora del mundo" blends plaintive voices and subtle rhythmic underpinning with smoky chromatic commentary on bandola. The folía-like harmonic cycle eventually slides into an upbeat Venezuelan feel, illustrating further links and how this group synthesizes earthy folk elements and classical polish. Uruguayan poet Mario Benedetti's "Corazón coraza" becomes even more touching in the homophonic setting for soprano, mezzo, two gambas, and bass (reminiscent of cori spezzati mixing vocal and instrumental voices).
The transparency and vibrancy of period instruments suits rousing moments as well as intimate ones. Contemporary Venezuelan composer Diana Arismendi's "Für Elena" for piano is arranged for Baroque chamber ensemble over a strutting salsa full of solos and topped by a Vivaldian violin cadenza. Modesto Bor's Fuga 1 is here arranged for flute, gamba, harpsichord, cuatro, bass, and maracas in joropo step. The contrapuntal lines show sensitive interplay even amid all the intensity.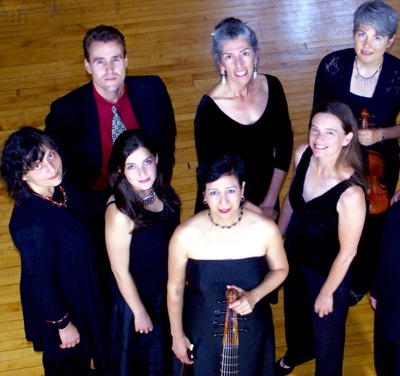 There are really too many highlights to cover here. Other standouts include Gutierrez's gamba in passionate duet with Yi-Li Chang's violin; bassists Kirsten Lamb, Luis Celis, and Victor Murillo taking turns to support and spur their colleagues on each track; Na'ama Lion and Diane Heffner's colorful obbligatos respectively on flute and clarinet; and a bevy of percussionists using every instrument at their disposal for this grand rhythmic tour. That is only a woefully partial list.
Q Division Studios in Somerville, MA, captures the energy and atmosphere with balance and clarity; even the most hip-shaking moments don't simply boom through speakers. Gutiérrez's erudite liner notes guide the listener through the byways of music, history, and geography. There's nothing like hearing La Donna Musical or Rumbarroco live. Yet this album distills what New England audiences have appreciated for years.
Listen to excerpts from Latinas in Fusion.
Andrew J. Sammut has written for All About Jazz, Boston Classical Review, The Boston Musical Intelligencer, Early Music America, the IAJRC Journal, and his own blog. He also works as a freelance copyeditor/writer and lives in Cambridge, MA, with his wife and dog.
Recent EMA Recording & Book Reviews
In a revealing look into the lives of 'ordinary' folks in 17th and 18th c. Germany, author Tanya Kevorkian taps a wealth of sources that detail city life, from religious beliefs to weddings to the rhythms and rules of town watchmen. With compassion and wisdom, the author notes that historians who look at street life "have to some degree replicated the perspective of the authorities."
Emily Zazulia's valuable 'Where Sight Meets Sound: the Poetics of Late-Medieval Music Writing' explores notational aesthetics in polyphonic music, where it's not obvious how you're meant to sing what's on the page.
Long undervalued, Alessando Scarlatti's vocal writing naturally weds singable lines with the Italian language. Ars Lyrica Houston's colorful new recording of a Scarlatti oratorio, with an outstanding cast, makes a brilliant case for this rarely heard music.