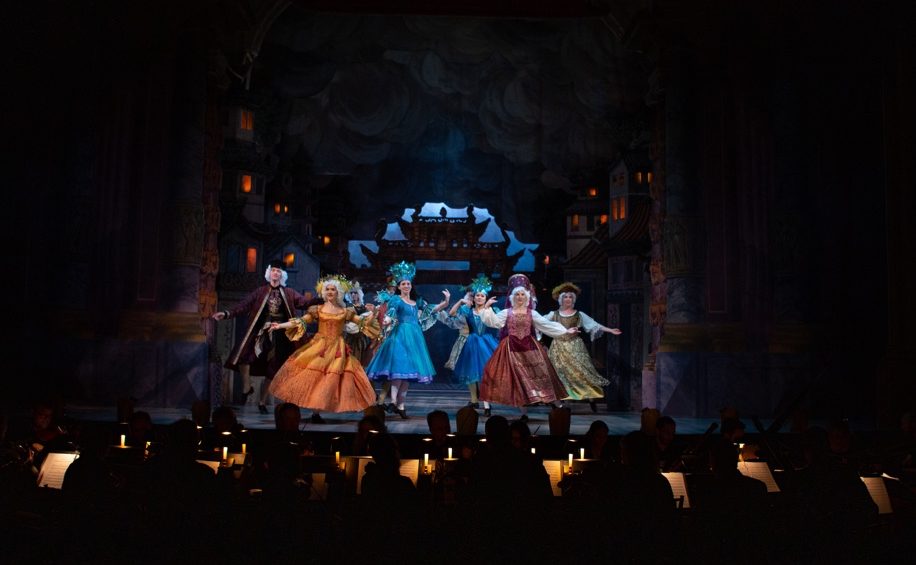 When normal finally returns, the performing arts will be the last to know it.
That's the sobering assessment from some of early music's most experienced leaders. Artists and presenters across the country are negotiating a zero-revenue world, and right now everyone has a cancellation story to tell.
But when will the lights come up again? As Dallas Bach Society artistic director James Richman says, paraphrasing Kurt Vonnegut, "It's easy to call time out. What's hard is calling time in."
Notions about restarting any public performances vary wildly. Geography matters. Organizational size. Repertoire has something to do with it — early music may have some advantage. Nobody suggests there is one answer.
Half a dozen early music leaders took time to assess what the coronavirus pandemic means to their organizations, and what the future may hold.
Kathleen Fay, executive director, Boston Early Music Festival
"Until there is treatment easily accessible, with our particular age group and clientele, in the intimate spaces we get together in…"
Fay doesn't have to finish that thought.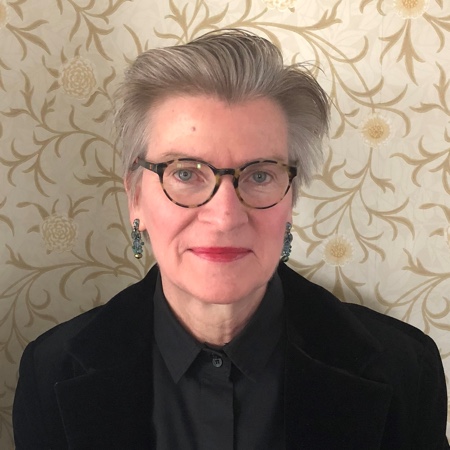 BEMF, with both a subscription season for touring artists and the massive biennial festival and conference every other June, has seen everything stop.
"Will there be a fall? What will it look like? For anyone to pretend to have a magic wand — that's a mistake.
"This is the work we must do now. We must plan. Talking to colleagues is therapeutic, revealing, and helpful. This is an ecosystem, and we depend on one another. Artists, agents, critics, supporters, and philanthropists.
"We're going to have to rethink our model. For BEMF, thank goodness this is not a festival year. We plan years in advance, and the next June (2021) is right around the corner for us. But it would be ignorant to think that someone like Jordi Savall would be willing to tour for an audience of 100 people. That's not economically feasible.
"For the whole digital concert hall — one could see a subscription concert, and maybe part of a lecture. But how do you mount a Baroque opera? This is not something you can reproduce online with quality. You don't just set up an iPhone.
"The music making is critical to the core, but the live experience has so many elements. Familiar friends and faces, what we do at intermission, dinner or a drink before.
"Communicating, pursuing a journey of honesty — it's going to take some seismic effort, unprecedented activity, to keep it all going."
James Richman, artistic director, Dallas Bach Society
"This goes so far beyond music," Richman says. "No food or money for rent, that's beyond the music scene. There has never been a time like this."
Artistic director of the Dallas Bach Society since 1995, Richman was also founder of New York's Concert Royal and conductor of the New York Baroque Dance Company. So he can relate personally to another cataclysmic event nearly two decades ago.
"Everyone suffered after 9/11. But even then, it wasn't a question of shutting everything down. Things did come back, but in a different form.
"The biggest problem is for freelancers, the instrumentalists and vocalists who rely on a constant stream of concerts. For most, that's why they chose this. They patch it together, and maybe it's a really nice life. And suddenly, there's nothing there. Zero income. In relation, maybe the organizations are in a better place."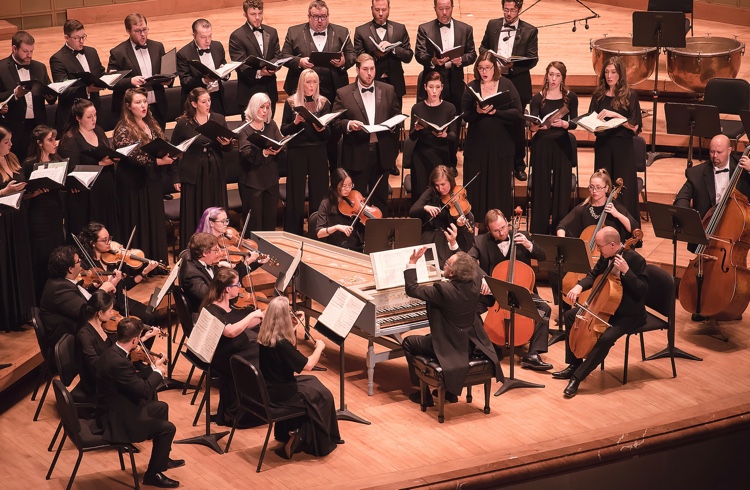 The factors that will allow Dallas Bach Society to reemerge remain complex and interwoven.
"Normally, we would start in October. I'd like to think we'll be fairly normal by then. The NBA, the NFL — events like that — that's another question. But we're much smaller, and the odds are good.
"Density of population will have something to do with it. Dallas/Fort Worth is spread out, a little like London. We can give four concerts, and nobody will have to drive 40 miles.
"We didn't shut down because of us. We shut down because everything else shut down. I don't think we'll survive as an internet phenomenon. There's nothing like a real performance, real people onstage and in the audience. If we have a future, that's what it's going to involve."
Gus Denhard, executive director, Early Music Seattle
Early Music Seattle includes both a hometown orchestra and internationally touring artists. That combination has presented both locals — the popular Seattle Baroque Orchestra — and brought international artists and ensembles to the city.
"We're in the business of getting people together to experience live music," says Denhard. "We are both a presenting and producing organization.
"I think things that closed first will open last. Especially large public gatherings. It doesn't help that average audiences are older — that audience will be the last to come back. When I think about the touring end of this — why should someone fly from Spain when they could broadcast to the whole world?"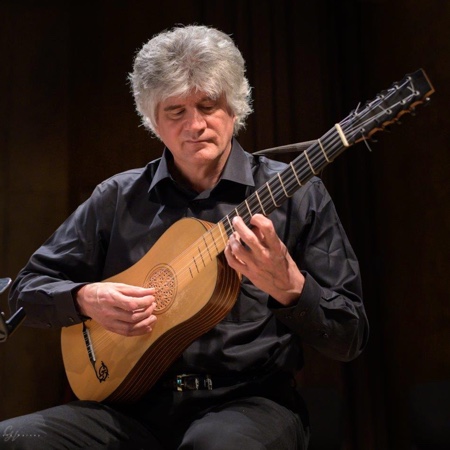 That's just the visiting artist part of the business. Denhard also has local musicians and a regional situation to monitor.
"We have a monthly marketing and fundraising gathering here in Seattle. It's a collaborative arts scene. Everyone has their list of plans. A sampler festival. A year without concerts. How do we mothball? Streaming. How to stream content in a logical way, or monetize that.
"Some organizations have been live streaming, but the rest of us are behind the curve, and we've got to get there. We're entering a new world."
When Denhard looks for opportunities, he sees some in the very nature of the early-music repertoire — and expanding that repertoire.
"The scale of the works we do, even the orchestral repertoire, is smaller. Eighty percent of what we do we can do with 15 players or less. There's economy there.
"So many of us who love early music miss lute recitals, for example. The economics have always worked against it. A new format opens the door to get back to these things.
"It's also another opportunity for early music to include ancient music outside of the European tradition. Everything is on the table. EMS has been working for years now, exploring connections between Latin American music and Baroque. It's an easy transition. Celebrating and exploring connections — there's a love for that."
Anne Azéma, artistic director, Boston Camerata
"My days are more crowded than ever," Azéma says. "So many things to face, so many things to discover.
"At first were the sleepless nights and worries in general. But then the fact that the Camerata is 65 years old, and we've seen a lot of things come and go. Human crises, economic ones, AIDS. Terrible things, and lots of colleagues died, or got left by the wayside.
"I hate the word perspective, but that gives us patience to breathe through the day. It's important to breathe. The normal instinct is to run too far in the future. So we are trying to look at these terrible, awful things in a poised manner."
Azéma finds relevance in the repertoire. "Because we are doing the music that we've doing, we look backwards. The plague brought out the worst and best in people. So how best can we help now? What form will it have?
"Artistically, part of what we do will have to be reinvented, reimagined. It's too early, but being poised, and aware, and ready to go — that's the main problem. There is creativity to be brought in."
As a singer, Azéma's discipline has had a jolt as well. "I never got up and sang scales in the morning. That's not me. My practice has always been specific — a program, a lesson, exploring different repertoire.
"But now my daily walks are the important thing for my voice. Every day. It's the backbone. It engages all my senses, more regularly than I usually have time to do.
"I thought by now I would be the wise woman on the mountain, reflecting on the state of life. But there are so many things to face, so many things to discover. I haven't had a moment. The future is there for us to invent."
Howard Bender, executive director, Apollo's Fire
Bender's new job presented its challenges immediately. The executive director of Cleveland's Apollo's Fire assumed his post March 9.
"I'm a native Clevelander," Bender says. "But I wasn't living here. I knew about Apollo's Fire; I watched them grow. I was coming home to serve an orchestra I really admired. This was my dream job."
It may still be.
"The organization has a high artistic level and a long-term strategy. The board and (founder and artistic director) Jeannette Sorrell have crafted a solid business plan. They understood cash reserves, and that will help us weather this storm. Jeannette grew this into something amazing. She's well-versed in artistic decisions and gets financial results."
But the immediate future remains uncertain.
"We're in the business of giving folks a live experience — one that only we can give them. We've looked at next season with a mind toward nimbleness and flexibility. We will be ready to serve the audience, when people are comfortable showing up."
Apollo's Fire not only tours to starry locations like Ravinia, Tanglewood, and Aldeburgh but also has a substantial regional impact.
"In Northeast Ohio, we play in 20 different venues. Akron, Summit County, Canton — we've been going there for 25 years. Akron's support of this organization is tremendous. They have delicious venues, and we plan to be more a part of it.
"Because we're a baroque orchestra, that can solve a lot of problems. What repertoire can have a financial result but also artistic zing? The repertoire we present affects the bottom line — but that's not a new concept.
"We do things like the Bach Coffeehouse Orchestra in a jazz club. Those are wildly popular. It brings us a younger audience. It's our job to make them subscribers."
An online presence — either streaming or making videos of past performances available — remains an option for Apollo's Fire.
"The orchestra was already moving into this virtual field. Our Music for the Soul series has gained 900 new subscribers since March 17. Our views have doubled in the same time. It's creating tremendous buzz."
Martin Pearlman, founder/music director, Boston Baroque
"Have multiple thoughts, and follow things where they lead," says Pearlman when asked to offer advice.
"There are many people who won't feel comfortable coming to a concert, and audiences will be smaller. We have to take the musicians into account, not just the audience. You want a chorus close together, and presumably with no masks."
Only one event comes close to resembling this crisis — the Boston Marathon bombing in 2013.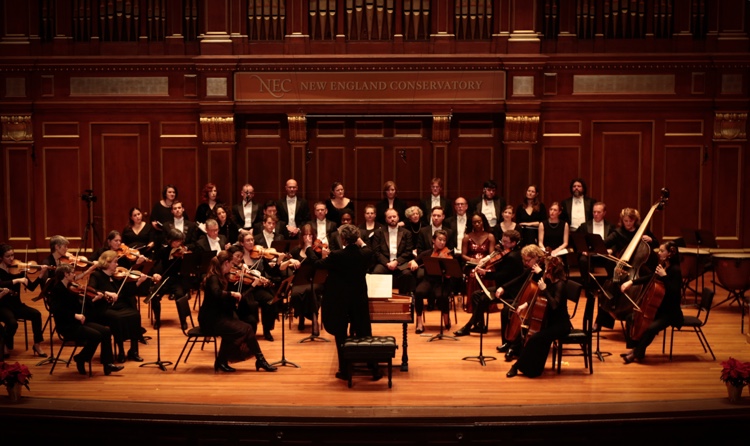 "That was the only other time we canceled, when the city shut down after the marathon bombing. The night we did perform again, I remember telling the audience how great it felt to be able to do something normal."
This time, "something normal" may not resemble what came before.
"We've talked about streaming," Pearlman says about performance alternatives — or enhancements. "What kind of subscription do you sell, what kind of package, what extras? We've started putting things online, but once you do that, your competition gets much bigger. You're competing with the Berlin Phil, and everyone else.
"Even when audiences are coming, there's still a question of how much you make available online, and where. I do think there is an audience that doesn't come to concerts — it's not necessarily reflective of their interest in the music. They just don't go to concerts.
"We've wanted to be streaming for a very long time. We do have some very high-quality video of our operas," Pealrman says, pointing out that the ensemble's 2015 staging of Handel's Agrippina will be on Amazon Prime soon.
"There's a lot of flexibility in our repertoire. If we were a Mahler orchestra, no. With a baroque orchestra, you can do one on a part, no chorus — there's lots of ways to do concerts.
"We'll have to make decisions about the bigger repertoire closer to the time, though. We have world-class singers coming from Europe and other places. You can't predict if they will be able to travel. You don't know when the halls will be ready. You need to be nimble and take it all as it comes."
Keith Powers covers music for Gannett New England, Opera News and Leonore Overture. Follow @PowersKeith; email to keithmichaelpowers@gmail.com.