by Andrew J. Sammut
Published March 1, 2021
Graupner: Antiochus und Stratonica. Christian Immler, Hana Blazíková, Sunhae Im, Sherezade Panthaki, Aaron Sheehan, Jan Kobow, Harry van der Kamp, Jesse Blumberg; Capella Ansgarii; Boston Early Music Festival Orchestra, Paul O'Dette, Stephen Stubbs, and Robert Mealy. CPO 555 369-2.
Like his fellow German contemporaries Bach and Telemann, Christoph Graupner explored a range of styles throughout a prolific career. Yet Telemann seems like a household name compared to Graupner. A colossal catalog of nearly 2,000 works and lack of name recognition make it hard to know where to begin with his music. The Boston Early Music Festival's premiere recording of Antiochus und Stratonica, completed in January 2020 in Bremen, Germany, will serve curious listeners and longtime Graupnerphiles well.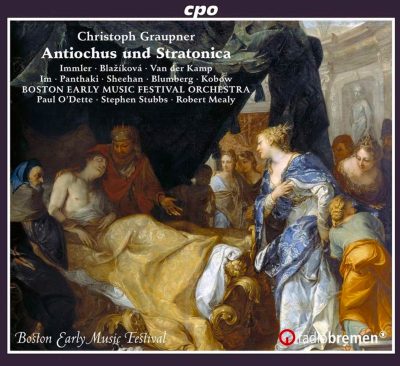 Graupner (1683-1760) spent most of his life at the court of Hesse-Darmstadt. Before that, Antiochus und Stratonica was one of the six operas he wrote as harpsichordist for the Hamburg Opera. This was the largest theatrical house in Europe. It was staffed by some of the best musicians on the continent, including the esteemed composer Reinhard Keiser. Handel had just left for Italy, but his works were still popular when Graupner arrived in Hamburg. The whole experience inspired the young composer. Antiochus and Stratonica displays formal variety, melodic and harmonic imagination, and sharp characterizations.
The opera centers on prince Antiochus, whose unrequited love for his stepmother Stratonica drives him to sickness, insanity, and near death. Meanwhile, the sorceress Mirtenia has enchanted royal advisor Demetrius, leaving his wife Ellenia heartbroken and enraged. Sardonic commentary and folkish tunes from the servant Negrodorus provide comic contrast. Arias in Italian and instrumental dances are also interspersed throughout the German libretto. It adds up to a refreshing break from the relentless alternation of recitatives and solo arias in many Baroque operas.
Evocative vocal writing and inventive orchestration animate every scene. In "Mein Gemüthe irrt im Liebes-Labyrinth," Graupner sculpts Antiochus's "maze of love" in sustained words over four obbligato instruments pushing against the ground pulse. "Da voi parto, o luci belle" contrasts sweet melodies, hurried statements, and hopeful rhythms. Trios for Demetrius, Mirtenia, and Ellenia craft textures for two sopranos and tenor while choreographing the love triangle's struggles. Obbligato arias with viola as well as violin, oboe, and cello color many of the arias. Graupner wrote comparatively little instrumental music, but pieces like Act 1's catchy chaconne show he was just as gifted without words.
BEMF's singers and instrumentalists match Graupner's music in color and conviction. As Antiochus, baritone Christian Immler shapes each note according to the character's constant pain and sadness but never turns histrionic. Instead, moments like "Vicino al morir" — where he contemplates death as repeated notes capture life ebbing away — hammer his feelings down to Earth. As Stratonica, soprano Hana Blazíková conveys sadness and affection for the prince that blurs the maternal and the romantic, for example, in the high, chromatically ascending "Mich fordert die Liebe." Veteran bass Harry van der Kamp's arias as King Seleucus stand nobly amid his family's turmoil. Baritone Jesse Blumberg doubles the roles of royal physician Hesychius and the high priest, responding to the troubles at court with sensitivity and lyricism.
Sunhae Im is the first voice heard in this production as the sorceress Mirtenia, and from "Wo die Natur die Neigung stöhrt" on, she blends seduction and venom. Aaron Sheehan makes a convincingly spellbound sap as Demetrius. At other times, his tenor turns purposefully oily in rejecting his wife, for example the downright caddish "Eine von euch, liebste Seelen." Sherezade Panthaki's flexible soprano earns so much sympathy that Ellenia's Act 3 rage aria becomes a welcome catharsis as well as a solid virtuoso vehicle. Jan Kobow's Negrodorus shoulders the responsibility of laughing alongside all the heartache without distracting from it. In the second act's drinking song, the tenor and the orchestra croon, yell, whisper, and hiccup like old friends.
Under the direction of Paul O'Dette and Stephen Stubbs, this varied and intricate score comes across as a natural dramatic whole. They lean into musical details like suspensions and bass lines for effects that are felt as much as heard. They also conduct a 30-piece orchestra — including a grand cohort of winds — that stays lush and nimble under concertmaster Robert Mealy. Obbligatos and instrumental movements show the BEMF band as its own powerful theatrical persona. The rich, varied continuo and organic pacing turn dry recitatives into musical events — no translation needed. The Bremen vocal ensemble Capella Ansgarii's warm and clear choruses are just as well-integrated. Kudos should also go to dramatic coach Gilbert Blin for translating his stage director's instincts into sonic theater.
The recorded premiere of Antiochus und Stratonica would already be a musical and historical event, but we're fortunate to have BEMF get this honor. This is an outstanding work and performance.
Andrew J. Sammut has written about Baroque music and hot jazz for All About Jazz, Boston Classical Review, The Boston Musical Intelligencer, Early Music America, the IAJRC Journal, and his own blog. He also works as a freelance copy editor and writer and lives in Cambridge, MA, with his wife and dog.
Recent EMA Recording & Book Reviews
In a revealing look into the lives of 'ordinary' folks in 17th and 18th c. Germany, author Tanya Kevorkian taps a wealth of sources that detail city life, from religious beliefs to weddings to the rhythms and rules of town watchmen. With compassion and wisdom, the author notes that historians who look at street life "have to some degree replicated the perspective of the authorities."
Emily Zazulia's valuable 'Where Sight Meets Sound: the Poetics of Late-Medieval Music Writing' explores notational aesthetics in polyphonic music, where it's not obvious how you're meant to sing what's on the page.
Long undervalued, Alessando Scarlatti's vocal writing naturally weds singable lines with the Italian language. Ars Lyrica Houston's colorful new recording of a Scarlatti oratorio, with an outstanding cast, makes a brilliant case for this rarely heard music.