by Jarrett Hoffman
Published March 1, 2021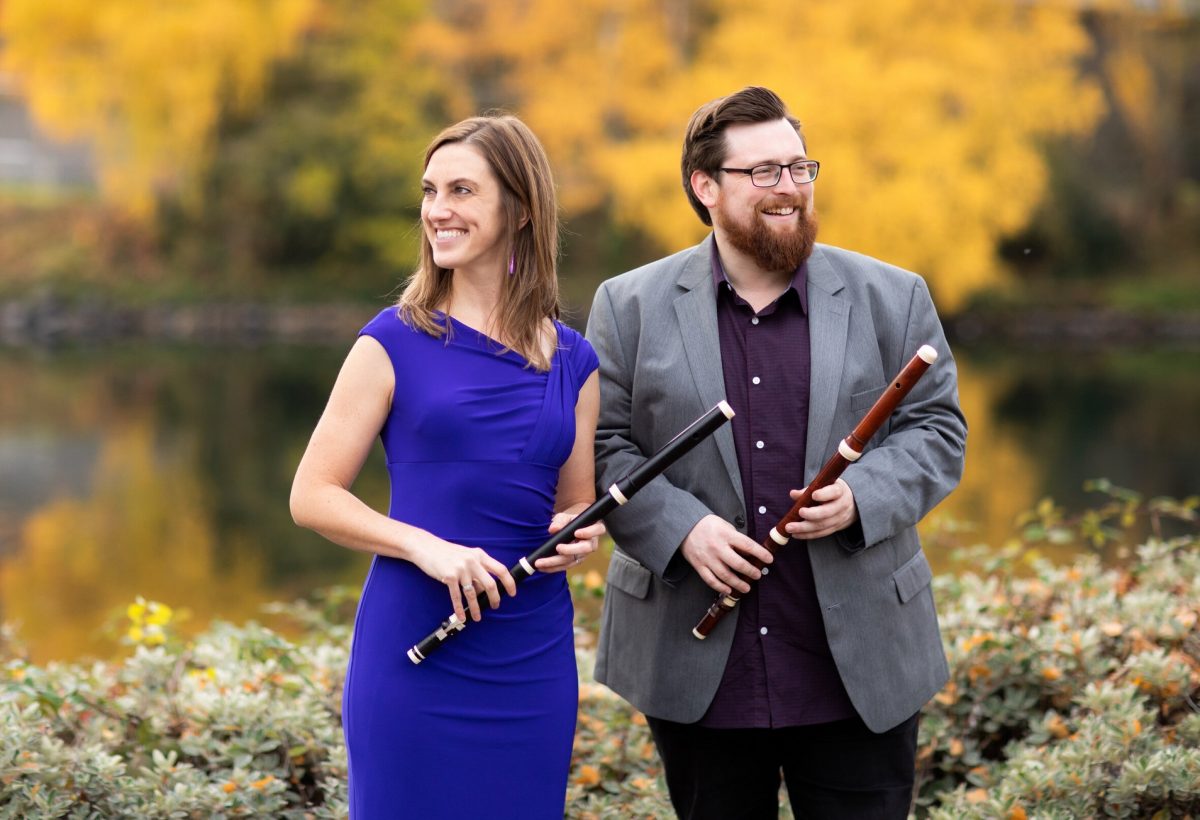 Telemann: Telemann Duets for 2 Flutes, Vol. 1. Flutes of a Feather (Leighann Daihl Ragusa and Joshua Romatowski, flutes). Available here.
Telemann wrote several sets of flute duets, some specifically for that instrument and others that came with multiple options, like two violins or two oboes. Leighann Daihl Ragusa and Joshua Romatowski, who make up the duo Flutes of a Feather, have begun their foray into recording this repertoire by selecting six of their favorites from one of those sets, the 9 Sonatas for Two Transverse Flutes, TWV 40:141-149.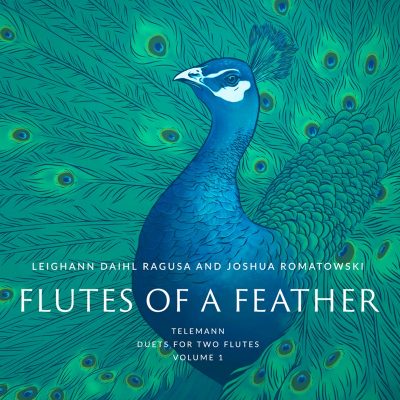 In Telemann Duets for 2 Flutes, Vol. 1, those lovely, at times fascinating, and always short-and-sweet pieces receive artful and loving treatment at the hands of these musicians, making for a highly enjoyable 38 minutes of listening.
Even in a short playlist, music by a single composer for two of the same instrument could become repetitive. That's not at all the case here, in part because of the composer's craft: The music moves through echoes, unisons, harmonizations, independent lines, and judicious silences, all while retaining its magical flow. Brevity helps, too. Most movements on the album last between one and two minutes as Telemann introduces ideas, develops them quickly, and wraps things up.
The performances also play a big part in keeping things fresh. Ragusa and Romatowski play with an engaging sense of drama — it's a continuous joy to ride the waves of their phrasing. Also impressive is their wide and quickly changing palette of colors. Aside from a bit of wide vibrato here and there, and some daring playfulness with rhythm in the Sonata No. 7, their choices fit the music wonderfully.
As for ensemble, the duo builds their phrases together convincingly — one flutist inspired by the other, then the reverse. And their timbres strike an important balance: enough contrast to bring variety to their traded melodies (one sounds a little more pure, the other warmer), while still forming a delicious blend. The only issues that arise are the occasional miscalculation of tuning, or the rare entrance that's barely out of sync.
Among the sonatas on this disc that deserve a special note is No. 5, which breaks up the flow of the playlist nicely with its five movements. That structure also seems to encourage Telemann to explore, as evidenced by a graceful and exquisite Menuet unlike any other movement on the album. And perhaps the most inventive sonata is the eighth. Its fascinating Vivace opens with energy and possibility — then we travel through the doorway of a fermata and end up spending half the movement in a slow, gentle, and expressive place.
Moving into the more abstract, there's something about these pieces that seems to stop the flow of time for the listener. The simplicity of two equal voices, laid out with such craft by the composer and painted with such care by the players, can lull you into a stillness of mind that is both rare and beautiful.
Jarrett Hoffman is the managing editor at ClevelandClassical.com and served as a fellow at the 2014 Rubin Institute for Music Criticism. As a clarinetist, he performs in the Hudson Valley and New York City and runs a private studio.
Recent EMA Recording & Book Reviews
In 2016, Jordi Savall assembled a group of immigrant musicians with a fundamental mission: to preserve and revive precious musical traditions from a range of under-stress cultures, from Syrian and Kurdish to Armenian, Sudanese, Afghan, and Moroccan. The resulting live performance was captured as 'Oriente Lux,' bridging gaps and making connections.
Jeannette Sorrell's adaptation of Handel's popular 'Israel in Egypt' cuts, re-orders, restores, and replaces music and text throughout the oratorio. But Handel didn't leave us with a 'definitive' edition, and Sorrell's version is so artistically logical that someone new to the work might not know anything is missing. Apollo's Fire and the outstanding vocal and instrumental soloists make a compelling case.
People who love Wagner operas can separate his music from his toxic beliefs. Yet J.S. Bach's 'superlative ability to move listeners' and status as 'a pinnacle of Western art' brushes aside the composer's harsh theology and often intolerant personal philosophy. In this collection of essays, Bach scholar Michael Marissen warns us to 'not soften or assimilate this figure to our own preferences, no matter how much we find inspiration, solace, or transcendence in his art.'