by Aaron Keebaugh
Published November 29, 2021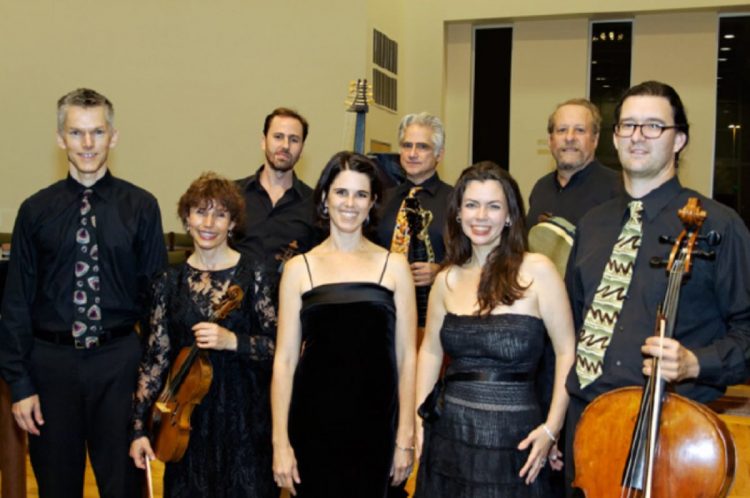 Archivo de Guatemala, Music from the Guatemala City Cathedral Archive. El Mundo (Richard Savino, director). Naxos 8.574295
Life in the Spanish colonies revolved around the cathedrals. As places of worship and cultural enrichment, these structures provided a sense of purpose for people from all walks of life. Music played a significant role in cathedral activity, and both Spanish and indigenous composers penned works that reflected the vibrant folk traditions of the day.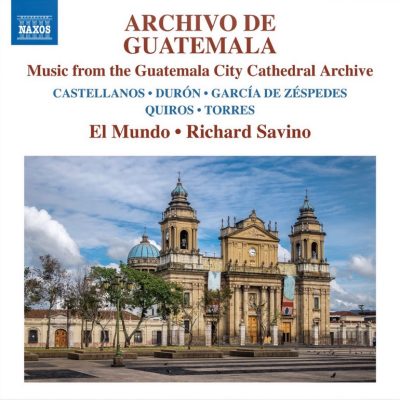 But much of that music has remained unheard, buried within cathedral archives. Fortunately, baroque guitarist and El Mundo director Richard Savino has delved into the stacks for Archivo de Guatemala, an enriching new recording on which he and his ensemble shed light on this repertoire. Bold and brilliant, the performances make a compelling case for music often relegated to the margins of traditional musical histories.
The Guatemala City Cathedral houses hundreds of manuscripts by both Spanish and indigenous composers. Two such figures are the focus on this disc: Manuel Joseph de Quiros, who served as muestra de capella at the cathedral, and Rafael Antonio Castellanos, his nephew and native Guatemalan.
Both adopted the rhythms of the indigenous xáraca into works that celebrate the nativity and ascension of Christ. Quiros's "Jesus, Jesus, Jesus, y lo que subes" lilts and bounds as El Mundo sopranos Jennifer Ellis Kampani and Nell Snaidas blend their voices in radiant phrases that capture the excitability of the religious moment. "Clarines suaves" showcases the singers in more intimate moments, the two finding the warm resonance of Quiros's harmonies.
The works by Castellanos provide the real fire. "Pastoras alegres" transforms the Nativity story into a zesty dance scene as the sopranos, joined by tenor Ryland Angel, trade joyful lines. Colorful percussion injects vitality into "Gitanillas vienen," while the lyrical lines of "Ángeles del cielo" flow over the energetic continuo. All convey the text's connection of steadfast faith with a personal love affair.
Castellanos's "Al demonio – Si perfecciona el Altísimo" also takes on dramatic flair as the singers scoff at the devil in bold tones. They find the resonant beauties in the ensuing song of praise to the Almighty. The swift and catchy "Vaya de járaca amigos," which Angel sings with assurance, tells of the moral conflict between humankind and God. Angel also captures the urgency of "Negros de Guaranganá," where native people celebrate Christ's birth.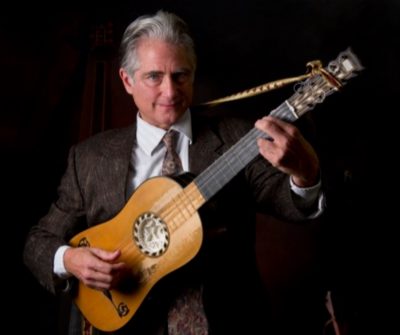 Other works offer introspection. Bass Paul Shipper renders Sebastián Durón's "Ay de mí, que el llanto y las tristeza" with all the poignant sorrow of a man longing for forgiveness. Joseph de Torres's "Cantada al Santísimo: Sosiega tu quebrano" seeks the calm that comes through faith. The score gives soprano Kampani time to shine, and she tosses off the melismas and mordents with aplomb. Violinists Adam LaMotte and Lisa Grodin complement her with silvery lines of their own. Snaidas takes the spotlight in Durón's "Vaya pues rompiendo el ayre." Her trills and octave leaps convey a slow burning intensity as the text relays the mysteries of Jesus's life. Both sopranos bring festive flair to "Convidando está la noche" by Juan García de Zéspedes. The musicians of El Mundo, all the while, play with the verve of a village band.
The instrumental works on this album reflect the influence of Arcangelo Corelli, who is represented with the Ciacona from the Trio Sonata, Op. 2, No. 12. Savino believes this movement, with its hints of xáraca rhythms, to be of New World origin. Performances here by violinists LaMotte and Grodin make a persuasive case for that idea with playing full of terpsichorean zeal. LaMotte further channels Corelli's lyricism in selections from anonymous violin sonatas, which emphasize dramatic contrasts and high-Baroque intensity. Savino is featured in Gaspar Sanz's Folías, his melodic embellishments coalescing in figures that take on sprightly energy.
In movements from two guitar sonatas by Juan Antonio Vargas y Guzmán, Savino proves a virtuoso with an eye towards sensitivity. He finds the delicacies of the Andante from the Sonata No. 8 and the exuberance of the Allegro from No. 9, each reflecting the spirited essence of this unfamiliar, yet wonderfully attractive music.
Aaron Keebaugh has written for The Musical Times, Corymbus, and The Classical Review, for which he serves as regular Boston critic. A musicologist, he teaches at North Shore Community College in Danvers, MA.
Recent EMA Recording & Book Reviews
Jeannette Sorrell's adaptation of Handel's popular 'Israel in Egypt' cuts, re-orders, restores, and replaces music and text throughout the oratorio. But Handel didn't leave us with a 'definitive' edition, and Sorrell's version is so artistically logical that someone new to the work might not know anything is missing. Apollo's Fire and the outstanding vocal and instrumental soloists make a compelling case.
People who love Wagner operas can separate his music from his toxic beliefs. Yet J.S. Bach's 'superlative ability to move listeners' and status as 'a pinnacle of Western art' brushes aside the composer's harsh theology and often intolerant personal philosophy. In this collection of essays, Bach scholar Michael Marissen warns us to 'not soften or assimilate this figure to our own preferences, no matter how much we find inspiration, solace, or transcendence in his art.'
Trumpet soloist Josh Cohen and Ensemble Sprezzatura bring together regal flair and expressive grace with 'Altissima,' exploring the varied colors and dimensions of the high Baroque trumpet. The recording makes an ideal introduction to myriad trumpeting styles through mostly unfamiliar repertoire.