by Karen Cook
Published January 28, 2019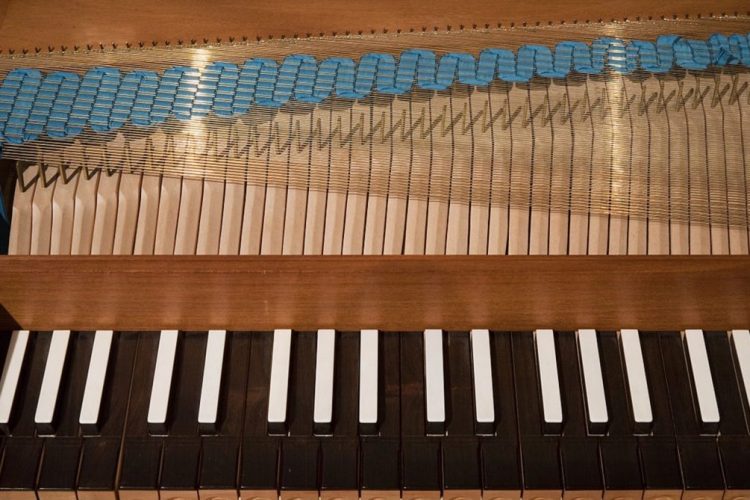 The Joan Benson Collection: Clavichord and Fortepiano
Joan Benson
Clavier Classics CC108
By Karen Cook
Joan Benson has had a formidable career as a recording artist, teacher, pedagogue, and published author. Now, at 93, her prolific performing career is once again visible to the masses through this collection: a two-CD set of works culled from her live performances and studio albums spanning 40 years.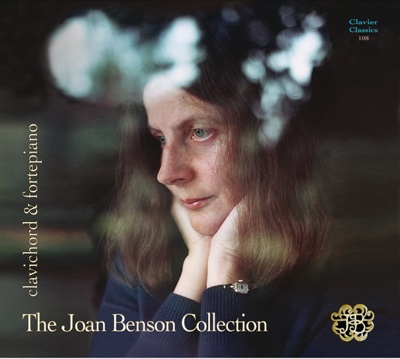 Benson received degrees in the 1940s and '50s before moving overseas to study with such instructors as Viola Thern and Olivier Messiaen. As she writes, the 1950s were an excellent time to be a clavichord specialist in Europe, since instrument curators were all too happy to find the rare and historic instruments that had been squirreled away for preservation during World War II. When she returned to the United States several years later, she did so with two clavichords. Within just a few years, she debuted at the Carmel Bach Festival, issued her first clavichord recording, and became a professor at Stanford University.
Since that first recording in 1962, Benson released four more albums and a DVD, as well as several articles and methods. Her reputation as a master of clavichord interpretation and a significant influence on the modern revival of historical keyboard instruments and repertoire dating to the 15th century was forged through her teaching and live performances. In fact, her skill as a keyboardist led her to explore the application of clavichord technique first to the fortepiano and later to the modern piano, and her interest in new technology caused her to attempt blending the clavichord with computer-generated sounds.
Any examples of the latter, unfortunately, were not included in this new collection. But what is here is extraordinary. Barry Phillips, her recording engineer, used original tapes of live performances and her studio albums to remaster a number of her recordings. The first disc contains selections from Haydn, Mozart, the little-known Georg Wagensail, and W.F. Bach, the interpretation for whose music Benson has been particularly lauded over the years. The second disc moves backward in time, beginning with a selection of dances and preludes by composers such as G.M. Trabaci and Jean Perrichon before moving once more into the 18th century with works by Froberger and C.P.E. Bach. The disc ends with a trio of pieces by Felix Mendelssohn for the fortepiano and one work for grand piano by John Cage, reflecting Benson's later turn toward Buddhist philosophies.
Benson couches this recording as an experience in softness, the kind of stillness and quietude that so often escapes the ear in today's "electrified" societies. There is even a suggestion printed in the liner notes (and on the website for digital downloaders) to keep the volume turned down, in order to best imitate the smaller venues in which these instruments were played. The suggestion is an apt one; listening to this album in a quiet space, devoid of distraction, is an intensely intimate experience. The miking and remastering allow you to hear the individual actions on each instrument, rendering the performances as immediately human.
Benson is renowned for her emotional playing, wrought through an exploration of the dynamic capabilities of these instruments, and such comes through in spades here. Her clavichord performances evoke greater dynamic shifts than I've come to expect on recordings of this instrument, and those on the fortepiano are almost startling after hearing the softer instrument first. The markedly different timbres of the various instruments also shine through in fascinating ways; the Polak sounds almost like a music box, for example, while the Cabezón is surprisingly warm and resonant. Finishing with the Cage is a splendid touch; the meditative accumulation of pitches spreads out like ripples on a pond.
For Benson fans, or for any who are as unfamiliar as I was with her work, this collection is a must.
Karen Cook specializes in the music, theory, and notation of the late medieval and early Renaissance periods. She is assistant professor of music at the University of Hartford in Connecticut.
Recent EMA Recording & Book Reviews
Emily Zazulia's valuable 'Where Sight Meets Sound: the Poetics of Late-Medieval Music Writing' explores notational aesthetics in polyphonic music, where it's not obvious how you're meant to sing what's on the page.
Long undervalued, Alessando Scarlatti's vocal writing naturally weds singable lines with the Italian language. Ars Lyrica Houston's colorful new recording of a Scarlatti oratorio, with an outstanding cast, makes a brilliant case for this rarely heard music.
On their latest stellar recording, the Suspicious Cheese Lords focus on Palestrina's 'Missa Illumina oculos meos,' and the lengthy motet by Andreas de Silva on which it's based. World premiere recordings, beautifully sung.