by Kyle MacMillan
Published May 2, 2022
Shining Shore: Music of Early America. Three Notch'd Road: the Virginia Baroque Ensemble. TNR003
Like most other early-music exponents, Three Notch'd Road: The Virginia Baroque Ensemble performs its share of musical masterworks by big-name European composers like Bach and Handel. But for its latest recording, Shining Shore: Music of Early America, the Charlottesville group has mined the rich heritage of its own musically fertile region, presenting a fresh, inviting line-up of short songs and instrumental works that were likely heard in the state or its preceding colony from the late 17th-to mid-19th-centuries.
Despite the obviously nostalgic bent of this project, there is nothing sentimentalized about the group's historically informed approach to this music. Each selection is presented in a simple, restrained and largely unadorned way using an economy of musical means—never more than five accompanying instruments at a time, including the English guittar, Appalachian dulcimer, and harp. And for the most part, this understated, laconic approach works, allowing this music to be appreciated on its own terms.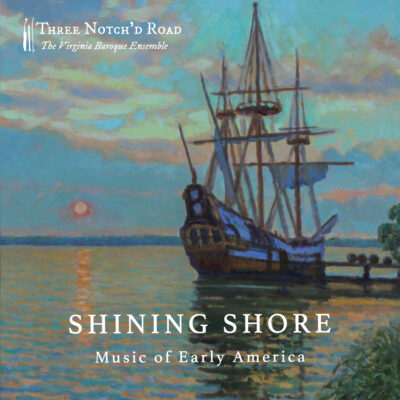 There are a few recognizable composers or works like Henry Purcell's Hornpipe "Wells Humour," performed in a spirited arrangement anchored by the group's artistic director, baroque violinist Fiona Hughes, with harp, historical clarinet and baroque cello. If the inclusion of a clarinet in this unusual quartet seems odd, considering the instrument was invented several years after the composer's death, the idea is that the music would have been transported to America and performed over time with whatever instruments would have been available.
Another example is I Wonder as I Wander, a folk hymn usually performed at Christmas. The version of this work familiar today was created in 1933 by John Jacob Niles, but it is based on song fragments of unknown origin that he collected earlier that year from a girl in rural North Carolina. In this performance, bass Peter Walker brings a spare, doleful quality to his singing, which is compellingly accompanied by Hughes' lone violin.
But aside from a few recognizable selections like these, most of these works are probably unknown to anyone but specialists in this realm. Other highlights include Charles Thompson Carter's Ah Nanny, Wilt Thou Gang With Me, with sprightly playing by clarinetist Dominic Giardino. Walker brings a light, airy touch to the abundant vocal ornamentation.
Of particular note is Hughes' highly effective interweaving of Remember, O thou man from Thomas Ravenscroft's folk-song collection, Melismata (1611), and the shape-note hymn Idumea from Ananias Davisson's Southern Harmony (1835). Like a good number of the selections on this recording, which was made in the midst of the COVID-19 pandemic, this compilation deals with death and hope. It opens with mournful bass solo by Walker and continues with solos by the album's other fine singers—soprano Michelle Pincombe and Hughes, who is also an alto—and all three together.
At a time when such forces as globalization, mega-corporations and social intent seem to bring a homogeneity to so many aspects of life, a sense of place and a bow to tradition are perhaps more important than ever. Three Notch'd Road, which takes it name from a colonial-era route across central Virginia, provides both in this down-to-earth, unassuming musical ode to its homeland.
Recent EMA Recording & Book Reviews
This strong new recording is a collection of unpublished motets by Giulio San Pietro del Negro who, like his contemporary Monteverdi, let the words guide the music.
The music of Joseph Bologne, Chevalier de Saint-Georges is gaining a foothold in the repertoire, and his only surviving opera has finally been recorded. Haymarket Opera's splendid 'The Anonymous Lover,' from 1780, features a winning cast and strong orchestra. Unmissable.
Viol players today might know the music of English Tudor composer William Whyte, even as his biography remains a mystery. In this vivid new recording, New York's Abendmusik has finally committed Whyte's complete consorts to disc and make a compelling case for his music.