by
Published June 3, 2019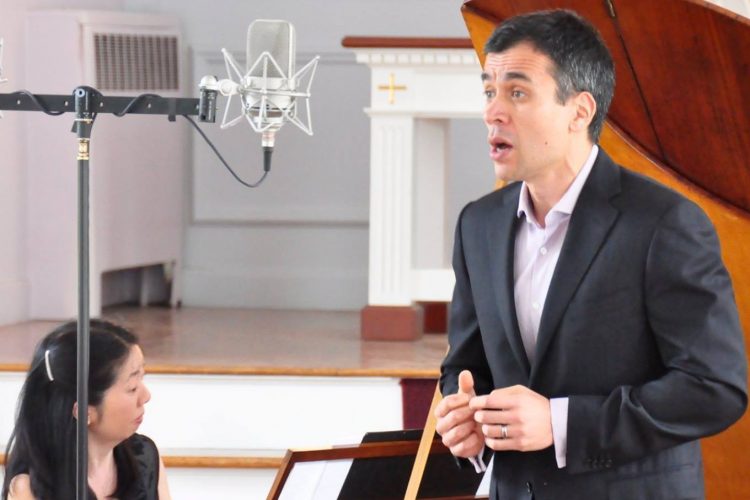 Franz Schubert: Die schöne Müllerin
Thomas Meglioranza, baritone; Reiko Uchida, piano
By Daniel Hathaway
Like Winterreise, the other and later song cycle Franz Schubert wrote on poems by Wilhelm Müeller, Die schöne Müllerin narrates a tale of unrequited love that yanks its protagonist back and forth between hope and despair.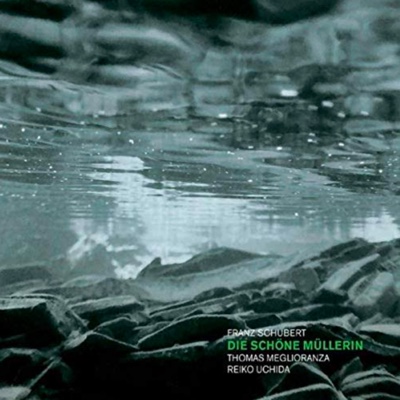 The 1823 cycle doesn't end well for a journeyman who falls hard for a miller's daughter. She's having none of it, and takes up with a hunter clad in green (once the journeyman's favorite color, but now an evil hue). After sharing his joys and woes with a sympathetic brook (it talks back to him), he finally drowns himself in its waters, leaving his liebes Bächlein to babble a lullaby after his demise.
Based on the evidence, you have to wonder if any Romantic poet or composer from Müller to Mahler — and this includes Schubert — really wanted to be happy. In any case, the unattainable provided them with multiple opportunities for creating poignantly expressive art, and the 20 songs of Die schöne Müllerin are among the best.
Baritone Thomas Meglioranza and pianist Reiko Uchida chose to record their engaging performance of the cycle in Oberlin Conservatory's Clonick Hall, where they had access to an 1829 Viennese fortepiano built by Anton Zierer only six years after the ink was dry on Schubert's manuscript.
Via a circuitous route, that instrument joined Oberlin's historical keyboard collection in the summer of 2014 after sitting unplayed in an unheated summer house on Italy's Lake Como for 170 years (read more about the instrument here). Its warm, clear sound and responsive action make it the perfect vehicle for realizing Schubert's imaginative keyboard writing.
The Cleveland-based baritone, whose repertoire reaches from Bach to Babbitt and his operatic roles from Aeneas to Chou En-lai in Nixon in China, is a graduate of the Eastman School of Music who has won the Naumburg and Concert Artists Guild competitions. Meglioranza's fresh-sounding voice and easy delivery serve him well here in his role as a young, vulnerable suitor.
A Curtis, Mannes, and Juilliard graduate, the New York-based Uchida has recorded a Grammy-nominated album with violinist Jennifer Koh and been a member of Chamber Music at Lincoln Center. She takes easily to the Zierer fortepiano, and her sensitive touch and clear articulation produce a vast range of colors and moods in the Schubert.
About half of the songs in Die schöne Müllerin are strophic with multiple verses sung to the same music, a format that can lead singers to try too hard to create variety. Meglioranza and Uchida don't take that route, making only tiny inflections here and there and letting the words and music speak for themselves. In "Des Müllers Blumen," just at the point when stanza after stanza might become repetitive, Uchida moves the piano part up an octave to fine effect.
Similarly, singers can go overboard with changing their vocal quality in songs that create a dialogue between the journeyman and the brook. Meglioranza makes only subtle alterations in his tone to distinguish one from the other.
The baritone achieves his most impressive text declamation in "Ungeduld" and "Der Jäger," songs that move along at a fast clip and require spitting out lots of words. And speaking of texts, the baritone has supplied his own translations, which are as refreshing as his vocal delivery. In "Eifersucht und Stolz," the journeyman asks,
Where are you rushing to, so swirling and wild, my dear brook,
Are you angrily chasing that jerk, the hunter?
And in "Tränenregen,"
Above the clouds and stars the brook rippled merrily,
and called out, singing and tinkling, "Buddy, friend, follow me!"
The self-produced album, cleanly recorded and mastered by Paul Eachus, is available on CD Baby along with the performers' earlier recording of Winterreise.
Daniel Hathaway founded ClevelandClassical.com after three decades as music director at Cleveland's Trinity Cathedral. He studied historical musicology at Harvard College and Princeton University, and orchestral conducting at Tanglewood, and team-teaches Music Criticism at the Oberlin Conservatory of Music.
Recent EMA Recording & Book Reviews
In a revealing look into the lives of 'ordinary' folks in 17th and 18th c. Germany, author Tanya Kevorkian taps a wealth of sources that detail city life, from religious beliefs to weddings to the rhythms and rules of town watchmen. With compassion and wisdom, the author notes that historians who look at street life "have to some degree replicated the perspective of the authorities."
Emily Zazulia's valuable 'Where Sight Meets Sound: the Poetics of Late-Medieval Music Writing' explores notational aesthetics in polyphonic music, where it's not obvious how you're meant to sing what's on the page.
Long undervalued, Alessando Scarlatti's vocal writing naturally weds singable lines with the Italian language. Ars Lyrica Houston's colorful new recording of a Scarlatti oratorio, with an outstanding cast, makes a brilliant case for this rarely heard music.