by Andrew J. Sammut
Published June 7, 2021
J.G. Graun: Chamber Music from the Court of Frederick the Great. Augusta McKay Lodge, violin; Georgina McKay Lodge, viola; Eva Lymenstull, cello; and David Schulenberg, harpsichord. Brilliant Classics BRI96289
This disc's title only hints at what it has to offer curious listeners. Half of the album is devoted to Johann Gottlieb Graun, but, as the CD cover indicates, it also features three other composers under Frederick the Great's employ. As for the works on this release, the liner notes explain that the enlightened monarch may not have even heard them at his Potsdam court. Instead, these chamber pieces probably enriched gatherings in the homes of professional musicians and urban aristocracy across the Prussian capital of Berlin.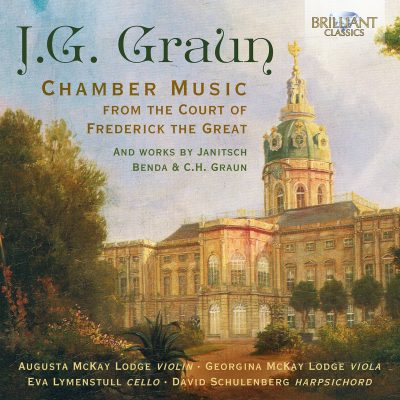 Either way, violinist Augusta McKay Lodge, violist Georgina McKay Lodge, cellist Eva Lymenstull, and harpsichordist David Schulenberg curate a concise, intriguing program from the Baroque-Classical transition via some lesser-known but gifted composers. There's plenty to appreciate here: Graun's instrumental conversations, his brother Carl Heinrich's engaging melodies for cello, Franz Benda unfolding a dark little story, and Johann Gottlieb Janitsch embedding tense repetitions amid sweet textures and lilting rhythms. The viola gets ample room, for a change, via two contrasting sonatas and sharing the lead in the trios. Several of J.G. Graun's movements bring the harpsichord beyond its usual accompaniment role.
With two trio sonatas bookending four solo sonatas, everyone gets some spotlight in this unique repertoire. Georgina McKay Lodge's patient gestures turn the chromatic Adagio e mesto of J.G. Graun's Viola Sonata in C Minor into a reflective journey. Benda's Viola Sonata in C Minor shows off her rich, dark hues and powerful sound, with the central Allegro sporting mesmerizingly fluid runs. Augusta McKay Lodge spins a coy opening to J.G. Graun's Violin Sonata in B Flat and dispatches the subsequent movements' rapid-fire passages, sudden tempo shifts, and unexpected modulations with poised, even phrasing, and precise articulation. When Graun's obbligato harpsichord parts turn the keyboard into a co-soloist, Schulenberg partners with both string players to create free-flowing dialogues. He splits the cadenza in Graun's Violin Sonata, and it comes across like an improvised duet. Schulenberg also shares in the playful explosion of trills in the middle movement of Graun's Viola Sonata.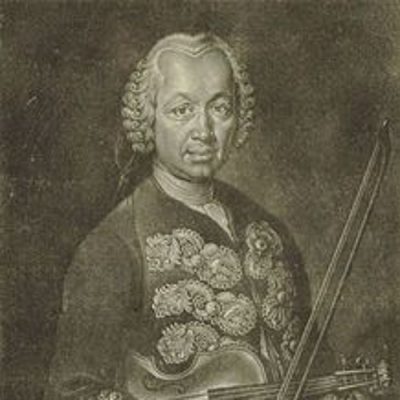 The graceful unaccompanied duet at the end of the Adagio in Janitsch's Trio Sonata in G Minor reminds the listener that the violinist and violist are siblings. Their warm blend and empathic interplay are the first highlights of this disc. J.G. Graun's blend of concerted and contrapuntal writing in his trio sonata's first movement offers an opportunity to hear their cultivated tones and glistening upper registers. The sisters also have a ball in the succeeding movements, with especially buoyant imitations in the Allegretto cantabile and closing with comedic zest in the Allegro's repeated phrases. The continuo is strictly accompaniment here, but Lymenstull and Schulenberg revel in the finale's simple but romping squeezebox rhythm. Lymenstull is featured in C.H. Graun's alternatingly bright and tender Cello Sonata in C, the esteemed opera composer's only work for the instrument.
The musicians prepared their own performing editions, studying original manuscripts and contemporaneous performance treatises to, in Schulenberg's words, "produce a distinctive Berlin style of performance." This repertoire sometimes gets dismissed as light stuff, but this group obviously heard the potential in these scores. And to be fair, J.G. Graun, C.H. Graun, Franz Benda, and Johann Gottlieb Janitsch: Chamber Music from Members of the Court of Frederick the Great would have been a more accurate but really clunky title!
Andrew J. Sammut has written about classical music and jazz for All About Jazz, The Boston Classical Review, The Boston Musical Intelligencer, Early Music America, The IAJRC Journal, and his blog. He also works as a freelance copyeditor and writer. He lives in Cambridge, MA, with his wife and his dog.
Recent EMA Recording & Book Reviews
In a revealing look into the lives of 'ordinary' folks in 17th and 18th c. Germany, author Tanya Kevorkian taps a wealth of sources that detail city life, from religious beliefs to weddings to the rhythms and rules of town watchmen. With compassion and wisdom, the author notes that historians who look at street life "have to some degree replicated the perspective of the authorities."
Emily Zazulia's valuable 'Where Sight Meets Sound: the Poetics of Late-Medieval Music Writing' explores notational aesthetics in polyphonic music, where it's not obvious how you're meant to sing what's on the page.
Long undervalued, Alessando Scarlatti's vocal writing naturally weds singable lines with the Italian language. Ars Lyrica Houston's colorful new recording of a Scarlatti oratorio, with an outstanding cast, makes a brilliant case for this rarely heard music.