by Karen Cook
Published December 16, 2019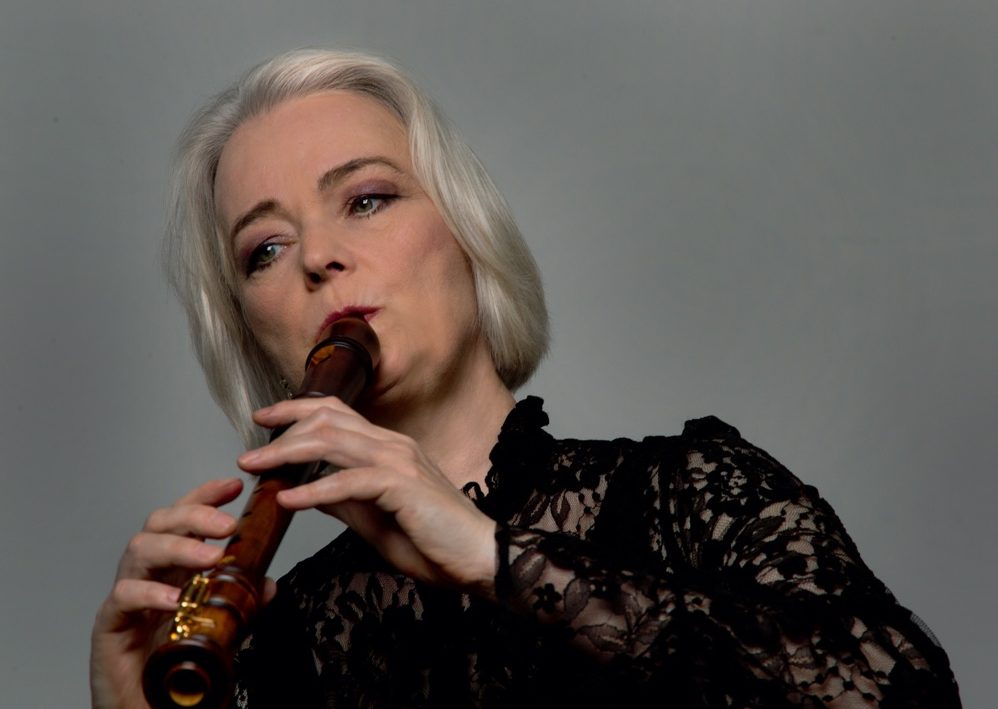 Bach: 6 Flute Sonatas BWV 1030–1035. Michala Petri (recorder), Hille Perl (viola da gamba), Mahan Esfahani (harpsichord). OUR Recordings 6.220673
It has been more than 25 years since recorder virtuoso Michala Petri last recorded J. S. Bach's six flute sonatas. That album, with Keith Jarrett on harpsichord, was released in 1992 to great acclaim; this one will undoubtedly receive effusive praise as well.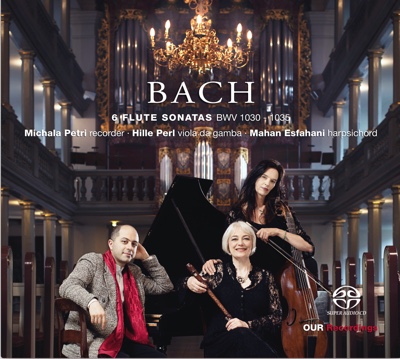 When returning to the same works after such a length of time, one might expect to hear a completely new approach, a drastic contrast. Not so here; Petri is still a tour de force, but she plays here with an ease and command that can only be borne through working with this kind of music until it sinks into your bones. That artistic maturity shows through in her discerning approach to articulation, rhetorical gesture, tempo, and tone color. She chooses different instruments this time around, shifting downward in register to alto and tenor recorders (requiring three of the sonatas to be transposed from Bach's original keys).
Perhaps most significant, though, is the change in continuo: in addition to Mahan Esfahani's harpsichord, the bass line is reinforced by Hille Perl on viola da gamba. Perl's rich, warm lower register is the perfect complement to Petri's recorders, and the moments in which she occupies the main stage — listen, for example, to the lovely plucked introduction to the Andante of BWV 1034 or the subtle presence of her drone in the first movement of BWV 1033 — are to be prized. Whether due to this change in configuration, the louder yet mellower harpsichord, or simple taste, the acoustic space sounds warmer and more intimate than that of the earlier recording.
While on a few occasions I would not be sorry to have the gamba come through even a bit more in the mix, on the whole the acoustic environment captures the blend of the three instruments beautifully. Every movement of each sonata feels like a conversation between old friends; everyone might be at Petri's house, but that doesn't mean that Esfahani and Perl sit in silence. In the opening Allegro moderato of BWV 1031, for example, it is Esfahani who begins, laying out the basic thematic material before scurrying away in a flutter of fast scalar passages. Petri enters, reiterating the main melody, but just below her is Perl, who makes the bass line sing like a natural countermelody rather than a mere tonal prop. Or, as contrast, listen to the more communal effort found in the concluding Allegros of BWV 1032 and 1035, both of which showcase equally the virtuosity of each player.
Bach likely wrote these six sonatas for the flauto traverso, if indeed he wrote all of them (his authorship of two of them remains disputed). However, Bach was a practical musician who lived in practical times; whether or not he might have had a preferred key, or instrument, he certainly felt free to borrow, rearrange, and alter musical ideas from himself and from others with great frequency. It stands to reason, then, that he might have rather enjoyed Petri's recorders. I know I do.
Karen Cook specializes in the music, theory, and notation of the late medieval and early Renaissance periods. She is assistant professor of music at the University of Hartford in Connecticut.
Recent EMA Recording & Book Reviews
In 2016, Jordi Savall assembled a group of immigrant musicians with a fundamental mission: to preserve and revive precious musical traditions from a range of under-stress cultures, from Syrian and Kurdish to Armenian, Sudanese, Afghan, and Moroccan. The resulting live performance was captured as 'Oriente Lux,' bridging gaps and making connections.
Jeannette Sorrell's adaptation of Handel's popular 'Israel in Egypt' cuts, re-orders, restores, and replaces music and text throughout the oratorio. But Handel didn't leave us with a 'definitive' edition, and Sorrell's version is so artistically logical that someone new to the work might not know anything is missing. Apollo's Fire and the outstanding vocal and instrumental soloists make a compelling case.
People who love Wagner operas can separate his music from his toxic beliefs. Yet J.S. Bach's 'superlative ability to move listeners' and status as 'a pinnacle of Western art' brushes aside the composer's harsh theology and often intolerant personal philosophy. In this collection of essays, Bach scholar Michael Marissen warns us to 'not soften or assimilate this figure to our own preferences, no matter how much we find inspiration, solace, or transcendence in his art.'