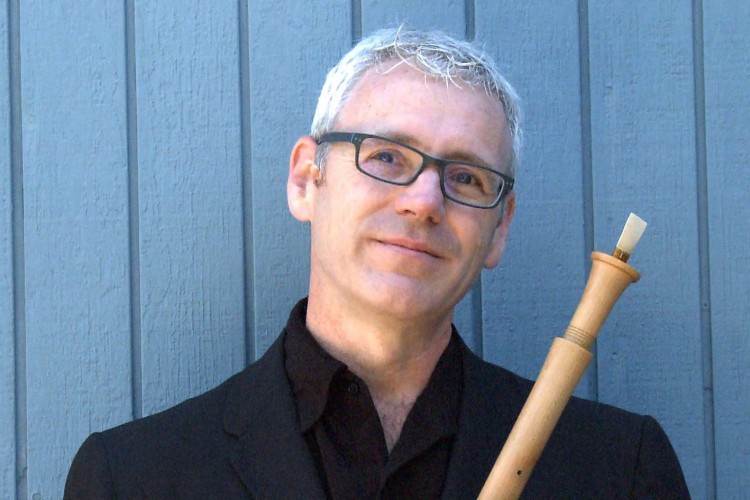 Aage Nielsen has served as an adjunct professor of music at the College of Idaho and Northwest Nazarene University, as well as the bass clarinetist with the Boise Philharmonic for 23 seasons, and the Sun Valley Summer Symphony for 11 seasons. He was the founder and director of the collaborative chamber ensemble Darkwood Consort for 19 seasons and performed throughout the U.S., as well as Denmark, Iceland and The Netherlands. Aage has commissioned and premiered dozens of new works, particularly for douçaine with other instruments.
After nearly four years as a Benedictine monk, Aage is now based in Portland, Oregon, where he performs with douçaine and organ duo Ensemble Aalto, early-music ensembles Curious Voices (Big Mouth Society) and Orchestra of the Moon, Danish folk group Ud af Skoven, and has just been appointed founding director of Beauteous Excavation Ensemble (BEE) for Big Mouth Society.
How did you come to the field of Early Music?
Ever since I heard Judy Collins sing Landini's ballata Lasso! di donna I knew that was what I wanted to do, but I didn't have the tools for it when I first heard it. I went on to play symphonic and chamber music for about 25 years with bass clarinet as my main instrument, but played shawm from time to time when early music opportunities arose. One of the times Shira Kammen was a guest on my collaborative concert series, she suggested the douçaine would be a great instrument for me. She was right, and I have been in love with it ever since. I did some graduate work with it, then subsequently left the classical music world to become a Benedictine monk for a few years, during which time I further concentrated my musical efforts on both medieval and new music with the douçaine as my main instrument.
Tell us about your most memorable concert experience?
Playing with Sequentia at the end of a two-week intensive workshop at Early Music Vancouver was a thrilling experience that I will never forget.
You're listening to music… what's on your playlist that would surprise us?
It wouldn't surprise anyone who really knows me, but the top three right now are Power in the Blood by Buffy Sainte-Marie, Til Vi Ligger by Shaka Loveless from Denmark (Danish reggae), and Kenny B's eponymous debut album (Dutch reggae from Suriname).
Unexpectedly, you have two hours of free time later today… what will you do?
I will read some Danish and Dutch literature, watch Days of Our Lives on my tablet, and maybe take in a show on DR.DK (Denmark) or NPO.NL (Netherlands) if I'm still awake.