by
Published October 4, 2016

EMA's monthly featured member profile.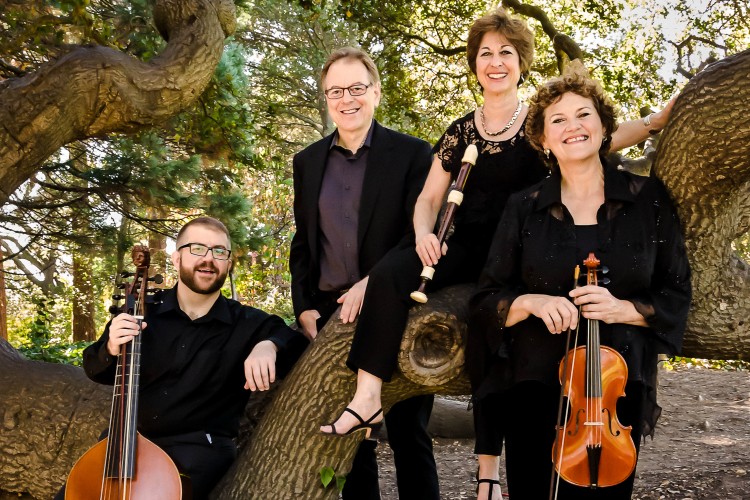 Founded in 1990, Musica Pacifica has become widely recognized as one of America's premier baroque ensembles, lauded for both "dazzling virtuosity" and "warm expressiveness."  They have been described as "some of the finest baroque musicians in America" (American Record Guide) and "among the best in the world" (Alte Musik Aktuell). Based in the San Francisco Bay area, the artists perform with Philharmonia Baroque Orchestra and American Bach Soloists, as well as prominent early music ensembles worldwide. Musica Pacifica has performed on prestigious concert series throughout the U.S. Featured at the Berkeley Early Music Festival three times, their first appearance there was cited in Early Music (UK) as "perhaps the standout of the entire festival." Their 2015 performance at the Boston Early Music Festival was reviewed as "sensational . . . astonishing . . . breath-taking throughout" by The Boston Musical Intelligencer. They have performed at festivals in Germany and Austria, and have been featured on German National Radio, Minnesota Public Radio, and National Public Radio's "Performance Today" and "Harmonia." Musica Pacifica's nine CD releases on the Virgin Classics, Dorian, Solimar,  and Navona labels have won national and international awards.
Musica Pacifica's current line-up is Judith Linsenberg (recorder), Elizabeth Blumenstock (violin), Josh Lee (viola da gamba), and Charles Sherman (harpsichord.)
How did Musica Pacifica come together?
We met back in 1990 through Philharmonia Baroque Orchestra in the Bay Area. The group had a slightly different make-up back then, including recorder (myself — Judith Linsenberg), violin (Elizabeth Blumenstock), oboe (Gonzalo Ruiz), bassoon (Marilyn Boenau), cello (Sarah Freiburg), and harpsichord (John Butt), but most of us were either regular, or at least occasional, members of the orchestra. We were looking for outlets to play chamber music, to complement the orchestral work for PBO and to challenge ourselves, and so got together originally to play the virtuosic chamber concertos of Vivaldi and Telemann (and Fasch) that used that sort of large and diverse instrumentation. Over our 26 years of playing together, the personnel has changed a bit — nowadays, our core group is just 4 of us (recorder, violin and continuo), with varying guest artists (some of whom are very regular guest artists) — but Elizabeth and I were founding members and are still going!
What is Musica Pacifica's most memorable concert experience?
All the stars were lined up for us that night. Playing a Main Stage event at this festival was an honor for us, and we were excited to be there. We were playing our "Dancing in the Isles" program, one that we have been done for many years and with which we were extremely comfortable both as a group and individually. It was a joy to play with some of our colleagues from the east coast. The event was in Jordan Hall, possibly the finest chamber music hall in the the U.S. — it's clear and resonant, and very easy to communicate on stage. Another attribute of that hall is that the audience is not far away, which intensifies their experience and allows the performer to feel their response. As this was BEMF, we had the best audience we could have hoped for: knowledgable, appreciative, and extremely enthusiastic. This show took place at 11 p.m., which lent a special mood — the audience who was there really wanted to be there, and apparently our joy and excitement were infectious.
What is the most valuable lesson you have learned as an ensemble?
We've kept our ensemble going for 25 years, and in order to do this have had to learn how to get along with each other in what can sometimes be trying situations. This has occasionally been challenging — we are all passionate and energetic people with strong musical and personal convictions. We've learned to accommodate each others' ideas as we work through musical issues in rehearsals and planning future programs. Touring, sometimes in less than ideal circumstances because of difficult travel and rehearsal schedules, can add to the stress. By now, we know each other very well, both personally and musically, and we've learned to be cognizant of each other's foibles so we can give each other some slack when needed!
If Musica Pacifica was offered a surprise financial windfall, what project would you fund?
What a fun question! We have frequently heard, over the years, from audience members wishing we had CDs of our concert programs.  So, if we received a windfall, we would use it to create high-quality video recordings of some of our most visually appealing programs.  Our "Crossing the Channel" program, a collaboration with the estimable New York Baroque Dance Company, is beautiful to see and listen to. Our "Dancing in the Isles" program, featuring exuberant percussion and Celtic fiddling, also makes for happy viewing. A "state of the art" video would bring our performances to vivid life for many people all over the world who don't have a chance to see us live, and encourage folks to bring us over to where they are!
What is next on the schedule for Musica Pacifica?
We're excited about the upcoming release of our ninth release, and tenth actual CD, on October 14, 2016 on the Navona label: Mi Palpita Il Cor; Baroque Passions, with the amazing French-Canadian soprano Dominique Labelle. The CD features vocal and instrumental pieces from the mid- and late-Baroque, including cantatas by Steffani, Handel and Rameau, covering a wide range of passion, from pleasure and joy to pain, anguish and fury — along with a charming Paris Quartet by Telemann and a virtuosic trio sonata by Sammartini.
Recent EMA Features
A Q&A with Music Before 1800's new artistic director Bill Barclay: 'If people are going to take a risk of coming to a concert for the first time, they need something to hold on to'... it's 'sadly a bit of an exclusionary pleasure — you have to know a little bit to get a lot out of it, unless there's something that resonates and makes people understand that early musicians are arbiters of ancient insights into human performance.'
The latest essay in EMA's 'Early Music: the Americas' series looks into the private notebooks of two women who preserved music of Latin American and European composers -- music that in some cases is found nowhere else.
Video games generate more revenue than the movie industry, and many games are set in 'legendary times' that cry out for an early music soundtrack. As technology improves, many games employ early music not just as background but as element of play.