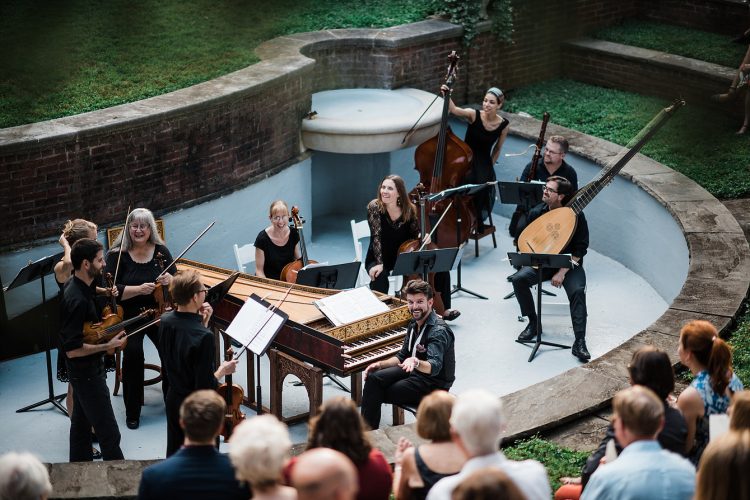 An Early Music Month Guest Post by Alice Culin-Ellison
As a native of Louisville, Kentucky, I'm so pleased to be co-director of Bourbon Baroque, Inc., Louisville's period instrument ensemble; it's a joy to bring our music to the vibrant arts community in Louisville. Bourbon Baroque, founded in 2007, actively performs both ticketed concerts and free community engagement events like our Messiah performance for Hotel Louisville residents, and a lecture-concert based around the narrative of Cato Watts, Louisville's first enslaved person, at the Kentucky Center for African American Heritage. I was excited to learn about several other ensembles and opportunities for folks throughout Kentucky to experience and participate in historical performance.
Just an hour and change drive east of Louisville is Lexington, home to University of Kentucky. The university offers a certificate in baroque trumpet with trumpet professor Jason Dovel. He established what is now the "largest collegiate baroque trumpet ensemble in the United States."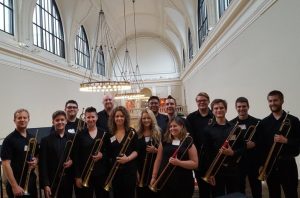 In the fall of 2018, the UK Baroque Trumpet Ensemble performed with Mountainside Baroque, directed by Ryan Mullaney and Lyle Nordstrom, in a concert of music from Bohemian courts. This experience led the trumpet students to request playing with historical strings more often and now Dovel is planning a concert with violinist Augusta McKay Lodge for the near future. This spring, the ensemble is collaborating with Musick's Company in a performance of Monteverdi's l'Orfeo in Lexington (see below). In 2017, the album Music for Natural Trumpets was recorded and is available on spotify:
Back in Louisville, Dr. Jack Ashworth has been a mainstay in the historical performance community nation wide, as well as a champion for the specialty at home. Officially retired, he continues to teach early music at the University of Louisville on an adjunct basis. The program at U of L has morphed throughout its 35 years, and currently students can enroll in Historical Instrument Ensembles, an omnibus "class" covering recorders, gambas, lute, and harpsichord. Interest remains high with over 20 students and community members participating this semester.
Dr. Ashworth is active in the Viola da Gamba Society of America, and serves on the faculty of the VDgSA Conclave. He founded and directs the Louisville Gamba Consort, a group of five community members who meet for music making and give occasional performances. In 2018, the ensemble gave a performance at the Highlands branch of the Louisville Free Public Library, bringing historical performance to the community at large.
Kentucky also has "The Center for Old Music in the New World: Bringing early music to life in Central Kentucky." Musick's Company, the center's resident ensemble, is performing Monteverdi's Orfeo in collaboration with the UK Baroque Trumpet Ensemble (see above) and members of the Lexington Community Orchestra.
Kentucky has a small but respectable showing in historical performance throughout the state. Ensembles, experts, community members, and audiences are all part of bringing exposure and prominence to our field. #proudKentuckian #historicalperformance
Alice Culin-Ellison, D. M. A.
Co-Artistic Director | Bourbon Baroque
Co-Founder/Artistic Director | Incantare