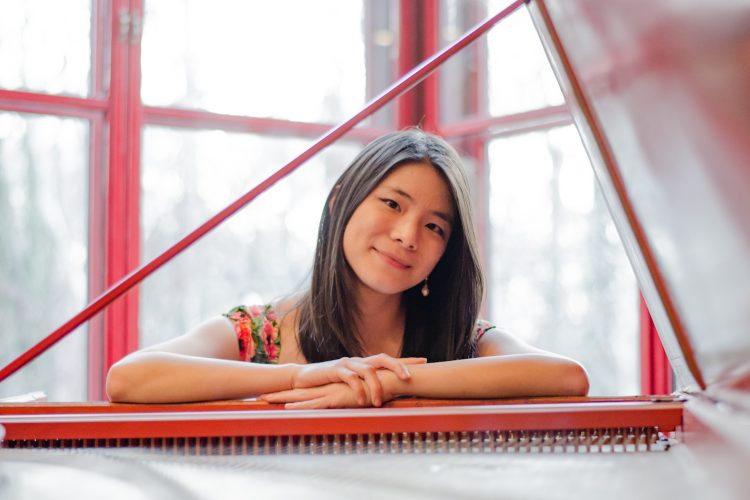 Harpsichordist Joyce Chen will perform at 7:00pm EDT on Thursday, May 23, 2019 at First Presbyterian Church, Bloomington, as part of Early Music America's Emerging Artists Showcase during the Bloomington Early Music Festival. The concert will be streamed live via EMA's Facebook page.
Biography
A native of Taiwan, Joyce Chen is a recipient of the 2018 Individual Artist Fellowship from the Delaware Division of the Arts. As an active keyboard player, Joyce has a busy performing schedule in the Greater Philadelphia and New York areas. She is Minister of Music at St. Peter's Episcopal Church, Glenside, PA, and is a co-founder of an all-female period instrument ensemble, Muse Camerata. She has been a guest artist and lecture at the University of Delaware as well as Delaware State University.
As a solo harpsichordist, Joyce has been gaining recognition both nationally and internationally. From 2015-2016, Joyce performed extensively with Brandywine Baroque on the regular concert series as well as Harpsichord Heaven at the Flint Collection of Antique Keyboard Instruments. In March 2016, Joyce was one of six finalists at the Eighth International Jurow Harpsichord Competition in Oberlin. In 2018, Joyce made her international debut at the Musica Antiqua Festival and Harpsichord Competition in Bruges, Belgium as well as the International Normandy Baroque Music Competition in Rouen, France.
Joyce holds a Bachelor of Science degree in Mechanical Engineering from UC Berkeley and a Doctor of Musical Arts in Harpsichord Performance from Stony Brook University. Her primary harpsichord teachers include Davitt Moroney, Charlene Brendler, and Arthur Haas. Joyce is currently pursuing a PhD degree in Historical Musicology at Princeton University, where she is also a graduate student director of Early Music Princeton.
2019 Showcase Program
Con tutti gli affetti e l'immaginazione​
This program will feature 'affective' and passionate harpsichord works that are not often heard in public recitals, including works by Frescobaldi, Rossi, Storace, and Poglietti.
Girolamo Frescobaldi(1583-1643)

Toccata terza from Toccate e Partite d'intavolatura di cimbalo, libro (1615)
Capriccio Sopra il Cucho from Il primo libro di capricci fatti sopra diversi soggetti, et arie in partiture (1624)
Cento Partite sopra Passcaglia (1637)

Michelangelo Rossi(1602-1656)

Toccata Settima from Toccate e correnti d'intavolatura d'organo e cembalo (1657)

Bernado Storace (1637-1707)

Ciaccona from Selva di varie compositioni d'intavolatura per cimbalo ed organo (1664)

Alexandro Poglietti(d. 1683)

Excerpts from Rossignolo(1677)

Toccata
Ricercar per Il Rossignol
Sincopatione del Ricercar
Capriccio per Io Rossignol Sopra'l Ricercar
Aria bizarra del Rissignolo
Imitatione del medesimo Uccello