by Karen Cook
Published July 12, 2021
Orlande de Lassus: Le nozze in Baviera: Music for the 1568 Wedding of Wilhelm of Bavaria and Renate of Lorraine. Ensemble Origo (Eric Rice, dir). Naxos 8.579063.
In 1568, a gentleman named Massimo Troiano published a report on the lavish 18-day wedding ceremony of Wilhelm of Bavaria and Renate of Lorraine earlier that year. Musicologists and performers recognize its value, for Troiano, a musician himself, took care to note just where, when, and how all of the various musical and theatrical works were performed. For example, Troiano tells us that at a dinner party a week after the wedding, the guests stopped eating in awe of the motet Gratia sola Dei by chapelmaster Orlande de Lassus (1532–94), for which the first section was sung by full chorus, the second section by four soloists, and the third section tutti once more. He also describes an after-dinner concert of moresche in the marital bedchamber 13 days after the wedding. A moresca was a secular Italian song that caricatures Black Africans, and Lassus wrote his fair share. But why would such songs be performed during a wedding celebration, and in the bedroom, to boot?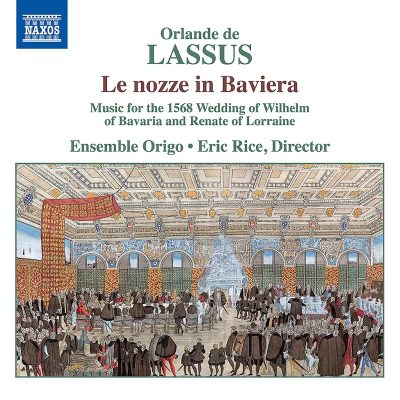 Enter Connecticut-based Eric Rice, musicologist and director of Ensemble Origo. Rice explores how moresche might have been perceived by their original audience and sheds light on the presence, reception, and treatment of Black Africans in Western Europe at the time. The moresche included here, published by Lassus in 1581, portray the Africans — members of the Kanuri-speaking Kanem-Bornu empire, often enslaved (and occasionally later freed) throughout Western Europe — as stock characters from the commedia dell'arte, often vulgar and highly sexualized. As Rice theorizes, such works would have been used to suggestively tease the newly wedded couple without being too overt.
On this, Ensemble Origo's debut recording, Rice uses Troiano's report to hypothetically reconstruct this concert and three other musical moments from the festivities: the conclusion of the wedding ceremony itself, when Lassus's six-voice motet Te deum was performed; the aforementioned dinner party, featuring Lassus's Gratia sola Dei; the evening of moresche in the bridal chamber; and a performance of a commedia dell'arte 15 days after the wedding, during which Lassus himself sang a work by Filippo Azzaiolo, accompanying himself on the lute.
As a musicological endeavor, the album is phenomenal; any early-music seminar must surely take note for both the excellence of Rice's research and the fact that many of these pieces aren't commonly recorded. As a musical experience, Ensemble Origo must be lauded as well. The opening Te Deum is more than 15 minutes long, yet the sensitive alternation between plainchant and full ensemble, the thoughtful addition of a variety of instruments (which Lassus mentions as a possibility), and the group's careful attention to phrasing captivate the listener's attention. So too does the subsequent Gratia sola Dei, arranged in accordance with Troiano's description. The remainder of the album comprises moresche and the theatrical selections from the commedia dell'arte.
Yet, despite the quite sharp change in character, from solemn sacred worship to bawdy comedy, the ensemble's tone does not entirely follow suit. Instead, the group maintains somewhat of a vocal arm's length from some of the later material. While musically I might in general prefer for singers to dig in more to the meaning of the text, maybe be a bit more expressive in their interpretation, here I think I understand the ensemble's choice. In a particularly laudable passage, Rice notes that in music as elsewhere, non-white peoples of the past have often been excluded, painting a false picture of an all-white European musical history. Bringing those peoples, or the oppressive systems surrounding them, to light is something Rice acknowledges his privilege in being able to do, and he therefore clarifies that the performance of the moresche here is an endorsement of neither their content nor their artistic merit.
It is an admirable choice, then, that the ensemble aimed to treat the moresche material sensitively, respectfully, and musically, without also trying to embody it. But the ensemble clearly has more theatrical chops when they wish; listen, for example, to the concluding comedic "Zanni! Piasi, Patrò?"
Karen Cook specializes in the music, theory, and notation of the late medieval and early Renaissance periods. She is assistant professor of music at the University of Hartford in Connecticut.
Recent EMA Recording & Book Reviews
In a revealing look into the lives of 'ordinary' folks in 17th and 18th c. Germany, author Tanya Kevorkian taps a wealth of sources that detail city life, from religious beliefs to weddings to the rhythms and rules of town watchmen. With compassion and wisdom, the author notes that historians who look at street life "have to some degree replicated the perspective of the authorities."
Emily Zazulia's valuable 'Where Sight Meets Sound: the Poetics of Late-Medieval Music Writing' explores notational aesthetics in polyphonic music, where it's not obvious how you're meant to sing what's on the page.
Long undervalued, Alessando Scarlatti's vocal writing naturally weds singable lines with the Italian language. Ars Lyrica Houston's colorful new recording of a Scarlatti oratorio, with an outstanding cast, makes a brilliant case for this rarely heard music.