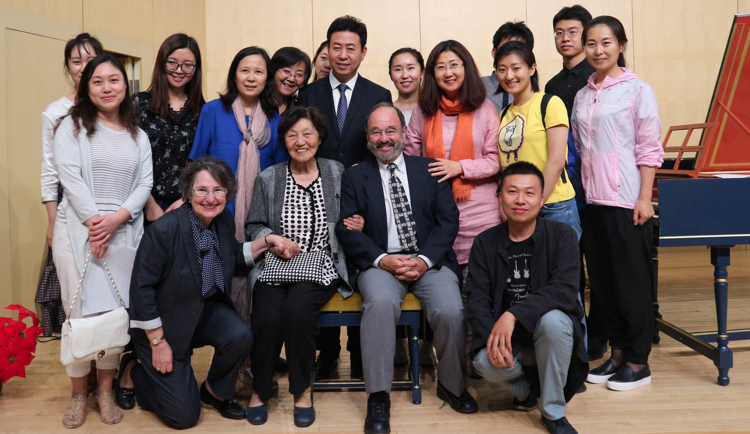 By Mark Kroll
I was in China recently. That in itself is usually a good thing, but what made this trip particularly memorable, and I hope worth sharing, was that I was invited to perform and teach harpsichord music in Beijing and Shanghai. That is always a good thing. I gave several concerts and a number of lectures and master classes on the repertoire, composers, performance practices, and national styles of the Baroque, as well as figured bass. Even better, I learned as much as I taught.
Music instruction and performance are at a very high level in China these days. One only has to listen to the current wave of virtuoso pianists coming out of the country's numerous conservatories to realize this. Scholarship and musicological inquiry into Western music are also making steady progress, but harpsichord study and performance in China are not as far along — yet. Interest is growing fast.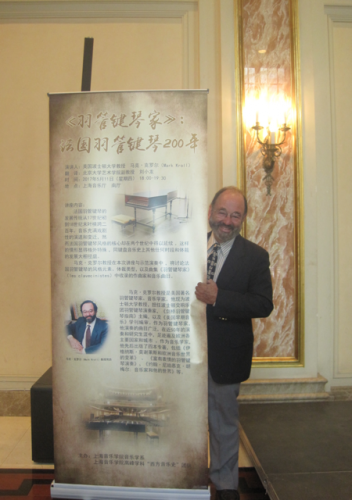 The opportunity to share what I knew about the instrument, its repertoire, and expressive playing with a highly receptive audience was an offer I couldn't refuse, and I was eager to make the long flight from Boston to Beijing. I also decided to leap directly into the deep end, both musically and historically, by devoting all my teaching and performances to French harpsichord music, a style I guessed was probably not as familiar to most Chinese teachers, students, and audiences as that of Bach, Scarlatti, and Handel. It turned out to be the right choice.
My first lecture, "Les Clavecinistes: 200 Years of French Harpsichord Music," was at Peking University for the music history class of my host, Professor Liu Xiaolong, an excellent Beethoven scholar who has spent considerable time in the United States, and who served as my translator throughout the trip. His skills at that were most impressive. Imagine giving a simultaneous side-by-side translation of an unwritten lecture that involved terms such as inégal, style brisé, and the aesthetics of the honnête homme. The students were extremely bright, curious, and enthusiastic, but my assumption was indeed correct: French Baroque composers and repertoire were uncharted territory for many in the class.
The next day, Professor Liu and my wife, Carol Lieberman — who will probably be returning to China in November to teach and play baroque violin — flew down to Shanghai, where I performed a lecture-recital of "Les Clavecinistes," on a fine Hemsch-model harpsichord built by Neupert, in a beautiful little concert hall with great acoustics that seems to have been designed by a late 19th-century Parisian. French harpsichord music on a French style instrument at low pitch and with a historical tuning in Shanghai — not bad at all! Again, the repertoire and the clavecin style were new experiences for many of the listeners, but I think I made a few converts.
Returning to Beijing, I then became the guest of the Central Conservatory of Music, China's largest, and in the capable hands of Shen Fanxiu, Professor of Harpsichord and Organ, who had lived and studied in Vienna for 12 years. I speak no Chinese, and while Professor Shen's English is good, we decided that the best way to understand each other was to conduct our conversations in German. An American harpsichordist speaking with a Chinese harpsichordist in Beijing in German (plus a little English) seemed no more unusual than playing a historical harpsichord at A=415 in Shanghai. In any event, our common language was really "harpsichord," about which we could talk for hours — with no need of a translator.
The Central Conservatory has a large new building and facilities, and it is impressive — like much that is new in China. This includes an efficient subway system that takes you just about anywhere you need to go in Beijing (and it is a very large city) for about 80 cents per ride. I gave my French lecture-recital at the Conservatory, a class on national styles of figured bass realization, and a formal concert featuring — you guessed it — French music: F. Couperin, Rameau, Daquin, and Balbastre. The hall was full, and the audience reaction to my favorite pieces was just as I had hoped; they even asked for two encores. Afterwards, Professor Shen told me that I had just given the first solo harpsichord recital at the Conservatory. I can't imagine that this is true, but perhaps some of the pieces on my program were being heard for the first time in China?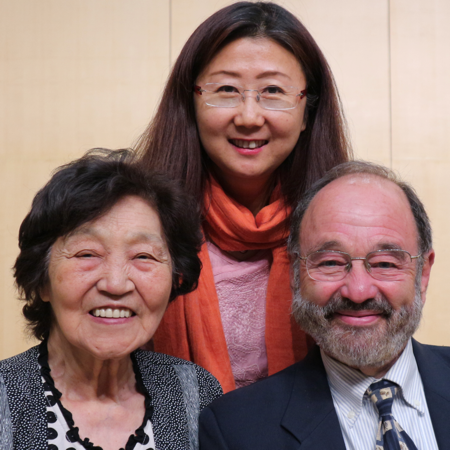 As I mentioned earlier, the educational aspect of this trip went both ways. Thanks to Professor Liu, Carol and I learned much about modern China and the long and rich history of his country. We tried to remember what he told us about the various dynasties that reigned for about two millennia, and eagerly explored their different styles of art, theater, music, architecture, and furniture. (Ming is my favorite, perhaps because it reminds me of the French Baroque.)
The list of people who tried to invade China is also long, and includes the Mongols, Manchus, and Japanese. Why else would the Chinese build a wall that eventually extended to more than 20,000 miles? Too bad it often never really stopped enemies from breaching it. For example, Professor Liu told us that the Mongols were able to scale the walls by piling up layers of dead soldiers and horses that had fallen in previous attempts, creating a quite convenient stairway of corpses to aid the army's ascent.
However, the people we met and the friends we made were the best parts of the trip. Particularly memorable was the 90-year-old pianist Zhou Guangren. After both my lecture-recital and concert in Beijing, a distinguished lady slowly came down from the audience to meet with me. I must confess that I did not know who she was, but noticed immediately that everyone in the hall treated her with hushed reverence and great respect when she approached and crowded around us as we discussed the music of the recital, the harpsichord, and my playing (her English was excellent).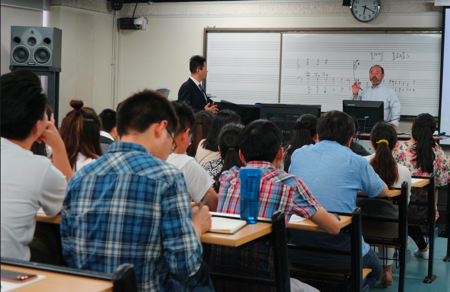 I learned from Professor Shen that she is one of the most distinguished, almost legendary pianists of China, who had made and continues to make important contributions to music education in her country, despite the many challenges of living and working in Mao's China. The Cultural Revolution treated her particularly harshly: for 10 years this great artist was forced to abandon her piano and work plowing fields and cleaning sheds; it was just too much for her husband, who committed suicide out of humiliation and despair.
I would be remiss if I did not add a few words of enthusiasm about the non-musical highlights of this trip. Familiar and famous sights, such as Beijing's Temple of Heaven, gorgeous Summer Palace (and its stone boat), and the Forbidden City need no further description, nor does Shanghai's sumptuous 16th-century palace grounds, the Yuyuan Garden. Sipping cappuccino in one of the Shanghai's French-style street cafés was an unexpected pleasure, as was a visit to the city's old synagogue, where we chanced upon a group of Israeli tourists chanting the mourner's Kaddish.
And did I mention the food? The Peking duck we ate in Peking (i.e., Beijing) was soaked in peach-infused water for 24 hours, drained, and then roasted over an open wood fire. Add a touch of Couperin, a pinch of inégal, some Rameau, and the meal was fit for a king — or an emperor.
Mark Kroll, professor emeritus at Boston University, is a harpsichordist, fortepianist, scholar, and educator. His publications include editions of the music of Hummel, Geminiani, Avison, and Francesco Scarlatti, and books about the harpsichord, the Beethoven violin sonatas, and Ignaz Moscheles. He is recording the complete pièces de clavecin of F. Couperin for Centaur Records.