by
Published November 24, 2017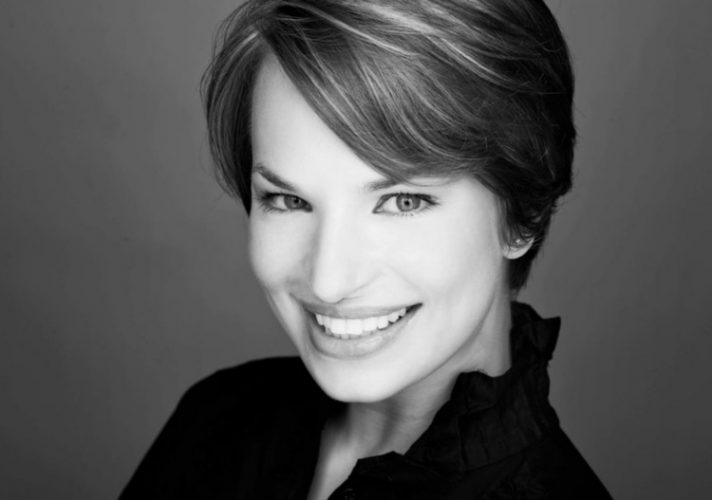 Love & Lust
Elizabeth Hungerford (soprano) and Andrew Arceci (viola da gamba)
Self-published
By Karen Cook
CD REVIEW — Originally recorded in 2013 and released several years later, this album was the result of almost ten years of planning. Elizabeth Hungerford and Andrew Arceci met while students at Peabody Conservatory and, after performing Caccini's "Amarilli mia bella" with just voice and viol, began to plot an eventual recording. The result of an extensive Kickstarter campaign, their self-published album Love & Lust presents that Caccini piece alongside 14 others, carefully arranged for Hungerford's soprano and Arceci's bass viol.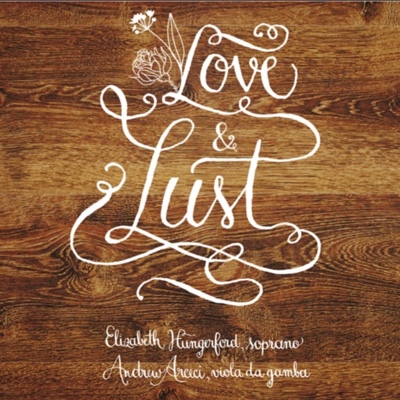 Since the goal of the recording was to explore repertoire that was well suited to this particular instrumentation, the only overarching theme of the album is love. It is not always innocent, romantic love, however, as the album title indicates; among the songs and ayres is Tobias Hume's famous elegy to that new fad, tobacco, and Hungerford gives a particularly "stimulating" rendition of Thomas Campion's "Beauty Since You So Much Desire," leading the listener on a playful quest to find exactly where Cupid's fire lives.
More than half the album's tracks are similar English songs. Alongside Purcell are several anonymous works, as well as pieces for solo viol by Hume and Christopher Simpson. Caccini's "Amarilli" is countered nicely by Jacob van Eyck's divisions on that melody, and the remainder of the album is chosen from the Italian composers Filippo Azzaiolo, Claudio Monteverdi, and Tarquinio Merula, whose "Canzonetta spirituale sopra alla nanna" provides yet another facet of love: the spiritual, maternal love of Mary for the infant Jesus.
The album is nicely varied in language, instrumentation, and subject; the Italian songs are interspersed among the English, and the pieces for solo viol alternate either singly or in groups with the vocal works. Regarding the overall sound, though, the album is well unified. With such a reduced instrumentation, the recording becomes a more intimate, in some cases seductive affair; the ear is not only drawn to Hungerford's clear, animated soprano but also to the rich timbre and high quality of technique expressed by Arceci's viol.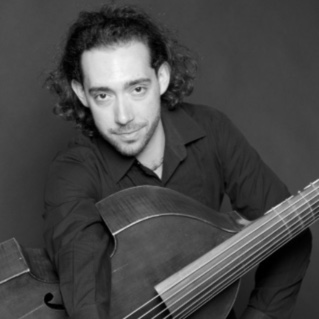 The result is remarkably interesting and effective. Hungerford is a natural storyteller, easily shifting gears between wistful and protective (Merula's "Canzonetta"), flirtatious and charming (Monteverdi's "Quel sguardo sdegnosetto"), humorous (Hume's "Tobacco") and downright naughty (Campion's "Beauty"). Arceci plays with great sensitivity not only to his role as sole accompanist and supporting bass voice but also to the stylistic nuances of the different genres themselves.
As per usual, the pieces by Hume do not disappoint, and the Purcell "I Attempt from Love's Sickness" is quite lovely, but their original starting point, "Amarilli mia bella," is the real heart of this recording. It is refreshing to hear an album such as this that sounds like a true collaboration, rather than a showcase for an individual performer, though both are deserving of their respective moments in the spotlight.
Karen Cook specializes in the music, theory, and notation of the late medieval and early Renaissance periods. She is assistant professor of music at the University of Hartford in Connecticut.
Recent EMA Recording & Book Reviews
Jeannette Sorrell's adaptation of Handel's popular 'Israel in Egypt' cuts, re-orders, restores, and replaces music and text throughout the oratorio. But Handel didn't leave us with a 'definitive' edition, and Sorrell's version is so artistically logical that someone new to the work might not know anything is missing. Apollo's Fire and the outstanding vocal and instrumental soloists make a compelling case.
People who love Wagner operas can separate his music from his toxic beliefs. Yet J.S. Bach's 'superlative ability to move listeners' and status as 'a pinnacle of Western art' brushes aside the composer's harsh theology and often intolerant personal philosophy. In this collection of essays, Bach scholar Michael Marissen warns us to 'not soften or assimilate this figure to our own preferences, no matter how much we find inspiration, solace, or transcendence in his art.'
Trumpet soloist Josh Cohen and Ensemble Sprezzatura bring together regal flair and expressive grace with 'Altissima,' exploring the varied colors and dimensions of the high Baroque trumpet. The recording makes an ideal introduction to myriad trumpeting styles through mostly unfamiliar repertoire.