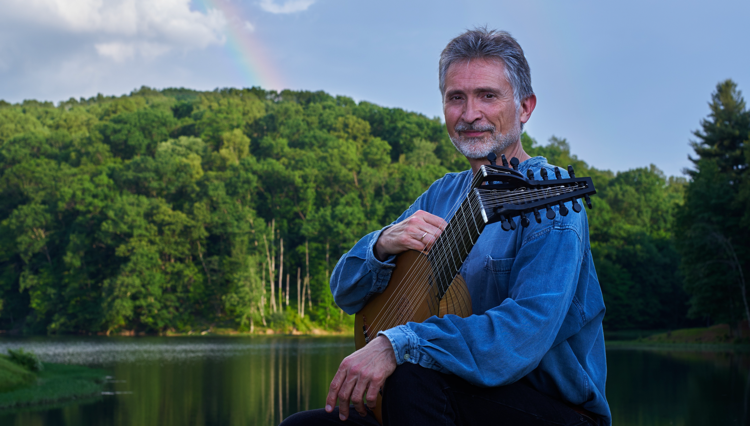 By Jeremy Reynolds
In 1978, Ronn McFarlane cut off his classical-guitar fingernails and took up the lute. He's never looked back. McFarlane's career encompasses the founding of multiple early-music ensembles, numerous recordings, a 10-year professorship at Peabody Conservatory, and touring throughout the U.S., Canada, and Europe.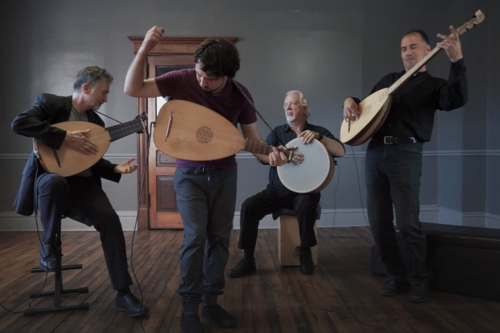 His most recent ensemble, Ayreheart, comprises himself, guitarist and colascione (bass lute) player Willard Morris, percussionist Matthias Rucht, and Brian Kay, a fellow lutenist and composer, as well as an accomplished vocalist. Ayreheart performs a mixture of original music composed by McFarlane and Kay and early music, and the quartet has quickly built a reputation for innovation and excellence.
McFarlane will perform with Ayreheart at the Boston Early Music Festival on June 12. The group will present Will You Walk the Woods So Wild, a program of John Dowland and William Byrd that explores the intersections between the folk music and art music of England, Scotland, and Wales.
"This is our first time at the festival, and we're very much looking forward to it," McFarlane said.
McFarlane's additional credits include the Grammy-nominated album Indigo Road, an honorary Doctorate of Music degree from the Shenandoah Conservatory in Virginia, a nearly 40-year tenure with the renowned Baltimore Consort, and guest appearances with such ensembles as the Indianapolis Baroque Orchestra, Portland Baroque Orchestra, Houston Grand Opera, and Bach Sinfonia.
"I feel like a missionary, in a way," McFarlane said. "I think it's very exciting because you end up often turning people on to music that they didn't know existed or hadn't heard before, and I can't tell you the number of times I've heard people say, 'I didn't know what to expect, but I loved it!'"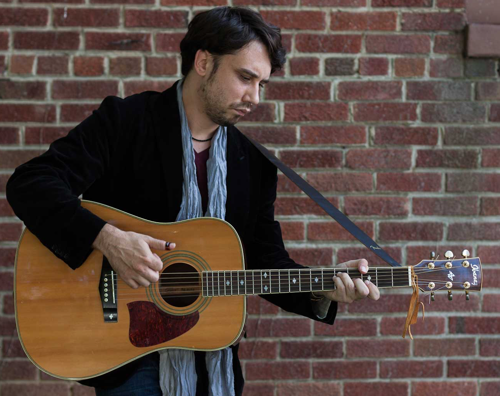 Born in West Virginia in 1953, McFarlane attended the Shenandoah Conservatory, where he studied classical guitar before embarking on a master's degree at the Peabody Conservatory. He said that much of the guitar repertoire he practiced at Peabody was transcribed from lute compositions dating from the Renaissance and Baroque periods. Something about that music "got under my skin." Partway through his degree program, he dropped guitar to study lute with Roger Harmon, a world-renowned lutenist and one of the founders of the Baltimore Consort.
Harmon brought McFarlane into the Consort in 1979 — McFarlane originally played cittern, as he was still developing his technique on the lute — and by 1980 many of the core members of the ensemble had joined.
"I found it to be a tremendous education," McFarlane said. "I learned more in my apprenticeship with Roger and in rehearsals with the Baltimore Consort than I ever learned in classrooms and schools."
It was during the Baltimore Consort's early days that McFarlane met fellow lutenist Mark Cudek, now music director of the Indianapolis Early Music Festival and still a regular collaborator of McFarlane's.
"As a lute duo, we played formal concerts and background music gigs," Cudek said. "We played around town at restaurants and even at a Woodies Department Store in Washington, D.C. The manager set us up in the women's lingerie section! We've been through a lot together musically."
McFarlane performed in and out of the Baltimore Consort with Cudek and other musicians, including lutenist Paul O'Dette, now co-artistic director of the Boston Early Music Festival, as well as noted baroque flutist Mindy Rosenfeld. He created several small ensembles, such as Flute & Lute with Rosenfeld, with whom he recorded the acclaimed album Nine Notes that Shook the World.
In 1984, Peabody offered McFarlane a teaching position, which he accepted and held until 1995. During this period, he began composing and recording lute music on the Sono Luminus (formerly Dorian) label. In 2009, one of McFarlane's albums of original music, Indigo Road, was nominated for a Grammy Award in the now defunct Classical Crossover category, though the Grammy ultimately went to the King's Singers for Simple Gifts. ("I've been a fan of them for years, and my philosophy is that if you can't win, then the next best thing is to lose honestly to the very best," McFarlane said. "So hats off to them.") Coincidentally, the King's Singers will also perform at the Boston Early Music Festival on June 12.
As his career progressed, McFarlane began writing more music for small ensembles and even vocalists. His 2010 follow-up album to Indigo Road, One Morning, brought three of the original members of Ayreheart together for the first time.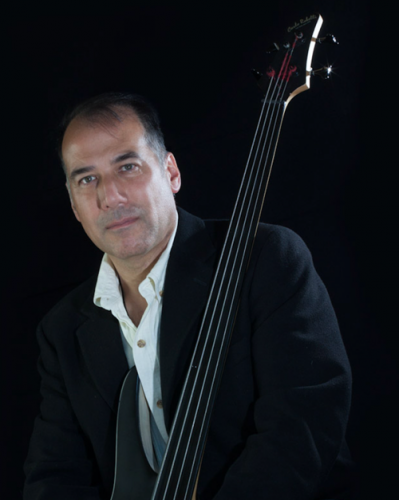 "The group started out as a platform to perform Ronn's original music with the lute as the centerpiece surrounded by modern instruments," said electric bass and colascione player Morris. "All four of us have backgrounds in rock and roll — or amped music, you could say."
The same could be said for many of the Baltimore Consort's performers. Morris and McFarlane both said that many of the elements of the rock and roll they grew up playing were also present in early Renaissance music. Cudek said this is one of the great draws of McFarlane's music and Ayreheart. "I really think of Ayreheart as a crossover group," Cudek said. "They play original music of Ronn's, and when they do early music, it's got a different feel. They're frequently amplified, and it's a wonderful sound."
Ayreheart also performs original music by Kay, who joined the group in 2013. He also began his musical career performing in a rock band before transitioning to early music. He met McFarlane while studying at Peabody. Said McFarlane, "I've tried to sing, but it never comes out the way I imagine it in my mind. Brian is a real troubadour." Kay described McFarlane's lute playing as "propulsive and rhythmic with a lot of forward momentum," agreeing that the rock influence from McFarlane's youth is still very much present.
"When he starts to play, you can just immediately tell that it's Ronn," Kay said. "It's particularly evident in his original music when he's creating something. Ronn uses a lot extended techniques that weren't generally used historically, but these are things that he's found on the lute that he wants to put into his music, things like the kind of palm strumming he uses in Indigo Road."
Kay went on to explain that McFarlane's lute playing was similar to finger-style guitar playing, which involves a lot of "hammer on and pull off" techniques, and different palm muting and strumming techniques. He said McFarlane has created his own system of notating these techniques in lute tablature.
In 2015, Ayreheart made a studio recording of the Will You Walk the Woods So Wild program, which they released the following year on the Sono Luminus label as an album titled Barley Moon. McFarlane said the album is also a throwback to Ayreheart members' pasts as rock musicians. He first heard the opening track's tune, "John Barleycorn," on an album by Traffic, an English rock band that formed in the late '60s. Another song on the program, "Nottamun Town," was also covered in the 20th century: Bob Dylan took the tune and wrote the words to "Masters of War" to it to create one of his best known songs from the '60s.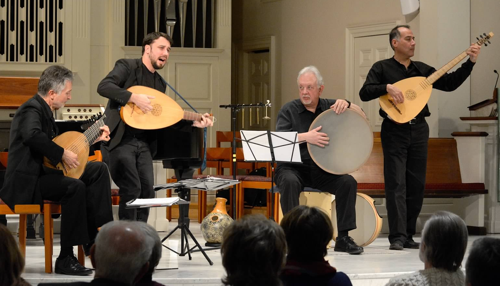 "This project combines many of the teenage passions that I had for rock and folk music." McFarlane said. "I had no idea that 'John Barleycorn' was such an old song when I first heard it, that it went back 400 years or so. When we cover that and bring it back to its roots, I also really feel the energy of a rock group, and it's a fun mixture of covering a classic rock song as well as an old ballad."
Looking ahead, McFarlane said Ayreheart will continue to perform a mixture of original and early music, sometimes even in the same concert, such as their Centuries Collide program. The group's next project explores the Francis James Child Ballads, a collection of 305 ballads from England and Scotland. As for solo projects, McFarlane is developing a project of Scottish Irish music that he will record in June. The album will be released on the Sono Luminus label and feature arrangements of Irish music and dance tunes from the 17th and 18th centuries.
In addition to the Boston Early Music Festival, Ayreheart will perform this year in Florida, Texas, Virginia, and Maryland. In 2018, Cudek has engaged the ensemble to open the Indianapolis Early Music Festival, and McFarlane will appear at the 2018 Lute Fest in Cleveland.
"What comes to my mind when talking about Ronn is his work ethic," Cudek said. "He's worked so hard for so many years with Ayreheart, and it's thrilling to see this happen. Making a name for a group like this is a very slow process, and Ronn is on a very upward trajectory. I expect great things from Ayreheart."
Jeremy Reynolds is press and publications manager at the Fort Worth Symphony Orchestra and an announcer at WRR 101.1 Classic FM Dallas. He has written about music for ClevelandClassical.com, Symphony Magazine, Early Music America Magazine, Charleston's Post and Courier, and other publications.