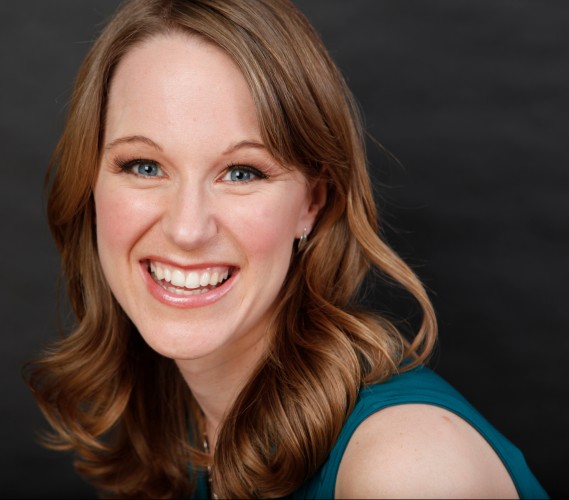 Soprano Kathryn Mueller has sung with period ensembles including American Bach Soloists, Portland Baroque Orchestra, Santa Fe Pro Musica, and Bach Collegium San Diego, and orchestras including the Los Angeles Chamber Orchestra and Pacific Symphony. She adores chamber music, especially her collaborations with Wayward Sisters. Her soprano duo Les Sirènes were finalists in EMA's 2012 Baroque Performance Competition. She was a vocal fellow at the Carmel Bach Festival and a soloist on Seraphic Fire's best-selling Monteverdi Vespers of 1610. Kathryn has degrees from Brown University and The University of Arizona, and is on the voice faculties at East Carolina University and North Carolina State University.
How did you come to the field of early music?
When I was in high school my voice teacher sent me to work with a coach — James Busby — who is also the organist and choirmaster at St. Stephen's Episcopal Church in Providence. After hearing me sing Handel he asked if I had a high C, made me sight-read the Allegri Miserere, and hired me to be a section leader at his church which had a very serious English-style music program. After a couple years of singing lots of Renaissance polyphony I spent my first year of college at Northwestern University and sang in the early music ensemble under Mary Springfels. That opened my mind to the wider world of early music, and the repertoire just suits my voice. Even though my master's degree was a traditional opera-based program, and I like to sing everything from Bach to Mozart to modern, I'm very happy to have discovered early music as a specialty.
Tell us about your most memorable concert experience?
That's too hard a question – there are too many to mention! One of my most recent memorable concert experiences was doing Bach's Coffee Cantata at a brewery in Durham as part of Duke Chapel's cantata series. It was a group of excellent singers and players, wearing street clothes, doing a period performance of Bach while the audience drank beer. It was refreshingly casual and exciting. I'm very interested in reaching out to audiences and bringing new listeners to early music, so I'm always thrilled to do something a little different.
You're listening to music… what's on your playlist that would surprise us?
I listen to Indie artists like Regina Spektor and Andrew Bird, a bit of bluegrass (I have dreams of playing mandolin but never any time to learn it) and country, and since I have two tiny children I have a LOT of good kid music on my iPhone.
Unexpectedly, you have two hours of free time later today… what will you do?
I would have big dreams about doing something active or artistic, and then probably spend it sitting in the sun. Or napping.