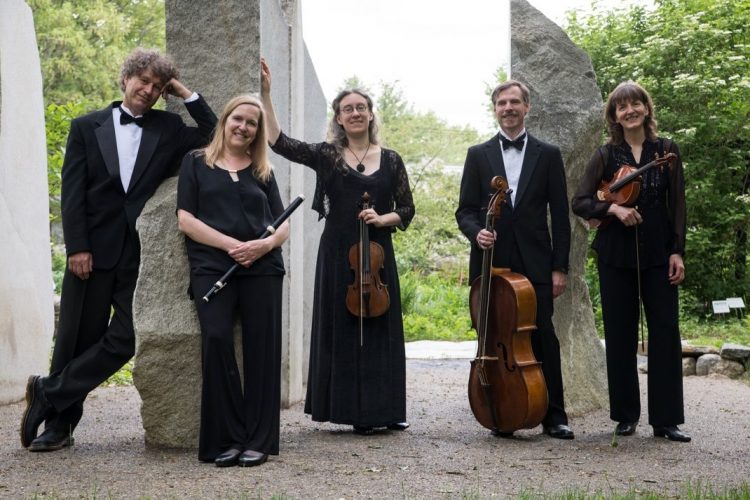 By Andrew J. Sammut
At a time of year when Handel's Messiah is as ubiquitous in concert halls as Mariah Carey's "All I Want For Christmas Is You" is at shopping malls, Musicians of the Old Post Road sold out its Christmas concert with music of the Bach family: not just Johann Sebastian or even his more well-known sons Wilhelm Friedemann and Carl Philipp Emanuel, but also the lesser known Johann Christoph Friedrich and Bach's older cousin, Johann Ludwig.
The Boston chamber ensemble, founded by flutist Suzanne Stumpf and cellist Daniel Ryan in 1989, has built up a devoted and diverse audience playing music from well outside the greatest hits of the 18th century. As violinist Sarah Darling says, with a laugh, "We definitely don't do the 'Baroque Top 40.'"
MOPR has established a reputation for rescuing works from obscurity. New Englanders trust this band to introduce them to music they may never have even heard about, let alone heard before. Their loyal community knows the musicians will play these works with insight as well as energy. "Dan and Suzanne are musical archaeologists," violist Marcia Cassidy says, "digging out rare pieces, carefully played, for brilliant programs."
An MOPR performance is an experience of music in situ, depicting a cultural milieu as well as a musical scene. Past concerts have focused on who Handel may have been listening to as a young composer in Rome or a sample of Thomas Jefferson's busy concert-going calendar in Paris. In a recent statement about the group's mission, Stumpf writes: "Each of our beloved masters worked within a community or communities of other cutting-edge musicians who were each pioneering the way forward with their own unique voices, imbued with daring, new ideas…[MOPR endeavors] to become more facile in comprehending and interpreting the dramatic invention of 'new-to-us' voices and to learn their individual tools and tricks."
One audience member says that MOPR not only gives listeners a chance to hear this music on period instruments, but the group's sheer joy of expression also has kept her coming back since the inaugural season. Mezzo Catherine Hedberg, a frequent guest with the group for its holiday concerts, puts it even more succinctly: "They just play so beautifully!"
Celebrating its 30th anniversary this season, Musicians of the Old Post Road was created by Stumpf and Ryan to rediscover music of the late 17th through early 19th centuries performed on period instruments in historic venues across the Boston area. The ensemble takes its name from the actual Boston Post Road that connected Boston and New York City. The group's journey literally began on that road, when Ryan and Stumpf happened to be out for separate walks — in different directions — when a mutual friend introduced the two.
Ryan and Stumpf had both performed in Europe at historic venues. They describe witnessing the "palpable experience" of audiences enjoying historical buildings, repertoire, and instruments together, an experience they were eager to bring to New England audiences. The pair "bolted up" and realized that the Boston Post Road itself might be the answer. They researched the history of the road, traced the original route, and began driving the modern highways now occupying it, eventually contacting towns and venues and applying for grants to perform at historical locations along the path. The Road's heyday happened to be roughly from 1685 through the 1840s, the years covering the Baroque era through the early Romantic period, the same repertoire of MOPR.
Thirty years later, MOPR now reaches several towns in addition to Boston, as well as the city of Worcester in central Massachusetts. The ensemble has performed about 800 pieces and many modern premieres of old works, such as Antonio Caldara's cantata Amarilli Vezzosa and Christoph Graupner's Der Stern aus Jakob Bricht Hervor. MOPR has also released seven albums, including premieres of trio sonatas by the Spanish brothers Juan and José Pla and the original version of Hummel's Scottish songs.
The five core members of MOPR have deep roots in New England, reflecting both their love of local audiences and those audiences' affection for this hometown ensemble. Both directors grew up in New England and now teach at Wellesley College, where Stumpf also studied. Ryan studied at Boston University and also serves as musical director at The First Religious Society in Carlisle, performing for services there and occasionally joined by his fellow MOPR director — and wife — Stumpf. "We also got married along the way!" Stumpf adds in passing to the story of MOPR.
Harpsichordist Michael Bahmann joined Ryan and Stumpf shortly after the initial formation. He came to New England from Germany (via San Francisco and France) in 1986, studying at New England Conservatory. He now serves as musical director for United Congregational Church of Little Compton in his home state of Rhode Island.
Violist Marcia Cassidy joined MOPR five years into its run. She is a proud adopted New Englander who lives in Vermont, teaches at Dartmouth, and serves as principal violist with several local orchestras and chamber ensembles. Violinist Sarah Darling is the newest member, recently celebrating her 10th year with the group. A lifelong New Englander born in Carlisle, MA, and "playing in the Unitarian church in the center of town her whole life" — the same church where Ryan directs — Darling studied at Harvard and is now completing a doctorate at New England Conservatory. She also plays in a variety of ensembles throughout Boston and the surrounding region.
They all agree that the Boston metro area offers unique opportunities for classical music and specifically early music. A history-conscious city and a seminal place in the birth of the United States, Boston's incredible volume of higher-education institutions makes so much possible in terms of scholarship and performance. Darling describes developing as a musician in this "healthy," nurturing environment. Cassidy lovingly describes the intimate historical venues of the region as some of her favorite performance spaces. Acoustically warm, intimate in size, and rich in history, she notes, "They're not thousand-seat halls. They let the audience hear the creaks of the piano bench and the fingers on the violin, and see the smiles and sweat on the musicians' faces. It's like playing in people's homes."
Regularly performing at venues outside of Boston proper has helped them literally bring the music to wider audiences. "We aim to make this experience of historical performance more available to people across the state," Ryan says, "bringing it to the backyards of a wider public rather than exclusively in metropolitan centers. We actually have some of our strongest followings in MetroWest [the area between Boston and Worcester]. It was also our aim to encourage people to explore and experience the architectural gems of neighboring communities as concert venues. Part of our goal was also to build bridges and connect people and communities on a number of levels."
That community orientation extends beyond performance. MOPR has provided outreach programming to local schools since its inception. It also introduced a "kids come free" policy in 2000. The emotional impact of this music — how it makes these children feel — is central to their encouraging students' curiosity about it. With a wide smile, Darling describes a small child excitedly hearing, and feeling, the vibrations of the violin string under her fingers while she bows the instrument.
"Accessibility" is a key term for these players in the classroom or onstage. Members also frequently introduce the music to the audience with written remarks and lovingly produced concert booklets. The ensemble will occasionally introduce excerpts from letters and other texts about the music at their concerts. The image of Mozart confidently telling his parents that he will ace an audition in Mannheim is an example of the context and joy MOPR builds around their repertoire.
The "infectious enthusiasm" described by Stumpf and Darling (in separate conversations) starts with the group finding these works through extensive research. In some cases, MOPR's requests have led to finding works previously lost in the archives, an additional form of "helping the cause" of this music.
MOPR then selects pieces for performance in a process based as much on musical intuition as scholarship. Cassidy describes Bahmann communicating musical ideas by singing during rehearsals. Bahmann describes playing continuo alongside Ryan and "doing things like ornaments, without even talking about it. There is understanding without speech." Sometimes the musicians have to create their own scores to work through inconsistencies in the text, resulting in new performing editions prepared and published by MOPR.
The process often opens up musical avenues, as well as personalities. Bahmann says that "Baroque and Classical composers were outstanding craftsman" and finds it "fascinating when a piece with its own identity reveals itself." Stumpf marvels at "finding a lesser-known composer's unique voice" and the fact that "they all have one!"
MOPR's March concert collects music by Mozart and the composers-friends he would gather for private performances. Among works by Mozart as well as Haydn, "Mozart's Viennese Circle" includes Carl Ditters von Dittersdorf's String Quartet in A Major — a work Stumpf energetically describes as "busting out" in its invention — and Jan Křtitel Vaňhal's Quintet in F Major for flute, violin, two violas, and cello. The website invites audiences to "Celebrate the rise of the individual and equality of musical voices in Classical chamber music!" Stumpf also points to this music and this specific period as the rise of the freelance musician, most notably Mozart and his career without a court position or steady patron.
There is an openness and excitement built into MOPR's mission and work that provides an endless source of discovery in itself. Asked about the future of the group, Ryan notes "a seemingly bottomless well" of material for exploration. For this ensemble, the past is as exciting as the present or future, and that is clearly no coincidence. Another attendee at their Christmas concert said it best: "They always look like they're having so much fun!"
For information about Musicians of the Old Post Road's upcoming concerts, go here.
Andrew J. Sammut has written about early music and traditional jazz for All About Jazz, Boston Classical Review, The Boston Musical Intelligencer, Early Music America, the IAJRC Journal, and his blog, The Pop of Yestercentury. He has also written and copy-edited liner notes for independently-produced historical reissues of jazz from the 1920s.