by
Published March 31, 2017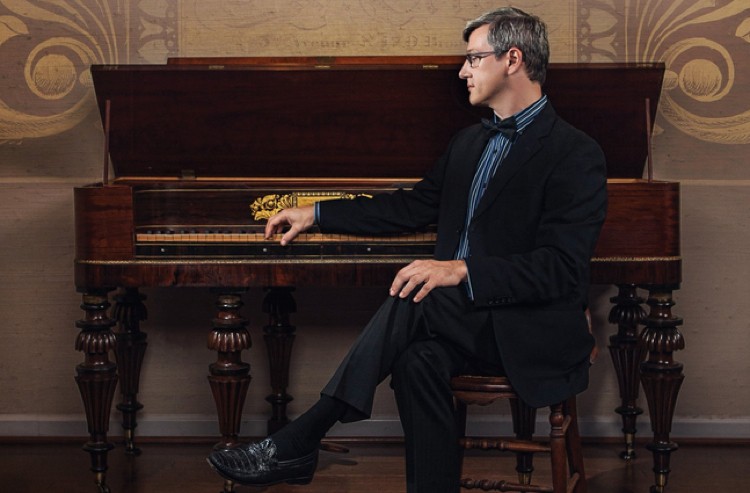 Giovanni A. Matielli: Three Sonatas for Square Piano

Patrick Hawkins, square piano
Golden Square Records
By Daniel Hathaway
CD Review — Patrick Hawkins' new album of sonatas by the Viennese composer Giovanni Antonio Matielli (1733-1805) celebrates the square piano — one of the important late-18th century innovations in domestic music-making. Hawkins makes a good case for the little-known sonatas of Matielli, especially as pieces to delight keyboard dilettanti (in the classic sense of the term).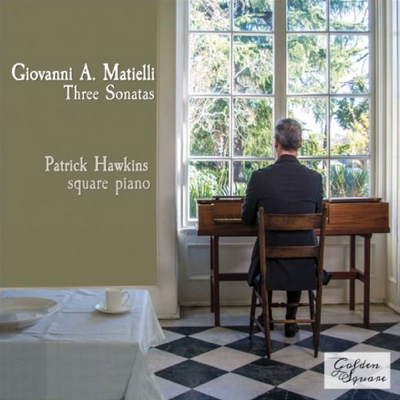 Not square but rectangular, these pianos first appeared in London in 1766 and became almost instantly popular. They were inexpensive — half the price of a single-manual harpsichord, according to instrument maker Michael Cole — and easily portable, which made them attractive to amateur players both for solo and accompanying purposes.
Square piano builders in London soon clustered around Broad Street, where the three instruments Hawkins uses in his recordings were born from 1787 to 1799. Two of the pianos are part of the Carolina Clavier Collection owned by Thomas and Debra Strange; the third is Hawkins' personal instrument.
Known principally as a pedagogue, Matielli studied with Austrian court composer George Christoph Wagenseil, and his published keyboard music seems to have been admired by Gluck. The three pieces on this disc are drawn from the six sonatas of Matielli's Opus 1, with a "bonus" track from another work in the same collection.
For the Sonata in A, No. 1, Hawkins plays a John Broadwood instrument dated 1787, one of the earliest square pianos Broadwood built after his partnership with Burket Shudi ended.
The 1799 Longman, Clementi and Co. instrument Hawkins employs for the Sonata in G, No. 3, benefited from the firm's experiments in improving piano technology, including double action, an enlarged keyboard compass, and a venting device that allows sound to escape from the instrument when its lid is closed.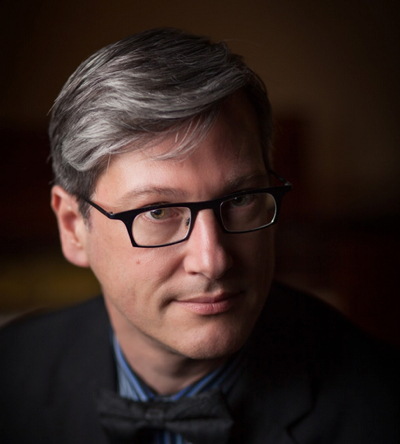 Hawkins' own Christopher Ganer instrument, built between 1785 and 1790 and restored by Christopher Cole in 2005, is featured in the Sonata in A, No. 5. The piano features two stop levers that raise the dampers and activate a buff stop.
All three instruments share the tonal characteristics of lightly-constructed early pianos: clear sonority, minimal resonance, subtle but narrow dynamic range, and an engaging plunkiness that in this case suits Matielli's music. There are tiny differences between the three instruments in terms of hammer noise and brightness of tone. None of the three had yet grown pedals for damper control or other effects.
Hawkins, who makes a specialty of performing on square pianos, brings sureness of touch and a clear sense of affection to all three instruments. His playing of these light, elegant pieces is fluent and attractive, though as the album continues, his habit of inserting tiny pauses and lifts gives the music a halting quality.
As a bonus track, Hawkins includes a movement from Matielli's sixth sonata. La caccia is an odd sort of hunting piece, but it brings the album to a charming conclusion. On which piano, we're left to guess.
Daniel Hathaway founded ClevelandClassical.com after three decades as music director at Cleveland's Trinity Cathedral. He studied historical musicology at Harvard College and Princeton University, and orchestral conducting at Tanglewood, and team-teaches Music Criticism at the Oberlin Conservatory of Music.
Recent EMA Recording & Book Reviews
In a revealing look into the lives of 'ordinary' folks in 17th and 18th c. Germany, author Tanya Kevorkian taps a wealth of sources that detail city life, from religious beliefs to weddings to the rhythms and rules of town watchmen. With compassion and wisdom, the author notes that historians who look at street life "have to some degree replicated the perspective of the authorities."
Emily Zazulia's valuable 'Where Sight Meets Sound: the Poetics of Late-Medieval Music Writing' explores notational aesthetics in polyphonic music, where it's not obvious how you're meant to sing what's on the page.
Long undervalued, Alessando Scarlatti's vocal writing naturally weds singable lines with the Italian language. Ars Lyrica Houston's colorful new recording of a Scarlatti oratorio, with an outstanding cast, makes a brilliant case for this rarely heard music.