by
Published March 31, 2017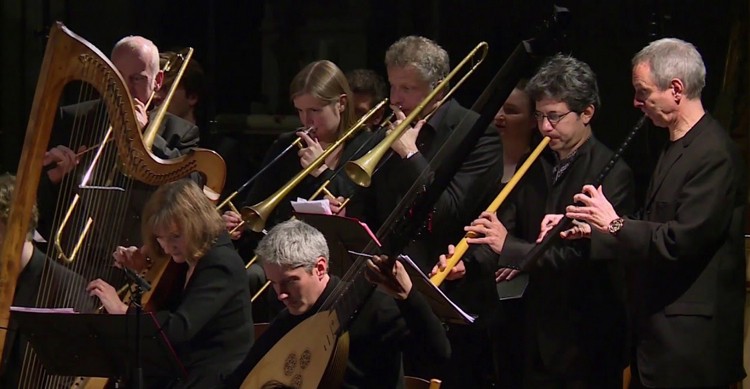 Dario Castello: Sonate Concertate in Stil Moderno, Libro Primo
Academy of Ancient Music; Richard Egarr, director
Academy of Ancient Music AAM005
By Benjamin Dunham
CD REVIEW — The Academy of Ancient Music made its name recording Haydn, Mozart, and Beethoven under its founder, Christopher Hogwood, and throughout its history it has maintained a strong profile in the monuments of the late Baroque (Vivaldi, Handel, Bach).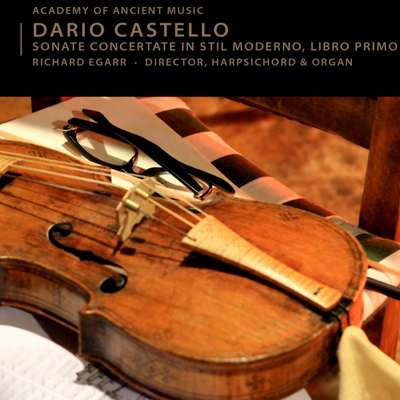 Richard Egarr, the late Hogwood's successor as director, is himself one of the early-music world's biggest draws conducting Haydn and Beethoven and soloing on fortepiano in Classical and early Romantic keyboard repertoire. So it is interesting to observe Egarr expanding the group's interests to include more intimate chamber music: Handel's Op. 1 solo sonatas and his trio sonatas Op. 2 and Op. 5 (both released in 2009), and now shifting back more than a century for sonatas by Dario Castello.
Castello's exact dates in the 17th century are unknown, but his importance as an advocate working on the cutting edge of the early Baroque is unmistakable. We know he was active in Venice, leading an ensemble of wind players at St. Mark's Basilica the same time as Monteverdi, but, more importantly, his innovative sonatas were distributed far and wide throughout Europe.
The "stil moderno" promoted in the two volumes of Castello's music exhibits a joyous freedom in mood and technique, a feeling of "hey, look what we can do" with the instruments of the 17th century. This CD presents the 12 sonatas of Castello's Libro Prima (1621), each featuring soloists in combinations of two and three instruments: violin, violetta, cornetto, dulcian, and trombone.
Characteristic of these works is their rapid alteration in tempo — was this age as neurotic as our own? — Allegro, Adagio, Allegro, Adagio, back and forth, in short, fiery bursts and episodes of repose. In these duos and trios, the effect is less dramatic than in the solo Sonata Prima from Castello's Libro Secundo (1629) as performed by record player Vicki Boeckman. On Boeckman's CD (Kontrapunkt 32059), it seems as if Castello encourages the soloist to take off in extraordinary flights of ecstatic fancy after moments of deep, personal contemplation.
This reservation aside, the playing here is sublime. Soloists Pavlo Beznosiuk and Bojan Čičić (violins), Joseph Crouch (violetta), Josué Meléndez (cornetto), Benny Aghassi (dulcian), and Susan Addison (trombone) are wonderful, with perhaps a special mention for Meléndez, whose playing is all sweetness and light. They are given solid continuo support by Egarr, playing harpsichord and chamber organ, and theorbo player William Carter.
A welcome sequel, Castello's Libro Secundo, has already been announced by the Academy of Ancient Music label. Bravo.
Former EMAg editor Benjamin Dunham has reviewed recordings for The Washington Post and Musical America.
Recent EMA Recording & Book Reviews
Jeannette Sorrell's adaptation of Handel's popular 'Israel in Egypt' cuts, re-orders, restores, and replaces music and text throughout the oratorio. But Handel didn't leave us with a 'definitive' edition, and Sorrell's version is so artistically logical that someone new to the work might not know anything is missing. Apollo's Fire and the outstanding vocal and instrumental soloists make a compelling case.
People who love Wagner operas can separate his music from his toxic beliefs. Yet J.S. Bach's 'superlative ability to move listeners' and status as 'a pinnacle of Western art' brushes aside the composer's harsh theology and often intolerant personal philosophy. In this collection of essays, Bach scholar Michael Marissen warns us to 'not soften or assimilate this figure to our own preferences, no matter how much we find inspiration, solace, or transcendence in his art.'
Trumpet soloist Josh Cohen and Ensemble Sprezzatura bring together regal flair and expressive grace with 'Altissima,' exploring the varied colors and dimensions of the high Baroque trumpet. The recording makes an ideal introduction to myriad trumpeting styles through mostly unfamiliar repertoire.