by
Published June 9, 2017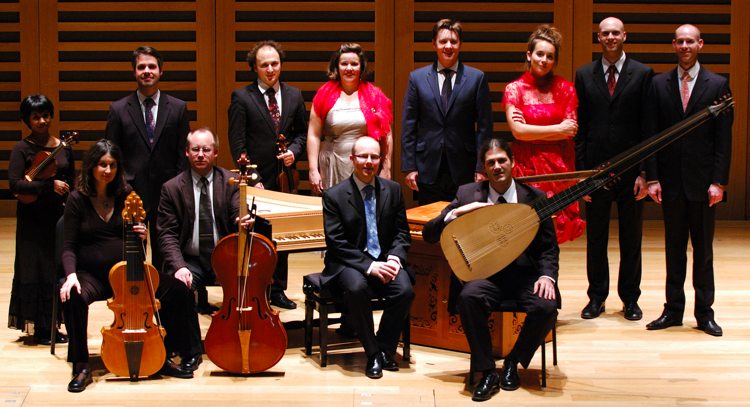 Pergolesi: Stabat Mater; J. S. Bach: Cantatas BWV 54 & 170
Lucy Crowe, soprano; Tim Mead, countertenor
 / La Nuova Musica (David Bates, artistic director)
harmonia mundi HMM 907589
By Benjamin Dunham
CD REVIEW — Those thinking of attending the 2017 Boston Early Music Festival (June 11-18) or planning to read about it afterwards will have noted the encore presentation of two comic operas by Giovanni Battista Pergolesi, La Serva Padrona and Livietta e Tracollo. This promises to be a treat. But everyone can get a taste of Pergolesi's easy way with the Baroque style on this new CD, which couples his Stabat Mater with two Bach cantatas in well-performed renderings by the British ensemble La Nuova Musica under the direction of David Bates.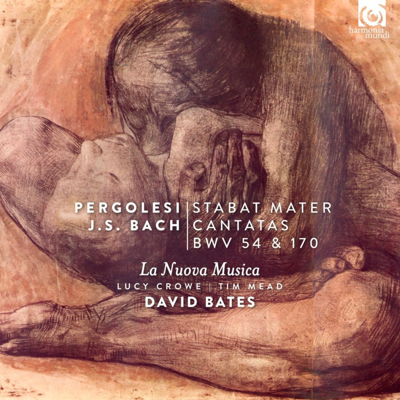 Pergolesi's Stabat Mater is said to be the most frequently reprinted score in the 18th century; even Bach made use of its music in his motet Tilge, Höchster, meine Sünden, BWV 1083. Near the end of the century, Charles Burney praised Pergolesi (1710-1736) as "the polisher of a style of composition which at the distance of half a century…still reigns throughout Europe." We all know how Bach (1685-1750) was ignored in this period, but see how times have changed. I can't find any other listed performances of Pergolesi this year at BEMF, while the name of Bach (including his sons) appears 33 times in the list of BEMF fringe events.
The Stabat Mater text is a 13th-century hymn in trochaic tetrameter (think Hiawatha: "By the shores of Gitche Gumee…"), which has been set by greats like Haydn and Dvořák and more recently Francis Poulenc and Arvo Pärt. Pergolesi presents it as a cantata for two solo voices, in this case the soprano of Lucy Crowe and the alto of Tim Mead, who comment individually and in duet upon the grieving Mary at the crucifixion of her son Jesus. There is nothing complicated about the emotions of the work, written in Pergolesi's final year of life, nor about its direct mode of expression. There is a rightness to it all and no wonder at its surviving popularity.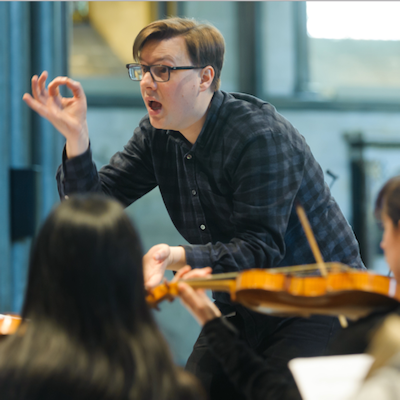 Crowe sings her numbers with great vitality and warmth, with a more-than-adequate trill; Mead delivers his with a searing, plangent tone, with a less-adequate trill; together they team sympathetically, both in the overlapping dissonances of the opening duo ("Stabat mater dolorosa"/Standing there the mother mournful) and elsewhere, especially the up-tempo "Inflammatus et accensus"/Take my heart inflamed by fire.
The Pergolesi is surrounded by two Bach cantatas, "Widerstehe doch der Sünde," BWV 54, and "Vergnügte Ruh! beliebte Seelenlust!," BWV 170, both for solo alto and both taken from a 1711 text by Darmstadt librarian Georg Christian Lehms. Mead is convincing in the early BWV 54, Bach's first cantata for solo voice, and also in the much later BWV 170. This begins with an aria portraying the heavenly concord attained through gifts of virtue (with its singing oboe d'amore line, beautifully played by Patrick Beaugiraud, this aria might have been lifted from the Christmas Oratorio). The reverie is interrupted by an alarming recitative and a questioning aria—with an obbligato organ part and a bass line in the violins—about wayward souls influenced by Satan. In the final aria, soloist, oboe d'amore, and organ join to express their joy in the prospect of escaping worldly evils and finding rest in heaven.
Former EMAg editor Benjamin Dunham has reviewed recordings for The Washington Post and Musical America.
Recent EMA Recording & Book Reviews
In a revealing look into the lives of 'ordinary' folks in 17th and 18th c. Germany, author Tanya Kevorkian taps a wealth of sources that detail city life, from religious beliefs to weddings to the rhythms and rules of town watchmen. With compassion and wisdom, the author notes that historians who look at street life "have to some degree replicated the perspective of the authorities."
Emily Zazulia's valuable 'Where Sight Meets Sound: the Poetics of Late-Medieval Music Writing' explores notational aesthetics in polyphonic music, where it's not obvious how you're meant to sing what's on the page.
Long undervalued, Alessando Scarlatti's vocal writing naturally weds singable lines with the Italian language. Ars Lyrica Houston's colorful new recording of a Scarlatti oratorio, with an outstanding cast, makes a brilliant case for this rarely heard music.