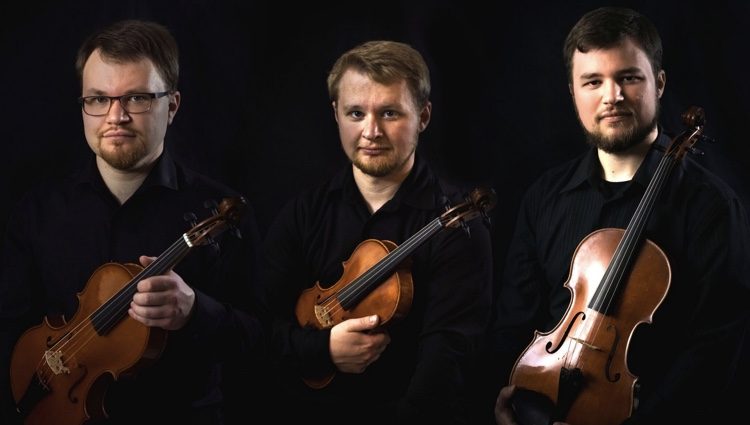 By Philippa Kiraly
SEATTLE — In 2014, the University of Washington and Pacific MusicWorks presented a grand experiment: a fully staged performance of Handel's Semele with top-notch singers, the Pacific MusicWorks orchestra, students trained by Pacific MusicWorks as chorus and understudies, and student baroque instrumentalists paired side by side with their professional peers.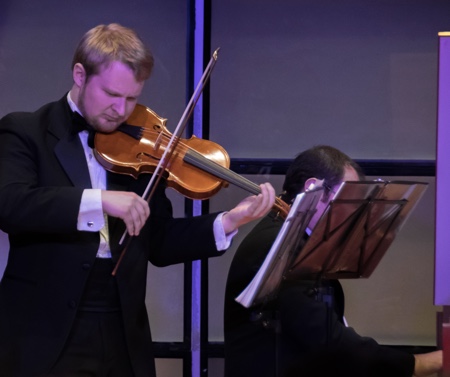 The year before, lutenist and opera director Stephen Stubbs, founder and director of Pacific MusicWorks, had been appointed artist-in-residence at UW with his PMW Orchestra as ensemble-in-residence. Young musicians to whom they taught Baroque technique, style, and ornamentation began to rise up the pipeline.
Among the student musicians at that first joint opera performance were three Pokorny brothers, all studying string performance at UW: Romaric, then 23, close to graduating; Corentin, 21, half way through his studies; and Emmeran, 19, about to begin there. "After doing that, we said, 'My God, this is fantastic!'" remembers Romaric, and all three dove into Baroque performance in varying degrees.
That occasion was the first time the name Pokorny had appeared on a concert program, but since then it has been seen with increasing frequency for concerts by Pacific MusicWorks (both its Main Stage and Underground programs), Seattle Baroque Orchestra, the Whidbey Island Music Festival, and more. Local performances on modern instruments often include one or other of the Pokornys, such as for Pacific Northwest Ballet or subbing in the Seattle Symphony, as well as chamber music. The Pokorny brothers are now deeply embedded in the musical life of Seattle and surrounding areas.
The Pokorny family migrated from their home in the Paris outskirts to Washington state in 2008. French father, American mother, and three boys — 17-year-old Romaric (known as Rom), 15-year-old Corentin (Corey) and 13-year-old Emmeran — settled in Kenmore, one of Seattle's northern suburbs, and took to Seattle's music-education scene like ducks to water. (Their parents had turned to medieval literature for the boys' names.)
In France, all three boys had studied music intensively from early childhood: violin, piano, and voice at the Conservatoire à rayonnement régional de Boulogne-Billancourt and later at the Conservatoire d'Aulnay-sous-Bois.
Of their singing, says Corey, "We were in a voice studio, and our voice teacher would have concert recitals for all her students. Before our voices changed, the three boys from The Magic Flute was a big part of our repertoire. So it was mostly just for fun." They have little time for singing now, but it's one area of music they intend to get back to.
Growing up, they heard a lot of Baroque music, says Rom. "Being in France, where any church you walk into is very likely to be from the 1200s or earlier, there were plenty of groups, from community ensembles to professionals, that regularly did concerts all over the place, and frequently the music played would be various masses, church cantatas, etc., etc. Some was vocal, some others not. And yes, at various times we were part of different choirs, as well as occasional soloists. Especially in the British circles, we got a lot of work as the 'boy soprano,' as you can imagine! The organ at our church was a lovely little 1920s Cavaille-Coll organ, and we all subbed there. My favorite memories of that were a few services and concerts where one of us played the manuals and a brother the pedals, as we were too young and small to reach both comfortably."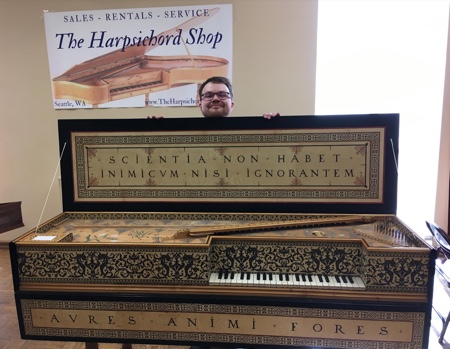 Rom graduated from the University of Washington in 2014 with a degree in viola performance, as Emmeran did this year. Corey graduated in violin in 2016, having also won the university's concerto competition and been concertmaster of the University Symphony Orchestra for the 2014-15 year. They all play both violin and viola, and they performed their graduation recitals on baroque and modern instruments.
Rom, now 27, had always been interested in pipe organs. After meeting a local organ builder, he began working for him until the company moved to the east coast. But by then, he had learned enough to build his own pipe organ in the family house. "I plan to rebuild it when I have time," he says. Shortly after, he met local harpsichordist Henry Lebedinsky, who repairs, sells, rents, and services harpsichords and portative organs in his Harpsichord Shop. "I started taking harpsichord lessons from him," says Rom, "and then found he wanted help in the shop."
They have been working together there for a couple of years. "He has an impressive skill set," says Lebedinsky, "from woodworking to electrical, and also a sense of know-how that has been a great addition to my business. He assists me on harpsichord rebuilds and repairs and handles a lot of instrument tuning and moving." Both are busy performers, so Lebedinsky appreciates having another pair of hands. Corey and Emmeran also work there occasionally.
"Ever since my brothers and I were kids," says Corey, "we were tinkering in the garage with tools, building a variety of things. So I've always had an interest in woodworking. Henry first asked if I could make lid sticks for harpsichords, which is simple enough, so I made him a few of those, after which he asked if I would give a try at replicating an existing music stand, which I did. After that, it became easier to make them, so I've been doing them more often."
Tekla Cunningham, concertmaster of Pacific MusicWorks Orchestra, has coached all three Pokornys in Baroque performance, but Corey probably the most. "It wasn't until one summer, when Tekla had her festival on Whidbey Island and asked me to fill in last-minute for a violin part, that I was introduced to what period performance was really about," says Corey. "And I absolutely loved it. After that summer, I took private lessons with Tekla and began playing regularly with Pacific MusicWorks, learning as I went along." All three have coached with Cunningham, who has a high opinion of them.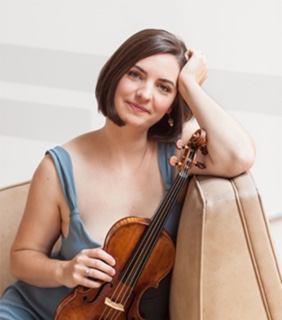 "I first met them as part of Pacific MusicWorks opera productions (Semele, Magic Flute and Gluck's Orfeo ed Euridice) at the University of Washington," Cunningham says, "and then worked with first Rom and Corey and most recently Emmeran in the UW Baroque Ensemble. Rom and Corey are both very accomplished instrumentalists and extremely sensitive chamber musicians. They both know how to carry their individual parts but have a very mature sense of blend and of how to best contribute to an ensemble. I've tried to hire them whenever possible for PMW projects."
When Seattle Opera staged a studio performance of Handel's Il Combattimento di Clorinda e Tancredi in 2017, Pacific MusicWorks was asked to provide the accompanying chamber ensemble. Cunningham was unable to take it on and asked Corey to take her place, though he was barely versed in Monteverdi ornamentation at that time. "Corey is a very quick study, and I knew he would do well with Il Combattimento," she says. "There aren't always a lot of opportunities to study and work on 17th-century music, so I thought it was the perfect opportunity for him to work closely with Stephen Stubbs and to delve into the very special sound world of Monteverdi."
Corey had a reasonable amount of lead time to learn the music but gave himself a crash course in Monteverdi ornamentation, listening to the composer's works non-stop in the car "until I understood it well enough to apply it myself in the right context." All the brothers have learned much about period performance by concentrated listening, though Rom has also studied with Tafelmusik.
This past spring, Corey laid aside his baroque violin for his modern one and headed to the Caribbean for several months to play as part of a quintet. "It's a collaboration between Lincoln Center in New York and Holland America Line [cruises] to showcase what goes on at Lincoln Center on board the different ships," he says. "It's a very varied program, mostly classical, but sadly, I don't play baroque violin on this gig." It's an international program, and he has met musicians from all over. He hopes to be rehired another time for this program. As he says, "The pay is hard to beat," though the downside is he doesn't get to take on any other kind of playing while doing it.
Yet another interest the brothers share is photography. They started playing serious attention to it some years ago after a joint gift of a good camera one Christmas, and then when Lebedinsky wondered if they would take pictures of harpsichords he planned to sell.
"After that," says Corey, "Pacific MusicWorks took an interest as well, and they've hired us on numerous occasions to photograph their events, which made us want to invest more in the hobby, getting better cameras and lenses, as well as other equipment." They still consider themselves amateurs, Corey says, "but it's always nice to see an activity you like doing turning into a way to help you make a living."
The brothers say they manage their freelance lifestyle because they live with at home in Kenmore with their parents, who "will help in a dry couple of months," says Rom. "If not for that, it wouldn't work. As it is, it's not fantastic, but it's working out." They are also delving into audio engineering and recording recitals. "Corey is head photographer. Emmeran and I are also film photographers, but it's mostly a hobby at this point." Emmeran says he plans to do more now that school is done, as well as learn the cello.
The key to all their varied activities is scheduling, Rom says. They are extraordinarily disciplined. They go to bed at a reasonable hour and rise at seven, even when they don't have commitments until later in the day. "If you get off schedule, the body doesn't adjust," says Emmeran.
Along with playing all the chamber music they can get their hands on, the three have explored musical genre-crossing with their own Rocoempo Trio. The ensemble has been on hiatus, since their schedules never meshed, but Rom is beginning to think about making arrangements for them.
Philippa Kiraly has been a freelance classical music critic since 1980. She wrote for the Akron Beacon Journal, then the Seattle Post-Intelligencer until its print demise, and now for City Arts and a blog, The Sun Break.