by Jacob Jahiel
Published September 12, 2022
Arcangelo Corelli: Sonatas for Viola da Gamba & Continuo. Teodoro Baù, gamba, and Andrea Buccarella, harpsichord. Ricercar RIC440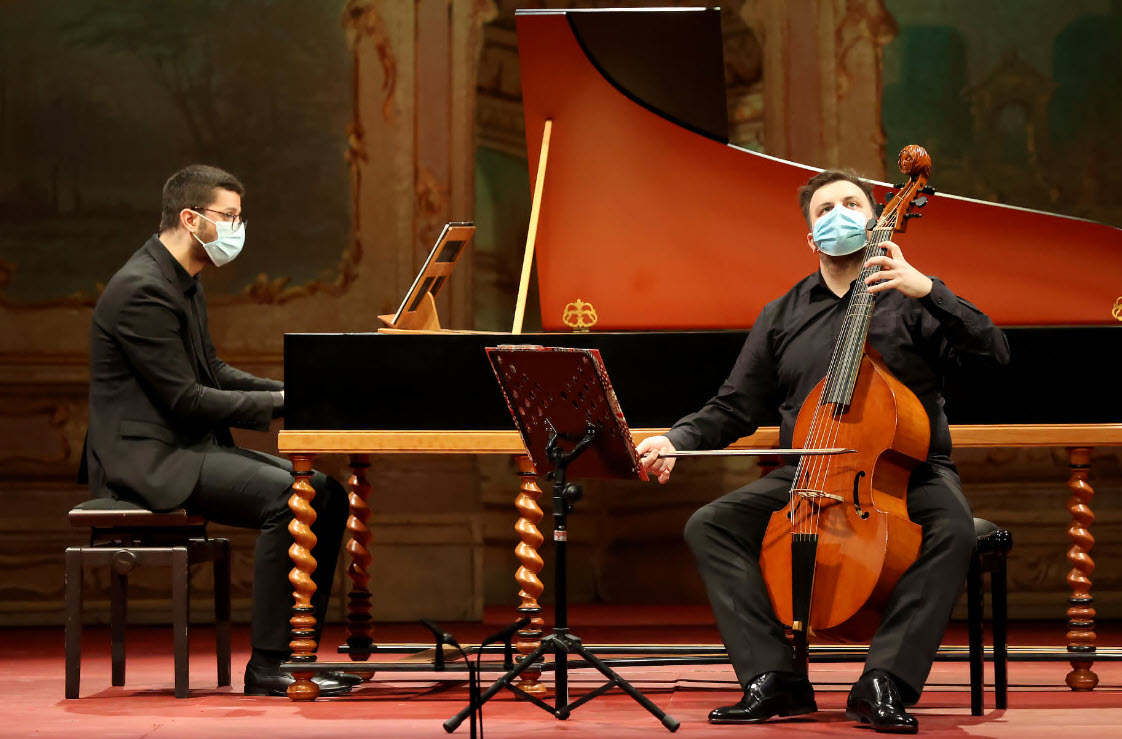 In his debut solo album, Teodoro Baù turns to the finest sonatas for the viola da gamba that Corelli never wrote. Winner of the 2021 Musica Antiqua Bruges Competition, Baù reaches into a mainstay of the Baroque violin repertory, Corelli's Twelve Sonatas for Violin, Op. 5, performing from a transcription of his own making.
Following its 1700 publication, Corelli's wildly popular Op. 5 provoked numerous re-editions and transcriptions, typically geared towards other treble instruments like recorder and flute. But other versions draw the sonatas downwards from their native register, such as one for viola da gamba housed in the Bibliothèque Nationale de Paris (ms. Vm76308). Baù cites this manuscript as foundational to his own transcription.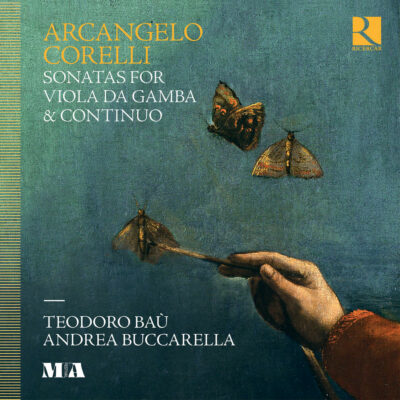 Since Corelli's time, only a handful of musicians­—Guido Balestricci, Friedericke Heumann, and now Baù—are known to have explored Op. 5 on the viola da gamba. But for lovers of the instrument, projects such as these help soften the blow of one of the gravest injustices to the viol in history: while it enjoyed a golden age during the Italian Renaissance and early Baroque, the use of the viol in Italy neared extinction by Corelli's lifetime.
While it might be tempting to exoticize the task of adapting music to a new instrument, Baù encourages today's musicians to deconstruct the stigma that surrounds making a transcription. Rather than an obstacle to be overcome with herculean effort, he contends that transcribing offers an opportunity to explore how naturally the process can unfold for a competent and intuitive musician.
Baù proves himself to be both, and his approach to Corelli's Op. 5 renders a recording that is refreshing, exciting, and pristinely executed.
In a display of versatility as well as virtuosity, Baù seamlessly pivots between the violinistic and violistic realms. In faster sections, such as the back-to-back Allegro movements from the sixth sonata, he creates the impression of wielding a fiddle's featherweight bow, dancing across the strings with agility and precision and conveying the sense of abandon characteristic of so much Italian baroque music.
In slow and moderately paced movements, like the Grave from the second sonata, he takes care to celebrate the viol, creating the sense that Op. 5 had been written for his instrument all along. Informed by treatises like those by famed eighteenth-century violinist and composer Francesco Geminiani, Baù's ornaments wrap around each line with grace and inventiveness.
In harpsichordist Andrea Buccarella, Baù finds a duo partner who keenly senses the architecture of each phrase, unfolding harmonic progressions with a clear sense of momentum and shape. The harpsichord itself, made by Keith Hill in Manchester, Michigan, possesses an impressive depth of tone, adding sparkle to the viol's warm timbre and supplementing the high register.
Baù successfully makes the case that a performance of violin sonatas on viola da gamba, an instrument tuned, held, and built differently, might not just sound workable, but also natural. In doing so, he also issues a challenge to any historically informed performer to explore new avenues for familiar repertories.
Jacob Jahiel is a writer and violist da gamba residing in Montréal. He was a 2022 Rubin Institute for Music Criticism Fellow and is a recent graduate of the Jacobs School of Music at Indiana University, where he obtained an M.A. in musicology with an outside field in historical performance.
---
More CD Reviews:
Yi-Heng Yang's latest recording on the fortepiano covers three early Romantic composers: Fanny Mendelssohn Hensel, Robert Schumann and Franz Schubert. She makes the case for the music, but equally for…
It's fascinating to see how artists responded to pandemic lockdowns. Violinist Martin Davids' clever project takes Baroque pastiche into new realms, stitching together movements from various composers.
Recent EMA Recording & Book Reviews
In 2016, Jordi Savall assembled a group of immigrant musicians with a fundamental mission: to preserve and revive precious musical traditions from a range of under-stress cultures, from Syrian and Kurdish to Armenian, Sudanese, Afghan, and Moroccan. The resulting live performance was captured as 'Oriente Lux,' bridging gaps and making connections.
Jeannette Sorrell's adaptation of Handel's popular 'Israel in Egypt' cuts, re-orders, restores, and replaces music and text throughout the oratorio. But Handel didn't leave us with a 'definitive' edition, and Sorrell's version is so artistically logical that someone new to the work might not know anything is missing. Apollo's Fire and the outstanding vocal and instrumental soloists make a compelling case.
People who love Wagner operas can separate his music from his toxic beliefs. Yet J.S. Bach's 'superlative ability to move listeners' and status as 'a pinnacle of Western art' brushes aside the composer's harsh theology and often intolerant personal philosophy. In this collection of essays, Bach scholar Michael Marissen warns us to 'not soften or assimilate this figure to our own preferences, no matter how much we find inspiration, solace, or transcendence in his art.'