by
Published November 18, 2016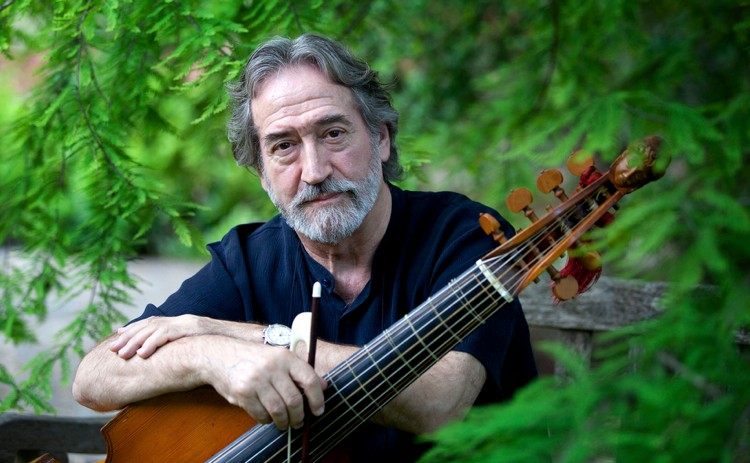 Ramon Llull: Era of Conquest, Dialogue, and Exhortation
La Capella Reial de Catalunya; Hespèrion XXI; Jordi Savall, director
Alia Vox AVSA 9917
By Benjamin Dunham
CD REVIEW — What was the thinking behind Jordi Savall's latest release? It's a two-Hybrid SACD set preserving a concert that observed the 700th anniversary of the death of the remarkable Ramon Llull. And it's a 312-page book, lavishly produced in full color and six languages (count 'em, six!): Catalan, French, English, Castilian, German, and Italian. This rich package is the latest in a series from Savall and Alia Vox that has focused on the Borgia dynasty, the Balkans, Christopher Columbus, Don Quixote, war and peace, and other subjects.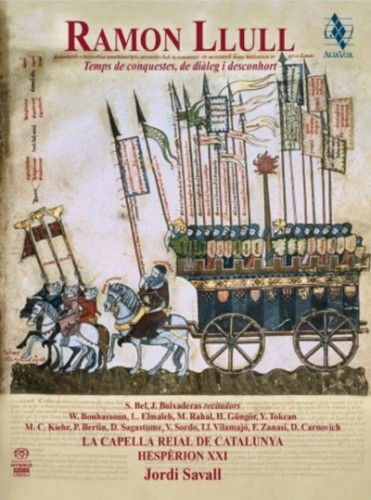 The complete script for this performance, captured in sound in November 2015 in Barcelona, is included, along with five informative articles discussing the import of Llull from every possible angle. And believe it or not, this quixotic release has competition in the category of Llull hagiography: The Last Pilgrimage, a three-CD set on the Licanus label (CDM 1640) with book released in the summer of 2016 by the Capella de Ministrers, which is based in Valencia, Spain, and directed by Carles Magraner
A native of Majorca, Llull (1232-1316) was a poet, composer, philosopher, logician, scientist, mystic, and theologian, a figure whose life prefigured the careers of such later polymaths as Leonardo da Vinci, Emanuel Swedenborg, Gottfried Leibnitz, William Playfair, Georges Gurdjieff, and Friedrich Nietzsche.
But there is no one in history quite like Llull, After forswearing his early life as a troubadour in a burst of religious inspiration, he became convinced that the way to achieve a truly Catholic world was not through conquest but through direct dialogue with people of other faiths, and to this end he bought an Arabic slave to teach him the language. He even viewed the Crusades, which he actively promoted, as a way of regaining a Near Eastern beachhead from which to interact with the Saracens. If the Nobel Peace Prize had an Old-Timers category, Llull would be a shoe-in as an honoree.
Although Llull's travels and writings (in Catalan) were focused on matters of faith, he openly argued against adopting Christian principles on faith. He worked to distill common elements of thought that transcended doctrinal differences, arranging these in a symbolic language aimed at allowing all cultures to debate the truths of philosophy and faith from a neutral point of view. In so doing, he foreshadowed the "characteristica universalis" of Leibnitz, taking the first steps toward the symbolic logic and computer languages of today. His circle diagrams look a little like a Gurdjieffian enneagram, but the points around the circumference are conceptual principles rather than aspects of personality. In his thinking about making political choices, he anticipated modern electoral theory.
Unfortunately, there doesn't seem to be any extant music by Llull (in this he is like Leonardo). So to trace his life and achievements chronologically, the selections performed by Savall, the instrumentalists of Hespèrion XXI, and the vocalists of La Capella Reial de Catalunya are mostly drawn from the usual playbook of 13th- and 14th-century secular and sacred music, including processions, istampitta, conductus, cantigas, etc., progressing to a striking Ars Nova motet by Philippe de Vitry.
These are supplemented with exotic music of Moorish and North African origin and Sephardic chant, performed with the help of wonderful guest artists steeped in these traditions. Among them are a spectacular Plainte Hébraïque from The Song of Songs sung by Israeli tenor Lior Elmalich and evocative songs in Arabic sung by Syrian contralto Waed Bouhassoun. It seems a little strange, though, to hear the expert Pierre Hamon playing what sounds like a recorder on some numbers, especially an imaginatively ornamented istampitta tied to an entry from 1282, a full century before we have iconographic evidence for the instrument.
Quibbles aside, the two-plus hours spent listening to this music while contemplating the importance of Raman Llull are worthwhile indeed.
Former EMAg editor Benjamin Dunham has reviewed recordings for The Washington Post and Musical America.
Recent EMA Recording & Book Reviews
In a revealing look into the lives of 'ordinary' folks in 17th and 18th c. Germany, author Tanya Kevorkian taps a wealth of sources that detail city life, from religious beliefs to weddings to the rhythms and rules of town watchmen. With compassion and wisdom, the author notes that historians who look at street life "have to some degree replicated the perspective of the authorities."
Emily Zazulia's valuable 'Where Sight Meets Sound: the Poetics of Late-Medieval Music Writing' explores notational aesthetics in polyphonic music, where it's not obvious how you're meant to sing what's on the page.
Long undervalued, Alessando Scarlatti's vocal writing naturally weds singable lines with the Italian language. Ars Lyrica Houston's colorful new recording of a Scarlatti oratorio, with an outstanding cast, makes a brilliant case for this rarely heard music.