by Wade Davis
Published September 6, 2016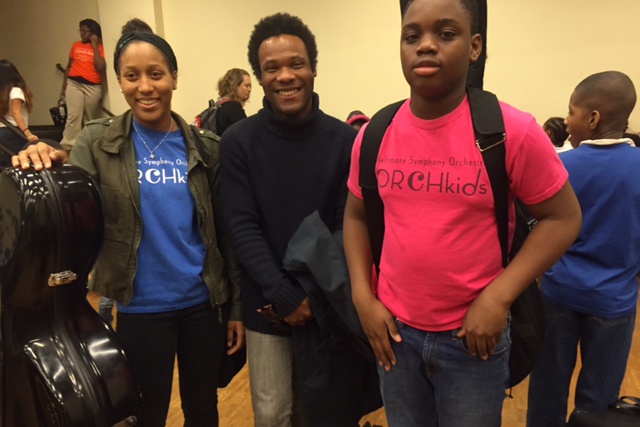 Growing up, I was often the only black student in music classes or sections in the orchestra, but I was always focused on the music, and my teachers were always focused on giving me the very best training, making sure I reached my full potential. As I became more advanced, I was sometimes the only black person playing in an entire orchestra or musical festival. I was lucky to have been selected to play with the Charleston Pro Musica, an early music group in Charleston, South Carolina run by Dr. Steve Rosenberg, when I was a student at the College of Charleston. Playing in this group, I experienced a wide variety of dances and songs from the late Medieval and Renaissance. Realizing the harmonic purity of this music, most of which I'd never heard, and discovering the sound of the period instruments led me to search for truth in music from that era and beyond.
Upon graduation from the College of Charleston, I went to the Oberlin Baroque Performance Institute where I learned to play the baroque cello. My entire worldview was changed. Those two weeks were revelatory. When I went back to the College of Charleston to begin the Artist Diploma program, my performances of Beethoven were fresh and new. I was viewing them as sonatas for piano with cello accompaniment and not the other way around and therefore adapting the cello line to be one that fit inside of that of the piano and playing with less vibrato, which brought a clarity to the music that was much closer to the way it would have been played in Beethoven's own time.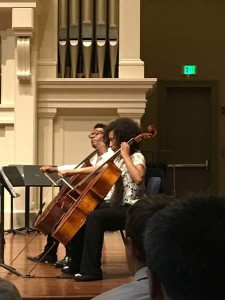 As I began to explore the world of early music, I noticed the lack of diversity in the field; however, it was not unlike the less-extreme lack of diversity I had seen prior to attending BPI. When I discovered Joseph Boulogne, the Chevalier de St Georges, I started to find my place in the field. As black people in the United States, we are told that our culture is that of slavery. I had no idea that there was a black composer and virtuoso violinist living in Paris at the same time as people like Marie Antoinette and Wolfgang Amadeus Mozart. When I saw his portrait, I was emboldened to do anything I wanted to do! To see him in the beautiful wigs and waistcoats of the 18th century was validating in a way that I cannot describe.
This past April I played a recording of a violin concerto by Joseph Boulogne for my students and explained to them that he was black and living in Paris and writing at the time of Haydn and that he inspired Mozart with his writing in the extreme positions on the violin. I explained to them that he was an incredible virtuoso and that the music they were hearing was music he actually played live in concert. They brought out their cell phones and found his portrait and were all so amazed. They said, "Mr. Wade, he looks like one of those people!" I know what it meant to my students to see his face because they are now at the exact point of excitement for their instrument and for music that I was when I saw his portrait for the first time.
Teaching for the Baltimore Symphony Orchestra OrchKids program has rewarded me in ways that I could never have imagined. It is a rare thing to have a black male teaching music, let alone teaching young black students and helping them to reach for greatness. By far, the most rewarding aspect of teaching these children is showing them that they can do it too! It has become my mission as a teacher. My highest priority is to instill in my students the fact that they have each other and that they are in it together. This mindset creates such a bond and sense of community, which they proudly display.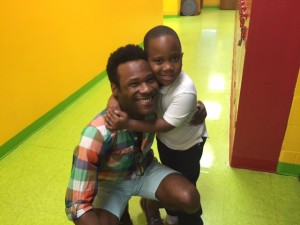 I never thought I would love teaching as much as I do. I never even thought I would go into teaching. But realizing moments of insight and measuring the progress of my students has been just as exciting as in my own endeavors. Watching my students excel and perform so beautifully is a gift.  I am so very proud to say that we have had a wonderful year. We met and played for Yo-Yo Ma at a private donor dinner to benefit our program and two of my students played an encore with him alongside the Baltimore Symphony Orchestra the next evening. Three of my students went to Interlochen Arts Camp and two of them helped with the OrchKids Summer camps here in Baltimore. We are looking forward to two upcoming engagements: to perform at an event to welcome the new head of the Library of Congress and to perform at the Baltimore Symphony Orchestra's Season Opening Gala.
It is so meaningful to me as I think on upcoming events to not only to be teaching these children but to also have the opportunity to experience of being black in the world of classical music onstage, side-by-side with them. It is an incredible privilege to be showing classical audiences that myself and the next generation of young black musicians are thriving and will continue to strive for increased diversity in the field.
Recent EMA Features
Do students need a degree in historical performance to enter the field of early music? Most instrumentalists are positive about the need for a specialized degree. Singers? Not so much. But for anyone considering a degree in early music, ask yourself, "What does the program offer?"
Are clothes of the period part of a historically accurate performance? Opinions vary about what constitutes an acceptable period outfit, but advocates of historical attire in early music have one thing in common: They believe the costume helps enrich the music's context.
The Baroque Chamber Orchestra of Colorado started an apprentice program in 2007, in part to mentor the next generation, to scout for new members, and to bring fresh perspectives into the ensemble. They've succeeded in all these aspects.