by Philippa Kiraly
Published May 30, 2018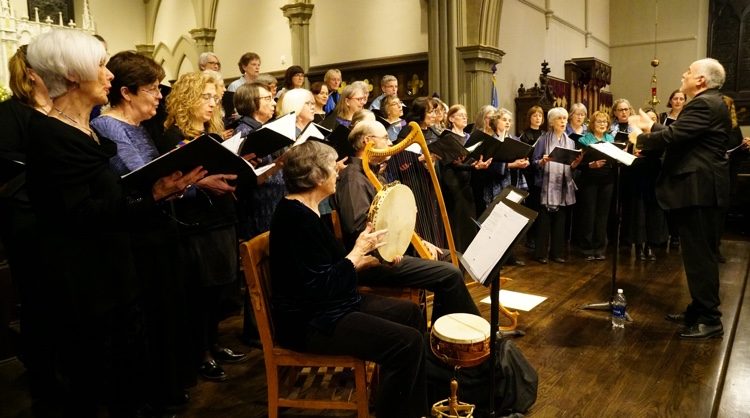 In March of this year, Seattle's Medieval Women's Choir gave the second concert of its 27th season. It featured music from the 13th and 14th centuries celebrating spring, with excerpts from the original Carmina Burana and works by Guillaume de Machaut, among others. Nearly 40 women sang, accompanied by medieval harp and percussion. Lively, fresh, with most of the music previously unknown to just about everyone in the good-sized audience, it was an event that couldn't be heard anywhere else in this country, or likely in Europe, either.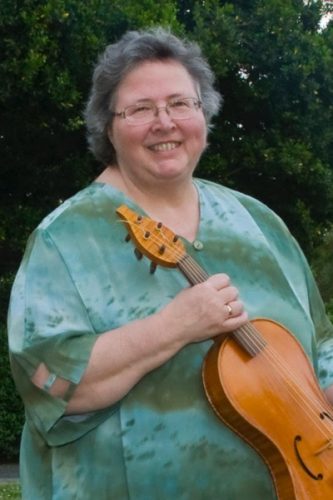 The choir, which gives its final concert of the season, "Saints and Sinners," on June 2 at St. James Cathedral, is one of a kind, the brainchild of the late Margriet Tindemans, the renowned scholar of medieval music and performer on early stringed instruments. For nine years before moving to Seattle, the Dutch-born musician was a member of Sequentia, the European ensemble for medieval music. Tindemans, who had been coaching students at the University of Washington, branched out in 1990 to create the Northwest Center of Early Music Studies, with help from Sally Mitchell, typesetter, recorder player, and volunteer with Seattle's flourishing Early Music Guild. NWCEMS was affiliated with the Guild and gave workshops on aspects of medieval and Renaissance music for amateur adults. These were so successful that Tindemans decided to start an ensemble — for women only — that became the Medieval Women's Choir. Besides, choir member Alice Dubiel remembers Tindemans saying, "I want to learn to sing better myself." Tindemans decreed from the outset that there would be no auditions, since her favorite medieval composer, the 11th-century Benedictine abbess Hildegard of Bingen, didn't audition her nuns. To start with, even the ability to read music was not required to join Tindemans' ensemble, though a decade or so later it was. The women who joined came from all walks of life. Many had learned and continued to play instruments or sing, but few had pursued professional careers in music. What they had in common were a passion for learning, an interest in early music, and enormous respect and affection for Tindemans. They came, and they stayed, year after year. "There's something very special about medieval music and its sonorities," says Mitchell, "and about three years in, Margriet and I realized the choir had become a community." For years, Mitchell designed the annual brochures. Others helped with research, wrote, or created artwork to accompany concerts. Tindemans was a born teacher, and through her the group learned about the various modes, how to read neumes (notes sung to a single syllable), and how these indicated the expression for each piece. They learned to sing in multiple early languages, whose pronunciation Tindemans wanted as close as possible to current knowledge of what it should be. "I love learning," says Ginger Warfield, 75, a retired mathematics professor at the University of Washington and choir member since 1994. "I get so much joy in being part of the music." The singers also learned to understand the translations. "No other repertoire is so physically demanding," says Dubiel, a visual artist, "and so difficult to guess where the phrasing is." She finds singing and breathing this music deeply meditative. Tindemans learned how to be a choir director. Accustomed to working with consummate professionals, she encouraged choir members to take responsibility for the work she demanded of them and to give opinions and ask questions. "A lot of self teaching took place," says Dubiel, 67. Tindemans still had commitments elsewhere, guest performing with notable groups in the U.S. and in Europe. When she was out of town, Nancy Zylstra, a retired singer of repute and well-respected voice teacher with extensive experience coaching choirs, took over rehearsals. "For quite a number of years, Margriet asked me to be a part of the MWC 'family,' helping her at rehearsals and short weekend-day workshops with vocal training for the choir. It was such a joy to be working with her! We really saw eye-to-eye musically, and it was my pleasure to help her with her vision." Since Tindemans was a scholar, not a vocal coach, Zylstra's input was crucial. "Someone in the choir donated a large sum of money for all the members to have one or two private lessons with her," says Mitchell, 65, still a member. When Tindemans took a sabbatical, Zylstra took over again, and she led choir practice at other times.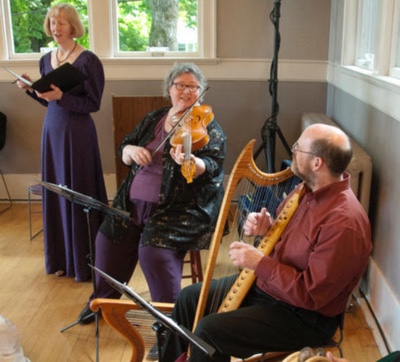 As the years went by, Tindemans brought in excellent vocal soloists, and the choir was often accompanied by medieval instruments. She herself often accompanied on vielle, and two early music instrumentalists, medieval harpist Bill McJohn and early percussionist Peggy Monroe, have performed with the choir since the start. Mitchell often played recorder. Guests have included such performers as vielle player Shira Kammen and singers Anne Azema and Eric Mentzel. As well as writing music for the choir, Tindemans commissioned works from other composers. The choir grew to about 60, and Tindemans held rehearsals two nights a week. For many years, the choir has been a resident choral ensemble at St. James Cathedral. Tindemans planned notable concerts for the choir, some semi-staged, such as Hildegard's liturgical drama Ordo Virtutem and one based on the 1405 writings of Christine de Pisan blending poetry, song, visual art, and drama. It was a spectacle completely new to the audience. Another, one of the most successful concerts the choir ever presented, was performed in 2008 and based on the story of Héloïse and Abelard. During her previous year's sabbatical, Tindemans and travel partner (and later spouse) Judith Suther did extensive delving into the lives of the historical pair in Paris, Brittany, and Champagne. On return, Suther wrote the script for the performance and Tindemans researched and found or composed appropriate music. Members of the choir accompanied Tindemans on two visits to Spain retracing the ancient Camino de Santiago. Singers from Spain and the Netherlands joined them. They rehearsed and sang at a monastery and at the Abbey of Santa María la Real de Las Huelgas, an extraordinary event for the singers, who knew some of the music from the precious Codex Las Huelgas that never leaves the abbey. They were invited to sing for the enclosed order of nuns, after which the sisters retired to an adjoining room — separated by a wall that did not reach the ceiling — and sang the divine office for their visitors. The choir made two recordings under Tindemans, "River of Red — O Rubor Sanguinis: Music by Hildegard of Bingen" (2006) and "Laude Novella: Music of the Italian Middle Ages" (2012). Both can be heard on iTunes. In 2014, upon being told that the cancer diagnosed several years earlier had returned, Tindemans decided to retire at the end of the 2014-15 season. At short notice, Zylstra took over the final rehearsals and Christmas concert at St. James Cathedral on Dec. 20, 2014, which Seattle deputy mayor Kate Joncas proclaimed Margriet Tindemans Day "for, among other accomplishments, her virtuosic and deeply informed playing…(which) has opened new worlds of beauty and history" to audiences and students. But Tindemans could not be there. She died, at 63, on Dec. 31, 2014. Typically, Tindemans had been thinking about what might happen to the choir without her. She had already reached out to tenor Mentzel, with whom she had sung as a member of Sequentia and brought in as a guest soloist with the Medieval Women's Choir.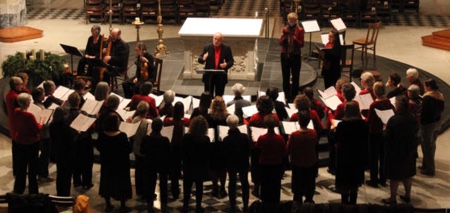 "I got a phone call from her a few months before she died," he says, "to tell me she was retiring and asking if I would act as interim director for the following season (2015-16) during the search for a new director, and also apply for the permanent directorship." It was a good time for Mentzel, professor of voice at the University of Oregon at Eugene, since he was going on sabbatical that coming season and agreed to the temporary position. After Tindemans' death, he agreed to become the choir's permanent director. "It's a unique and wonderful organization," Mentzel says. "Margriet started something nobody else had ever done. I felt a calling to do it, for Margriet's legacy." The number of people with the right skills and knowledge to follow Tindemans is vanishingly small; Mentzel has them. Choir members, meanwhile, were not at all sure the ensemble could go on without Tindemans. Zylstra took over directing for the remainder of the 2014-15 season. A few members left, though others, including Dubiel, stayed to see what might develop. "Margriet had had us work with Eric at some point, so we knew him," Dubiel says, "but I wondered, 'Could we pull it off?' I'm very happy with it now. Eric is a consummate vocal teacher, and our singing is way better." "I thought Margriet was totally wonderful," says Warfield. "When she died, I couldn't imagine continuing without her, but I knew Eric, so I stayed." The result has been good beyond anyone's imagining. As Warfield put it, "Margriet gave us our soul, but Eric gives us our voice." "He's a perfect fit," she continues. "What's different and stupendous is that he knows how to make us produce a beautiful sound. He's fierce about it, and it builds on what Margriet taught us."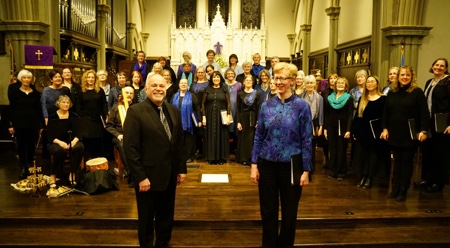 Where Tindemans was the researcher, historian, and scholar, Mentzel is concerned with vocal production. He commutes by train from Eugene every other week for rehearsals Sunday afternoon and Monday night, with choir member Marian (Molly) Seibert acting as rehearsal director on alternate weeks. "Molly is extremely valuable," says Mentzel, "for her understanding of the music and the way we are on the same page. We've both drunk from the same font." Seibert, 46, had studied voice and early music in college and attended workshops, including those given by Sequentia, where she met Mentzel. With members leaving and joining over the years, the choir gradually had been aging. Warfield says Mentzel has brought in an infusion of vigorous, younger voices fascinated by medieval music. Seibert, a print-shop estimator, has been one of the younger members since she joined right after college, where she studied voice. "It sounded like fun," she says. "It had lots of people I knew, and my mom was in it," and still is. Seibert became a regular soloist with the choir. She possesses the kind of soaring, pitch-pure voice that is perfect for medieval music. Philippa Kiraly has been a freelance classical music critic since 1980. She wrote for the Akron Beacon Journal, then the Seattle Post-Intelligencer until its print demise, and now for The Seattle Times, City Arts, and a blog, The Sun Break. Early Music America recently received an anonymous gift of $50,000 to establish the Margriet Tindemans Early Strings Scholarship. During 2018, donors are contributing to the fund to match it for a total of $100,000. The scholarship will give talented young musicians support for a year of study abroad, with the first recipient starting in fall 2019. Upon the anonymous donor's death, the assets in that estate will go to EMA and the biennial scholarship will become an endowed annual fellowship, with an increased stipend awarded in Tindemans' honor in perpetuity. To make a contribution to the Tindemans Scholarship, please click here or call Karin Brookes for more information: 412-642 2778, ext 202.
Recent EMA Features
For Early Music Month, we check out a historical performance scene that is taking off in the north Philadelphia suburbs of Main Line and Bucks County, with quality ensembles and venues perfect for early music.
Likely born into slavery, working as a butler and shopkeeper, Ignatius Sancho became an accomplished writer and composer. Embedded in his published music, the author argues, are anti-racist ideals that rejected British cultural norms.
'The opportunity for me to dream, create, and follow a path that I expected would hold me in good stead was, frankly, fraught with challenges. What do you do when you have been taught to believe in your creative gift only to be discouraged in overt and subtle ways in the profession?'