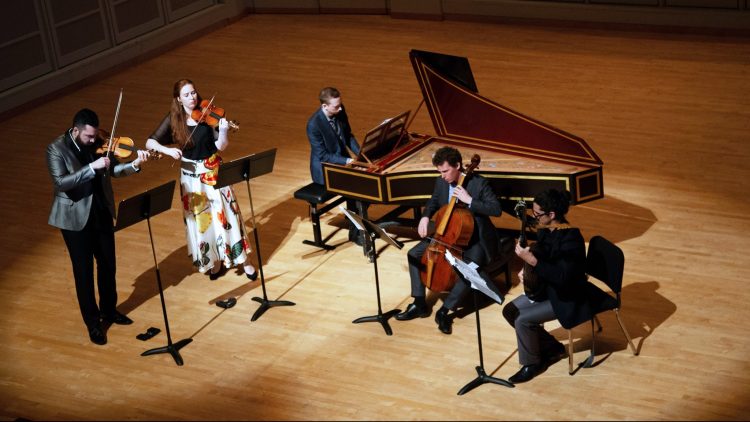 As the temperatures rose in Bloomington last week, local audiences poured into the cool interior of two downtown churches and to Auer Hall at IU's Jacobs School of Music, for EMA's Young Performers Festival and Emerging Artists Showcase, the culmination of two years of planning with the Bloomington Early Music Festival and the Historical Performance Institute at IU's Jacobs School of Music. That initial kernel of an idea, developed by my predecessor,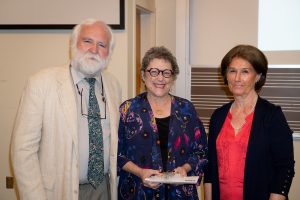 Ann Felter, and previous EMA board chair Marie-Hélène Bernard, with then-new EMA board member Dana Marsh, flourished into a gathering of more than 150 musicians, presenters and supporters who rubbed shoulders for several days in this terrific college town, performing, listening, and attending workshops. They included most of the EMA board, as we held a full-day board meeting last Wednesday, followed by the EMA Annual Meeting during which we awarded the Binkley, Brown, and Goldberg awards.
The five YPF concerts and two Showcase concerts attracted hundreds of people, and thousands joined us online, as every concert was livestreamed, reaching a worldwide audience. The early music also spilled out of the Serendipity Martini Bar and the Courthouse Rotunda (the musicians played in front of a door marked "AUDITOR"!) and, in typical small-town fashion, people greeted each other warmly, whether old friends or new.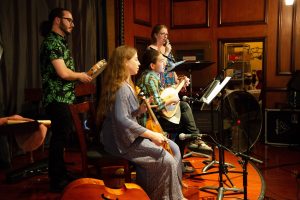 The staff and board of EMA are deeply grateful to the many musicians who performed this year and provided the community and the world a snapshot of the astounding emerging talent in early music.
Likewise, we extend our thanks and deep gratitude to the festival's artistic and organizational partners – the Historical Performance Institute IU-JSoM (directed by Dana Marsh), JSoM Office of Entrepreneurship & Career Development (directed by Alain Barker) the community and university spaces we had access to (Auer Hall, First Presbyterian Church, Trinity Episcopal Church, and the Jacobs School of Music generously allowed us the use of space for our board meeting and Annual Meeting.
We warmly thank the ensemble and project directors, who prepared, coordinated, and inspired such extraordinary performances – Adam Dillon and Jon Wasserman (Tarara,) Michael Lynn (Oberlin Baroque) Mark Cudek and Adam Pearl (B'More Bach Ensemble), Julie Andrijeski (Case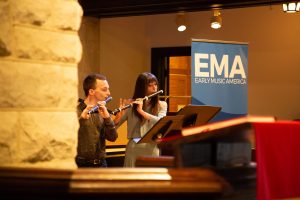 Western Reserve University Baroque Ensemble) and Adam Knight Gilbert (UCS Collegium Workshop) and their students who played a great range of repertoire and who supported each other so vigorously. We also were thrilled to welcome and relish performances by the EMA Emerging Artists – Rumore Terribile, Mélisande McNabney, Voyage Sonique, Rachell Ellen Wong, Adriana Ruiz, and the Costanoan Trio.
We could not have dreamed of a successful event without a few key individuals on the ground in Bloomington – Alain Barker and Dana Marsh, and thestaff and board of BLEMF, the instrument tuners, the photography volunteers, videographers, instrument movers, and many others who made it all happen, including media partners, The Herald-Times, WFIU Public Radio, IU Music Live!, the Jacobs School of Music Audio Engineering and Sound Production, and Community Access TV Services at the Monroe County Public Library (Indiana), which enabled us to share the performances with so many friends online. We look forward to sharing the extraordinary performances online and on radio stations around the country over the next few months and we'll let you know when they are available.
We deeply appreciate the many donors who sustained the Young Performers Festival and Emerging Artists Showcase this year. Quite frankly, we couldn't do this without you.
-Karin Brookes, Executive Director, Early Music America
You can view the archived videos of all of the concerts by visiting youngperformersfestival.org