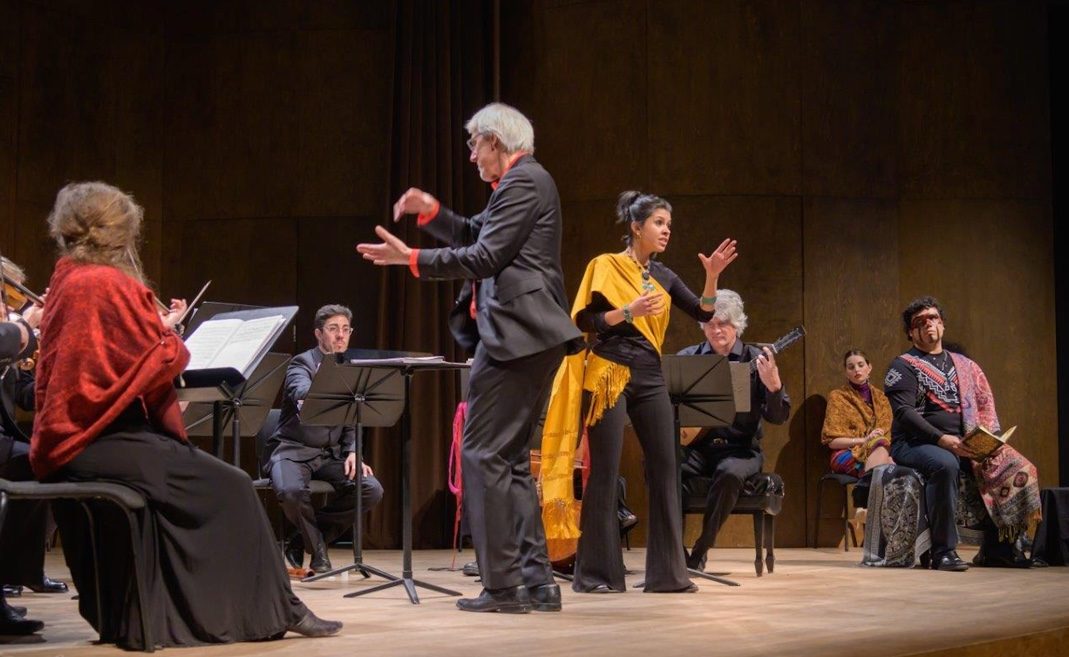 In 1733, Antonio Vivaldi composed Motezuma, an opera seria loosely based on the conquest of Mexico. With the complete libretto by Girolamo Giusti and only about half of the music having survived, various attempts have been made to creatively fill in the blanks since the source materials came to light in 2002. I was lucky enough to participate, as baroque guitarist, in the premiere of a compelling reconstruction prepared for the Montreal Baroque Festival in 2013 by Ensemble Caprice's artistic director, Matthias Maute.
While that performance seemed like the end of the project, the realization that we were fast approaching an important milestone in 2019 — the 500th anniversary of the meeting of the Spanish conquistador Hernán Cortés and Aztec ruler Motezuma — prompted Early Music Seattle to invite Ensemble Caprice to remount the opera. With Seattle as an anchor, a tour of Motezuma was organized on the strength of a three-way collaboration of Early Music Seattle, Ensemble Caprice, and the Bach Society of Minnesota. In February 2020, the opera was presented in a semi-staged format to critical acclaim in Montreal, Seattle, Mankato (MN), St. Paul, and Miami. In April, it was to have been repeated in Minnesota and Washington, D.C., but the coronavirus pandemic canceled those performances.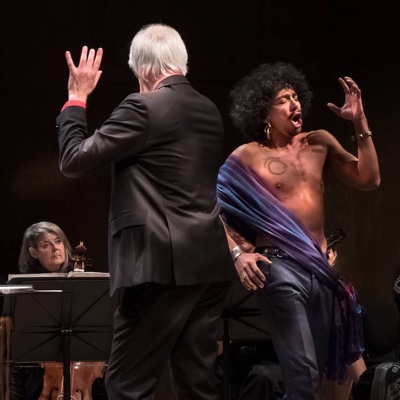 Maute's successful reconstruction of the Motezuma fragments depended heavily on his skill as a composer to "channel" Vivaldi while at the same time imagining a new dramatic framework for the story.
"I gave myself two tasks," said Maute. "First, the music for the missing arias needed to be composed in Vivaldi's style. The idea was to create an opera where the question of who wrote which aria could not be easily decided, if at all. Believe me, I had to take all my courage to face this test! So far, the audience does not appear to be overly concerned with this question, which I take as a good sign.
"The question of the recitatives, for which there was no music, needed to be resolved. Should the recitatives, i.e. the narrative line of the opera, be recomposed as well? In this case, one would stay entirely within the vicinity of the genre of the Baroque opera. Or would it be a good idea to give Motezuma a different and more important role by writing a narrative for the Aztec emperor, reflecting on the story and Baroque opera itself from his vantage point? With only three arias and with a story line that diminishes Motezuma, the original libretto does not assign the Aztec emperor a particularly glorious role. Therefore monologues between the arias seemed to be a good way to lend more scope to his character. In our version of the opera, there are two Motezumas: Motezuma the singer and Motezuma the actor, who carries the narrative and leads from one aria to the next by adding the storyline."
For instrumental forces, Maute put together a lean, agile version of Ensemble Caprice suitable for touring and scaled for the airline industry's overhead bins: four violins, viola, cello, flute, two oboes, bassoon, and baroque guitar. Adding to Vivaldi's complement, he included two trumpets doubling on horns, a German Baroque tradition developed to an impressively high level in Montreal by Alexis Basque. The vocal and dramatic cast was truly international; actor Pedro Juan Fonseca performed Motezuma's spoken narrative, Nick Chalmers sang the role of Cortés, and Nelle June Anderson played his younger brother, Ramiro. All three hail from the Minneapolis/St. Paul area. The Mexican characters included Marduk Salam (from Mexico City) as Motezuma, Nerea Berraondo (Seville) as his wife Mitrena, Lisa Rodriguez (Monterey) as his daughter, Teutile, and Nayelli Acevedo (Mexico City) as Asprano, Motezuma's general.
The casting of mostly Mexicans in the Mexican roles was not accidental, and the choice to do so added layers of meaning and emotional depth to the production. Some of this nuance was predicted, but some emerged powerfully in real time as the tour unfolded. The Vivaldi/Maute Motezuma, while in no way a historical document, struck deep chords in all the cast members but especially for the Mexican performers. The title role of Motezuma weighed heavily on Salam, who has a multidisciplinary career in Mexico and France.
"There is a challenge to portraying almost any historical character," said Salam. "The most difficult thing was to do justice, not so much to the historic Motezuma — a controversial figure both loved and detested by his own people — but rather to the collective Motezuma, to which we identify ourselves in one way or another as Mexicans. An opera like this, presented today, represents precisely that mestizo, that Indian, that Latin American black, who was not only molded by the weight of centuries of Spanish colonialism, but exploited and mistreated even today by the powers resulting from this same neo-colonial, imperialist, and capitalist system."
Acevedo earned master's degrees at the Escola Superior de Musica de Caraluñya as a student of Marta Almajano. "Everyone (in the vocal cast) is familiar with the story. However, I think that for them as non-Mexicans, their approach is similar to one they would take with any other role," Acevedo said. "On some days, Marduk and I realized how emotionally draining it was to interpret this work. It is a very sensitive issue for Mexicans, and although this version of the opera is not intended to be educational or truthful, it is impossible to push away the feelings and thoughts generated by the historical moment in which it is based."
Rodriguez, also a master's degree graduate from Escola Superior de Musica de Caraluñya and debuting in her first professional opera performances, found great depth and symbolism in her role. "Teutile is the absolute personification of human contradiction. She wants to be loyal to her people, her parents, and her gods, but she can't stop loving a man who represents the destruction of everything she loves. For me, Teutile's relationship with Ramiro, brother of the conqueror, represents the mixture of indigenous and Spanish blood and their marriage symbolizes the miscegenation of which our Mexican identity was born."
With these strong reactions to the work, not only from the Mexican cast but also expressed more widely by members of the ensemble and some audiences, it became apparent that Motezuma was reaching deeply into our shared history and experiences as citizens of the Americas. The narrative, written by Maute and delivered by Fonseca, became a point of focus for conversations among the cast concerning how the story is told and to what purpose. Maute, taking the company's observations to heart, made some refinements to Fonseca's dialogue as the tour progressed and has a plan for a further reframing of Motezuma's narrative for future performances.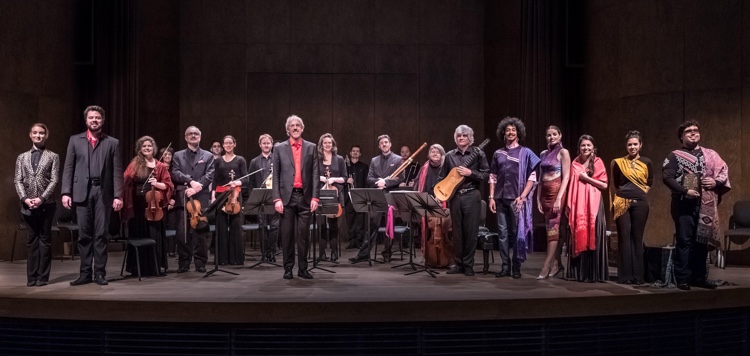 "During the tour, it became obvious that the cultural references to the Baroque opera as enunciated by Motezuma, the actor, are understood differently when seen from the point of view of a people that have suffered greatly at the hands of the Spanish conquistadors," said Maute. "The meaning of words is defined by our cultural, historical, and social background. If this background shifts, the context also changes. Therefore, references and reactions to the European Baroque opera from the imagined point of view of Motezuma, who lived more than two centuries earlier, can be seen as yet another layer of suffering for already greatly suffering people, the Aztecs. For example, Motezuma shows his surprise and disdain after having been confronted with absurd elements of the Baroque opera, like the invented love story between Cortés's brother, Ramiro, and Motezuma's daughter, Teutile.
"Set against the background of genocide and bloodshed, where there is much more at stake than cultural differences, this approach needed to be re-evaluated. In view of the sensitivity of these issues, the idea emerged to find a Mexican writer who can take both the story as featured in Vivaldi's opera and the history of the Aztec people and combine them in a way someone with a European background would not be able to do."
As a wise friend once said to me, "history changes depending on who is telling it." Art comes alive in new ways when those involved in its creation allow it to also recreate their humanity.
Gus Denhard is the executive director of Early Music Seattle.