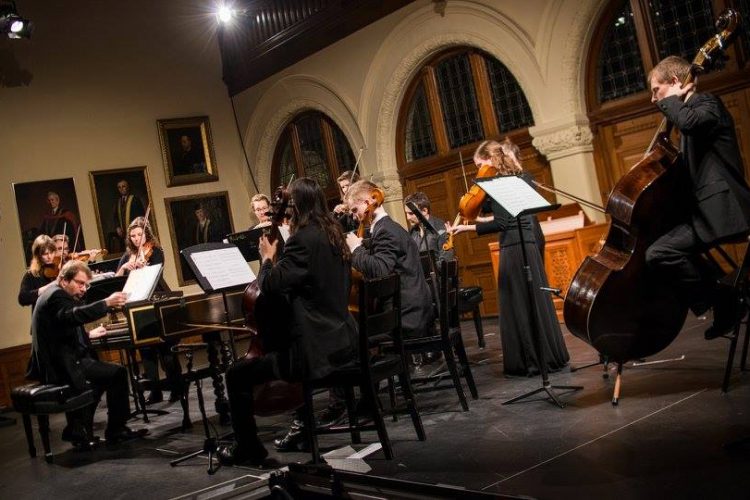 McGill University Baroque Ensemble (representing the McGill University) will perform at 3:00pm EDT on Thursday, May 23, 2019 at Trinity Episcopal Church, Bloomington as part of Early Music America's Young Performers Festival during the Bloomington Early Music Festival. The concert will also be streamed live via EMA's Facebook page.
McGill University has offered one of the most active and diverse early music programs in North America for over 40 years, providing professional training for students wishing to launch a career in Early Music.
McGill Early Music performance opportunities include an annual staged production of an early opera (works have ranged from Peri to Handel and Rameau); a Baroque Orchestra using period instruments which participates in the opera and, in its own productions, concentrates on orchestral repertoire of the 17th and 18th centuries; the vocal chamber ensemble Cappella Antica, which focuses on Renaissance and early Baroque repertoire, often in conjunction with consorts of viols, recorders and brass; and some 15 to 20 early chamber music ensembles each semester.
Early Music chamber ensembles have been an integral part of the Early Music programme at McGill since its inception. They perform repertoire ranging from a cappella Josquin motets, to Haydn string quartets on period instruments. Some of these ensembles have gone on to work together professionally, and many of their members perform with the Arion Baroque Orchestra, Ensemble Caprice, le Studio de musique ancienne de Montréal, Les Boréades, Les Voix Baroques and other early music groups in Montreal, across Canada, and internationally. Past and present coordinators and coaches of the McGill Early Music Ensemble program include Tom Beghin, Sylvain Bergeron, Olivier Brault, John Grew, Claire Guimond, Matthew Jennejohn, Douglas Kirk, Hank Knox, Valerie Kinslow, Suzie Leblanc, Betsy MacMillan, Matthias Maute, and Lena Weman.
---
2019 Festival Program
Curious and modern inventions
Curiosity and invention were a central part of the aesthetic of the early seventeenth century and of the Baroque era in general: previous notions of style, form, and expression from the Renaissance were tossed away in favour of novelty, surprise, and rhetorical invention. Word-painting, unique and spontaneous rhetorical devices, and daring representations of non-musical material were common, and accompanied a new wave of cultural mixing (and appropriation) brought about by a new politics of humanism, nationalism and colonialism. In this programme you can hear the ground-breaking styles from this era: Farina presents us with a vibrant cityscape, Conti a tranquil meadow, Legrenzi carries the early, rambunctious Italian experiments to a more rational maturity while Biber and Boismortier bring the Italian style to the Germanic countries and to France. Ultimately, the rule of clear expression was paramount throughout this period, and lesser-known composers such as these were no less able than their more famous peers to skillfully execute this principle in their work.
Sonata V a sei Heinrich Ignaz Franz Biber (1644-1704)
(Sonatae tam aris quam aulis servientes, Salzburg, 1676)
Capriccio Stravagante Carlo Farina (c.1600-c.1640)
(Paduanen, Gagliarden, Couranten, französischen Arien, Ander Theil, Dresden, 1627)
Sonata Seconda a 4 Giovanni Legrenzi (1626-1690)
(La Cetra, Libro quarto di Sonate…, Op. 10, Venezia, 1673)
Sonate à 4 parties différentes Joseph Bodin de Boismortier (1689-1755)
(Six Sonates à quatre parties différentes, Op. 34, Paris, 1731)
Ride il prato Francesco Conti (1681/2-1732)
(c. 1713)