by
Published April 22, 2019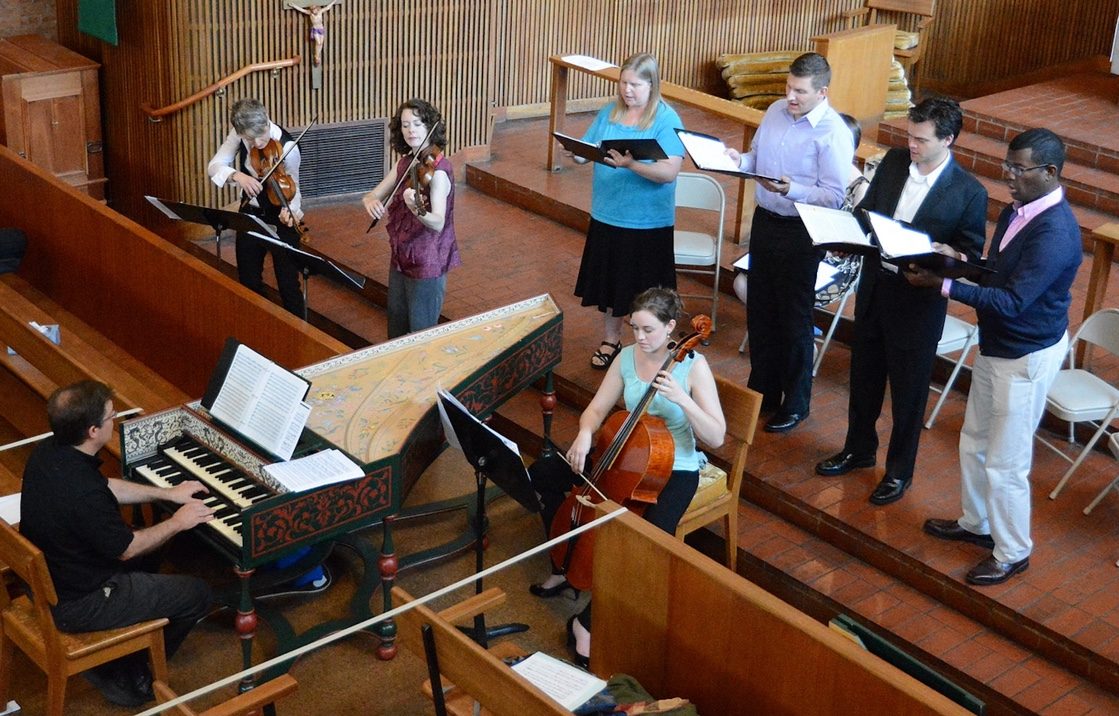 Johann C. F. Fischer: Vespers
Exsultemus (Shannon Canavin, director); Newton Baroque (Andrus Madsen, director)
Toccata TOCC0364
By Andrew J. Sammut
Johann C. F. Fischer's name is now mostly known, if at all, for his keyboard works. This impeccably performed disc of Fischer's sacred vocal music demonstrates why the Southern German composer was actually quite renowned in his time.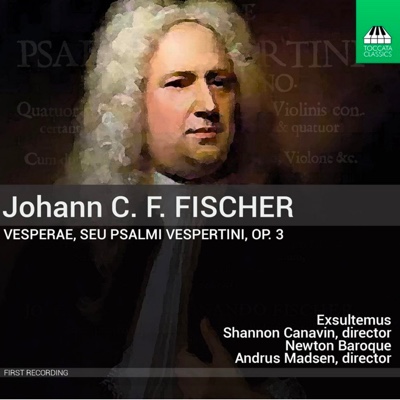 Fischer (ca.1656-1746) was well-respected for his work in a range of formats incorporating different European styles. The Boston-based vocal group Exsultemus under soprano Shannon Canavin's direction and keyboardist Andrus Madsen's Newton Baroque have assembled a complete Vespers setting from Fischer's Opus 3 of 1701. As Madsen points out in his informative liner notes, Vespers were a musical event in themselves during this time. Composers like Fischer would publish editions including a selection of Psalms for inclusion during the worship/concert.
These selections highlight the work of an expressive craftsman. Fischer's polyphony flows with ease as well as fine details, for example the gentle closing of the Salve Regina. He also has a knack for incorporating voices one-at-a-time in simple overlapping phrases that effortlessly weave into dense tapestries. The ominous Nisi Dominus starts with soprano over an insistent violin, adding alto and then all voices into a foreboding commentary about mortal vanity. Italian influences are clear in moments such as the soaring soprano coloratura of the Beatus vir or in the pastoral Lauda Jerusalem, yet with theatrical excess never exceeding solemnity.
Following established practice for the time, this setting replaces antiphon texts between psalms with Fischer's organ music. These brief but elevating prelude-fugues vary the overall timbre of the Vespers and the texture between each of the movements for organ, all while connecting the vocal works into a whole. A violin sonata and a trio sonata by Fischer's contemporary Johann Christoph Pez add further color and contiguity. Pez (1664-1716) is an even obscurer name than Fischer but was similarly esteemed as a composer and instrumentalist; Telemann even listed Pez alongside Handel in his picks for Germany's best composers. In addition to adding musically interesting material, they maintain the sacred atmosphere. The central Allegro of Pez's violin sonata begins with the earnestness of an instrumental prayer and electrifying passages like Baroque glossolalia, followed by a dramatic wordless recitative in the Adagio and a final Gigue conveying deferential awe.
Unimpeachable singing, playing, and direction take this material from historical curiosity to fresh experience. Exsultemus' use of fewer voices (no more than two per part in SATB configuration) actually makes a larger impression in Fischer's well-sculpted lines while keeping things transparent. The opening Domine ad adjuvandum features all eight vocalists, airtight yet natural, in a thick, full blend, with superb pitch from the lead soprano down to the organ's pedals.
Newton Baroque also opts for smaller forces, with just two violins plus viola da gamba/violone and pipe organ. Madsen explains that most church services would have actually used the organ, rather than the usual portable organ heard in today's performance. Historical explanations aside, this choice works on entirely musical grounds: The organ never overwhelms any other part, adds the instrument's huge range of sounds, and is played with utmost sensitivity by Madsen. His contributions are felt behind the ensemble even when they're not heard upfront. Violinists Susanna Ogata and Julia McKenzie are equally nuanced as accompanists and utterly confident as soloists. Douglas Kelley, doubling gamba and violone, partners intuitively with Madsen to make a powerful but unobtrusive continuo.
The level of musicianship is consistently high throughout, but a few examples include the beautiful part separation in the Magnificat or the subtle but chilling images of ice in Lauda Jerusalem. The Confitebor, with voices stacking as they push and pull in plaintive lines over worrying violins and a repeating bassline, is a model of pacing, phrasing, and intonation. Its setting of the "Gloria" (one of seven to compare on this disc) has an almost desperate feel with its rising sopranos and descending altos and tenors.
The organ and acoustics at Church of the Redeemer in Chestnut Hill, MA, are rich, reverberant, and captured in warm sound. Fischer may never become a household name, but musical advocacy like this should be more than enough to inspire curiosity.
Andrew J. Sammut has written about early music and traditional jazz for All About Jazz, Boston Classical Review, The Boston Musical Intelligencer, Early Music America's print and online editions, the IAJRC Journal and his blog, The Pop of Yestercentury. He has also written and copy-edited liner notes for independently-produced historical reissues of jazz from the twenties.
Recent EMA Recording & Book Reviews
Jeannette Sorrell's adaptation of Handel's popular 'Israel in Egypt' cuts, re-orders, restores, and replaces music and text throughout the oratorio. But Handel didn't leave us with a 'definitive' edition, and Sorrell's version is so artistically logical that someone new to the work might not know anything is missing. Apollo's Fire and the outstanding vocal and instrumental soloists make a compelling case.
People who love Wagner operas can separate his music from his toxic beliefs. Yet J.S. Bach's 'superlative ability to move listeners' and status as 'a pinnacle of Western art' brushes aside the composer's harsh theology and often intolerant personal philosophy. In this collection of essays, Bach scholar Michael Marissen warns us to 'not soften or assimilate this figure to our own preferences, no matter how much we find inspiration, solace, or transcendence in his art.'
Trumpet soloist Josh Cohen and Ensemble Sprezzatura bring together regal flair and expressive grace with 'Altissima,' exploring the varied colors and dimensions of the high Baroque trumpet. The recording makes an ideal introduction to myriad trumpeting styles through mostly unfamiliar repertoire.