by David Shengold
Published October 31, 2022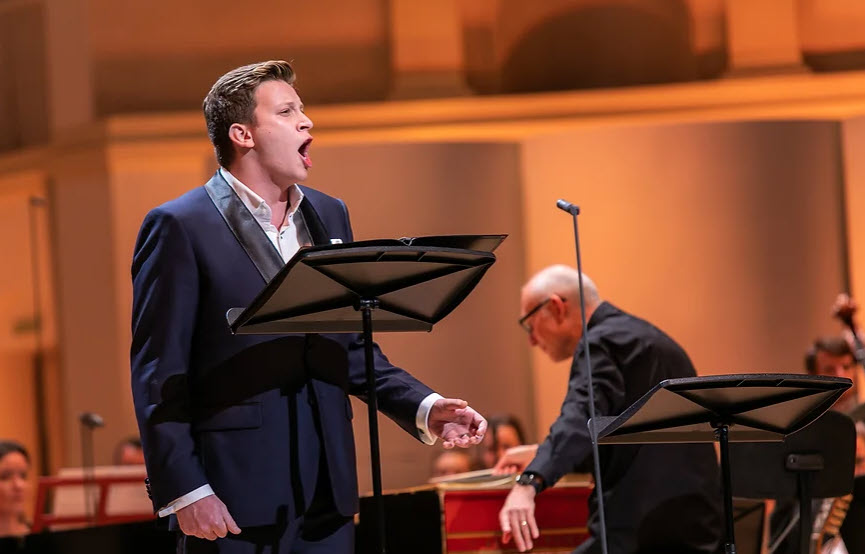 Aryeh Nussbaum Cohen stands tall among the rising crop of countertenors, winning competitions and acing key engagements in both historical and modern styles. As conductor Nicholas McGegan puts it, Nussbaum Cohen's "all-in theatricality" blends the vocal and physical presence of a mainstream operatic singer with the musical and stylistic acumen of a trained Baroque performer.
Next week, November 6 and 7, Nussbaum Cohen joins the stylish, modern-instrument Chamber Orchestra of Philadelphia for a concert billed as "Countertenor Fireworks" with arias by Handel, Gluck, and Vivaldi. The program also includes a world premiere, in a retro Baroque style, by Evan Williams.
Brooklyn-born, to a family steeped in rock music, Nussbaum Cohen came to classical singing through work with the prestigious Brooklyn Youth Chorus, after a friend's mother recognized his potential doing karaoke at a birthday party.
A planned career in public policy got derailed by Princeton's vivid early-music scene, led by musicologist Wendy Heller. He cites another mentor in Belgian baritone (and Bach specialist) Max van Egmond. "He taught me how much to give of myself vocally and artistically but not to push myself beyond my limits," recalls Nussbaum Cohen. "I still think often of how he sings, with such beautiful line and give-and-take, but never pushing anything beyond where it needs to be." Cantorial training was also essential to the developing countertenor's well-developed sense of line, flexibility, and gift for ornamentation. In career terms, Anthony Roth Costanzo, whom he first encountered as a visiting professor at Princeton, has been "incredibly generous" with time and advice.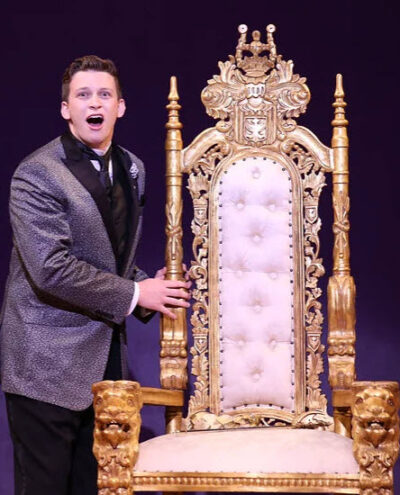 But it was Handel who lured Nussbaum Cohen into a career decision for music. There are many roles in Handel's glorious operas and oratorios beckoning. "Absolutely at the top of the list for me is Bertarido in Rodelinda. I was first drawn to his arias, which I sang for competitions. My other dream role in Handel was Giulio Cesare—kind of the mountaintop for a countertenor—which I loved doing a year ago in Moscow with Christopher Moulds conducting, and I look forward to more outings with it."
He learned both Cesare and Tolomeo while singing the one-aria servant role of Nireno (from Giulio Cesare) at Houston Grand Opera's 2017 production, attending all of Roth Costanzo's rehearsals.
Aachen-based American conductor Geoffrey McDonald shares a Princetonian background with Nussbaum Cohen; both encountered and embraced Heller's interdisciplinary approach in school. Next week's "Countertenor Fireworks" concert, in the Kimmel Center's Perelman Theatre, in Philadelphia, will be their first professional collaboration.
"The program flows from Aryeh's musical persona: his core rep and things he's itching to do," says McDonald. "I framed the instrumental repertoire—for a modern complement of two dozen players—around that with several Handel overtures. They're not about the formal logic that we associate with the high Baroque, but rather about dramatic effect. The Agrippina and Saul overtures are very different, but both strange."
In addition to Respighi's neoclassical Ancient Airs and Dances Suite No. 3, audiences will hear the world premiere of a commissioned Sinfony from the ensemble's composer-in-residence, Chicago-born Berklee College of Music professor Evan Williams. "Evan consciously wrote a seven-minute French Baroque overture," says McDonald, "with heavy dotted rhythms and imitative work, inspired by those on the program."
Asked if "modern" players need special preparation for playing Baroque music, he notes that "the interesting development even in my relatively short time at the podium, the last ten years, is that there's more cross-pollination, even if it's just with respect to bow use and articulation. There's less convincing to be done."
Back in March 2020, the pandemic hit during final rehearsals for Portland Baroque Orchestra and Portland Opera's joint American premiere of Vivaldi's 1735 Bajazet, in which Nussbaum Cohen was to sing the title character's nemesis, Tamerlano. So the countertenor is happy to finally sing the Vivaldi showpieces "In si torbida procella" and "Cruda sorte" in performance next week. Another aria programmed in Philly, Gluck's iconic "Che faro senza Euridice" from Orfeo ed Euridice, marked his participation in the 2016 Merola Program finals at San Francisco Opera, where he went on to be an Adler Fellow and to make a resoundingly successful 2019 debut as Orlando's Medoro.
Asked about his current favorite role, he unequivocally cites David from Handel's 1739 oratorio Saul, which he's done both onstage in Houston and in concert in the Bay Area and Los Angeles with Nicholas McGegan. Philharmonia Baroque's own label issued the CD recording.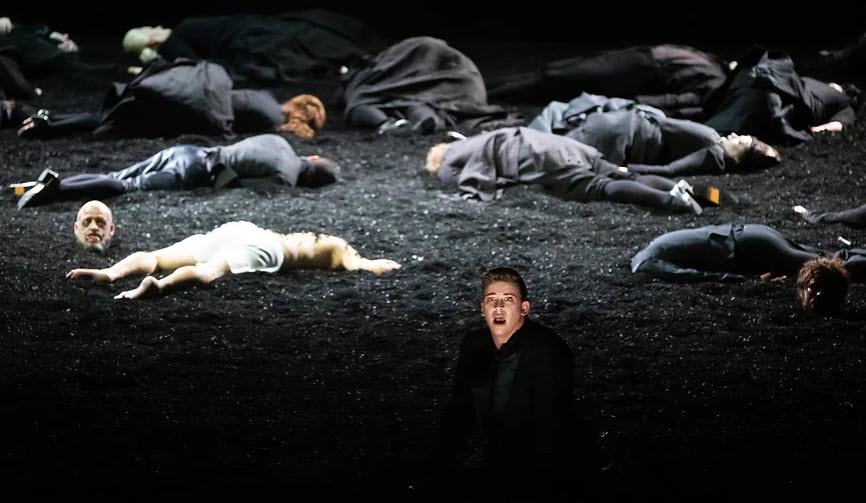 Of those performance, Clive Paget wrote in the January 2021 Opera News: "Nussbaum Cohen proves a winning David; his shapely arias are smooth as butter. 'O King, your favours with delight,' and especially 'O Lord, whose mercies numberless,' ravish the ear…his rich, gender-ambiguous tone is suitably otherworldly."
At the concerts with McDonald, the countertenor will undertake both the legato challenge of David's stop-time 'O Lord' and the angry fioriture of "Impious wretch." The other Handelian selection will be the tensely dramatic "Stille amare" from Tolomeo, with which he won third place at 2019's Operalia in Prague. Having looked at the surviving ornamentation sheets ("so far beyond what even most specialist conductors would expect or tolerate today"), Nussbaum Cohen likes to show up at rehearsals with well-developed ideas of how to suit Handelian ornaments to the strengths of his particular instrument.
"Learning Handel's arias is relatively easy, but I spend a lot of time at the piano developing ornaments, keeping my cell phone recording, and just kind of spitballing possibilities for myself." A touchstone for him—in inflecting Handel's texts and phrasings—are recordings that the late Lorraine Hunt Lieberson made with McGegan, and he was thrilled to work with the British conductor in the Philharmonia Baroque's iconic First Congregational Church in Berkeley.
Three major European operatic debuts await the countertenor this season: another David at the Komische Oper Berlin, his role debut as Cavalli's Endimione (from La Calisto) at the Bayerische Staatsoper Munich under David Alden's direction, conducted by Moulds; and another Handel role debut, Athamas in Semele at Glyndebourne. "I'm awed by the legendary history of performing Handel there, including that Barrie Kosky production of Saul I loved performing in, and of course the legendary Theodora with Lorraine and that great cast."
As expected, he's expanding his concert repertory with HIP ensembles: Didymus (Theodora) with Philharmonia Baroque under Richard Egarr took place this past month, with Hamor (Jephtha) for Chicago's Music of the Baroque led by Dame Jane Glover yet to come. There's also a Messiah with Jeffrey Thomas' American Bach Soloists, and a concert with Matthew Dirst's Ars Lyrica Houston (where he sang Agrippina's Ottone in 2018).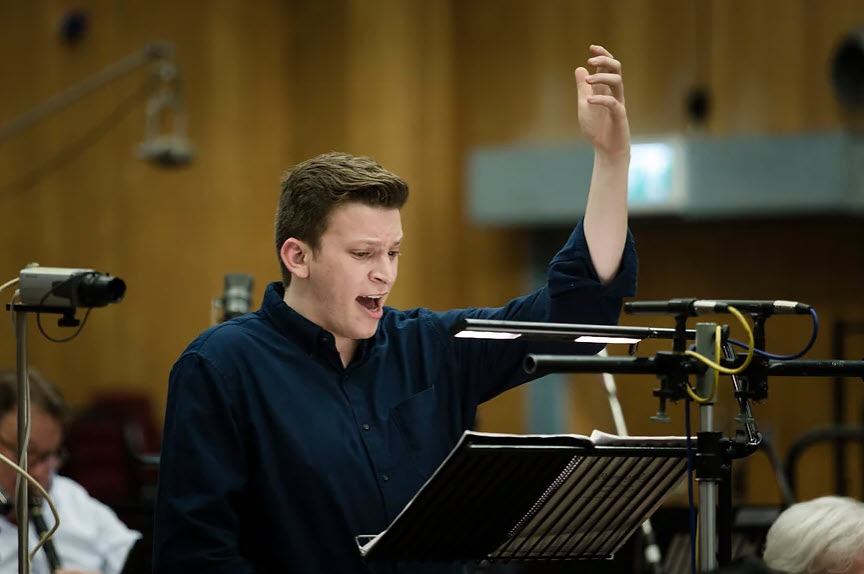 Like almost all today's young countertenors, Nussbaum Cohen also relishes opportunities in contemporary music. In May he made an acclaimed Met debut as Rosencrantz in Brett Dean's Hamlet (wittily paired with fellow countertenor Christopher Lowrey as Guildenstern). His experience as Oberon in A Midsummer Night's Dream doubtless helped with the sometimes Britteneque cast of the music for Dean's hapless courtiers.
Fortunately, most of his family and friends were able to savor his promising Met bow before COVID sidelined both countertenors for the next two shows. "Much as I love the Baroque idiom which drew me to this career, working with living composers rewards the much more difficult task of learning their complex scores." In the contemporary idiom, his bucket list role is The Refugee in Jonathan Dove's 1998 Flight. The character's "big aria remains a calling card for me, but I still haven't had the chance to do the complete role!" What's clear is that Nussbaum Cohen's stellar future in both Baroque and contemporary music seems assured.
Critic and lecturer David Shengold resides in New York City and writes for Opera News, Opera, Opéra Magazine, Opernwelt and has done program essays for the Metropolitan, Lyric Opera of Chicago, Washington National Opera, ROH Covent Garden, and the Wexford and Glyndebourne Festivals.
Recent EMA Features
A Q&A with Music Before 1800's new artistic director Bill Barclay: 'If people are going to take a risk of coming to a concert for the first time, they need something to hold on to'... it's 'sadly a bit of an exclusionary pleasure — you have to know a little bit to get a lot out of it, unless there's something that resonates and makes people understand that early musicians are arbiters of ancient insights into human performance.'
The latest essay in EMA's 'Early Music: the Americas' series looks into the private notebooks of two women who preserved music of Latin American and European composers -- music that in some cases is found nowhere else.
Video games generate more revenue than the movie industry, and many games are set in 'legendary times' that cry out for an early music soundtrack. As technology improves, many games employ early music not just as background but as element of play.