by Jacob Jahiel
Published August 15, 2022
Conclave Report: Straddling the line between an intensive, week-long workshop and a wild Mountain Man expedition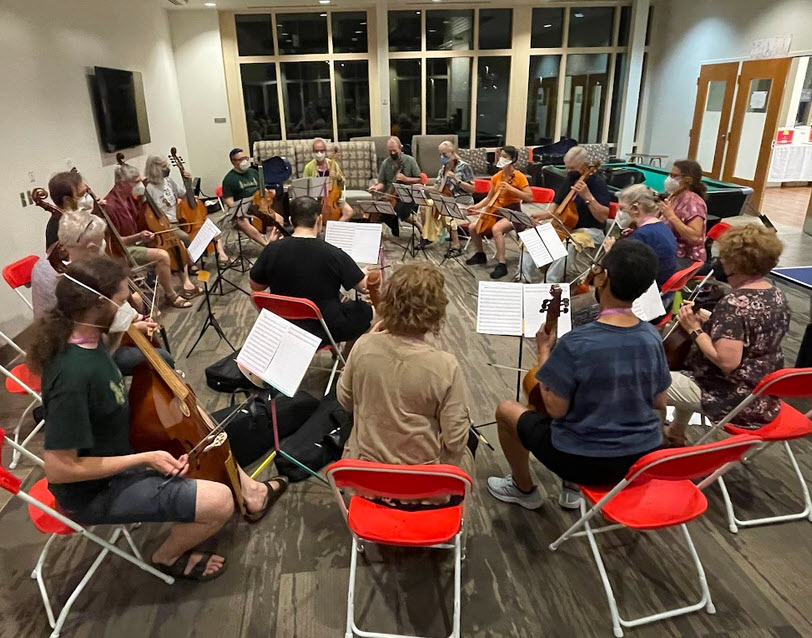 A few weeks ago, as the sun set on the bucolic college town of Oxford, Ohio, I was looking to steal someone's spot. Consort music emanated from every corner of a Miami University dormitory where clumps of gambists had gathered in alcoves and common areas. As one group reached a final cadence, I saw my opportunity to jump in, tapping the shoulder of a treble viol player to request a turn in the circle. In almost any other musical setting, asking someone to vacate their chair, grabbing their instrument, and taking their place in an ensemble would be considered either rude or weird. But at the 60th annual Conclave of the Viola da Gamba Society of America (VdGSA), it's the norm, a sign of camaraderie that I shared with almost two-hundred amateur and professional viol players.
The theme of this year's Conclave, "Many Happy Returns," proved apt, and we were eager to make up for a couple of lost pandemic years. After welcoming remarks in Miami University's spacious, wood-paneled Heritage Room, gambists from North America and beyond excitedly unpacked their instruments, rosin'd their bows and, a first-night tradition, prepared to play en masse. Most made a halfhearted attempt at tuning, a futile effort amidst the sea of viols and, inexplicably, one squeezebox concertina. But the point wasn't to play in tune, or even to play the right notes. It was just to make music together again.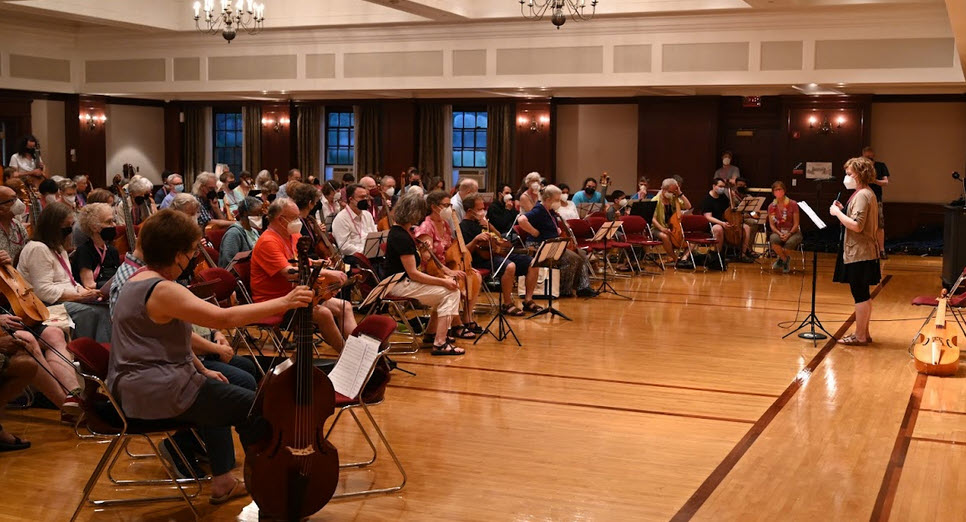 Conclave straddles the line between a week-long intensive workshop and a wild Mountain Man expedition. Participants typically enroll in two to four classes but go as much for social aspects as educational. While many are lucky enough to play together regularly, others haven't sat beside another viol player in years. But at Conclave, everyone has a chance to play late into the night. When not playing or taking classes, participants can attend faculty and student recitals, hear lectures and demonstrations, browse an extensive emporium, or bid in the live and silent auctions.
Conclave began in the early 1960s, an annual gathering held in rural Maryland living rooms. As numbers swelled beyond the capacity of a private home, it shifted to college campuses across America. John Moran, president of the VdGSA, estimates that in-person 2022 enrollment reached just shy of its pre-pandemic numbers. In addition to the 174 participants who registered in person, 75 people registered for online classes, a holdover from the two Zoom Conclaves in 2020 and 2021.
Coinciding with a peak in COVID infection rates amidst a summer wave, Conclave took precautionary measures to protect everyone's health: vaccinations, boosters, and a pre-arrival COVID test, of course, but also two self-administered rapid tests through the week. Indoors, masks were mandatory, except when eating or speaking to an audience. Only one person tested positive during the week.
"That's sad," Moran told me, "but in the current climate, I think it's a testament to how well people have been following the masking rules, and how people really care about the community here."
Conclave's faculty draws from many of North America's most experienced and accomplished violists da gamba, whose knowledge and enthusiasm for teaching facilitate rapid growth in their students. But outside the classroom, whether in the dining hall or a nighttime reading session, the delineation between teacher and student seemed to decay.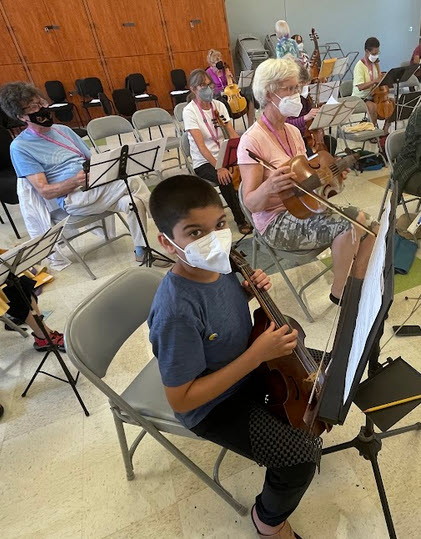 "One of Conclave's defining features is that everyone is basically equal," said 11-year-old Cayden Taylor, a formidable treble viol player from Northern Virginia who was accompanied by his parents. "There's not much of a hierarchy between teachers and students. Even teachers are taking classes. It really helps build a sense of community." Taylor, who reads ancient treatises in his free time, effortlessly gave an explanation of the hexachord system to his Renaissance viol class. He quickly found fans in the Conclave crowd.
While a handful of advanced classes explored the viol's virtuosic solo repertoire, Conclave is dominated by consort music—polyphonic works typically written for three to six players. Although a few passages contain devilishly difficult licks and offer room for counting errors, the challenges posed by consort music are more often musical than technical.
"Part of what happens here is that the repertoire for the viol, the consort music, means constant discussion, interaction, constant conversation, and the parts are always completely equal," Moran noted. "That fosters a kind of communal spirit, I think. It either fosters it, or it's attractive to people who are looking for that. That's something we have that goes with the instrument."
While the bulk of consort music draws heavily from the Renaissance and Baroque eras, audiences and players also enjoyed more recent repertoire, from 20th-century Minimalism to video game music.
2022 is also the year of the 12th International Traynor Competition, a contest held every few years aimed at fostering new music written for the viola da gamba. It commemorates the memory of Leo M. Traynor, the VdGSA member who inaugurated the first two competitions. In the spirit of community and accessibility, the rules stipulate that entries be written for small ensemble and must be accessible to intermediate level players. The VdGSA received 36 submissions from nine countries. Music by the four finalists, performed by Conclave students, were placed on a ballot. Finalists included "He Came All So Still" by Helder Alves de Oliveira, "Resist" by Richard McIntyre, "Thorny Roses" by Jean Henderson, and "equilibrium" by Heather Spence. Spence, a marine biologist, composer, and longtime VdGSA member, won the audience prize with her colorful and high-octane composition.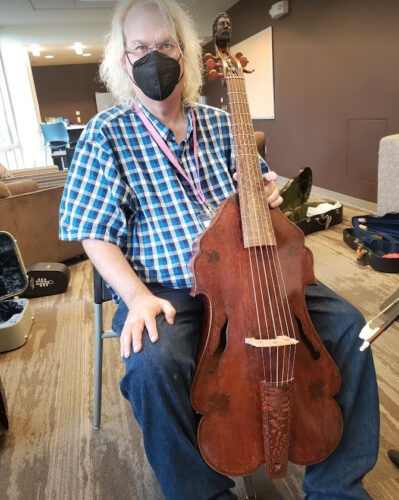 Moran estimates that about 40 participants, almost a quarter of Conclave's attendees, were newcomers, adding "For those that don't play the viol yet, this is a wonderful place to learn." Conclave offers a special Beginning Viol curriculum focusing on basic technique and ensemble skills, although even rookies to the instrument typically possess some musical training.
Lynn Hizer had only held a viol for the first time in May. The night before receiving the instrument, she had a dream about opening the case for the first time, although attending a week-long viol workshop hadn't crossed her mind. When she met with Moran to receive one of the VdGSA's rental viol, he immediately asked her, "So are you coming to Conclave?"
Possessing some experience on modern cello and holding a masters and doctorate from the Historical Performance Program at Washington University in St. Louis, Hizer was confident in her musical ability. But she did wonder about what kind of community she would encounter at Conclave.
"Would I get to play in an environment that is supportive for a beginner? I worried about that, and that I would be in an environment where I would be able to play and be coached." The answer? "Yes, and way beyond it."
On the first night, Hizer recalls how, during one of the informal evening sessions, she confided in a more experienced player that, while she might be able to get the rhythms, she would likely miss many of the pitches. He assured her not to worry, exclaiming, "just play!" The idea that she did not need to hit every note was a revelation.
"People were supportive and actually asked me to jump in. I cannot remember any situation, even as a student, where someone said jump right in and just make music, the rest will come later. You're welcome to do it, and we'll help you." By the end of the week, she was performing cantus firmus lines in the student concert.
Diversity and inclusion lag in the field of early music, and the VdGSA recognizes that the viol world is no exception. Patricia Ann Neely, a faculty member who chairs the organization's Equity, Diversity, and Inclusion Committee, told to me that, in the classical music world, "people are trying so hard to make people who aren't necessarily in the community feel comfortable. And that can get to be kind of patronizing because you are putting them on a pedestal. But here, it's so natural, everyone just wants everyone in this community to be happy and playing."
But a welcoming culture alone is not enough, so Neely also stresses the importance of material support, pointing to scholarships and special programs aimed at assisting young players. Work-study options, instrument rentals, and special programs help mitigate costs, which at Conclave typically run just over $1,000. Beginning in 2021, Neely spearheaded Conclave's free online Beginning Viol for Teens. She drove to each of New York City's five boroughs to hand-deliver loaner viols. Nine participants enrolled in the program, which was renewed this year.
Finally, after a week of intense music-making, old friends and new acquaintances shuffled into the Heritage Room once again to attend the final banquet.We were deliriously tired but grateful to be together. Towards the end of the meal, as plates were being carried away, piles of sheet music made their way around each table. It was time for a final Conclave tradition: singing the farewell "Viola da Gamba Song." With one last chance to make music together, voices flooded the room, ending with a final refrain:
Yes, we've seen a viola da gamba

And we love its beautiful sound.

Yes we've seen a viola da gamba,

And there can't be too many around!
Jacob Jahiel is a writer and violist da gamba residing in Montréal. He was a 2022 Rubin Institute for Music Criticism Fellow and is a recent graduate of the Jacobs School of Music at Indiana University, where he obtained an M.A. in musicology with an outside field in historical performance.
Recent EMA Features
A Q&A with Music Before 1800's new artistic director Bill Barclay: 'If people are going to take a risk of coming to a concert for the first time, they need something to hold on to'... it's 'sadly a bit of an exclusionary pleasure — you have to know a little bit to get a lot out of it, unless there's something that resonates and makes people understand that early musicians are arbiters of ancient insights into human performance.'
The latest essay in EMA's 'Early Music: the Americas' series looks into the private notebooks of two women who preserved music of Latin American and European composers -- music that in some cases is found nowhere else.
Video games generate more revenue than the movie industry, and many games are set in 'legendary times' that cry out for an early music soundtrack. As technology improves, many games employ early music not just as background but as element of play.