by Wendy Heller
Published August 15, 2022
Before the Music Stopped: The Life of a Professional Musician, 1965-2000 by Peter Bassano. Giustinani Publications.
During pandemic lockdowns, many professional musicians switched to online life, maintaining their studios on Zoom, starting a YouTube channel, participated in online performances. Others used the opportunity to adopt puppies or bake sourdough bread. Peter Bassano used this unexpected pause to write an engaging book that not only tells the story of his remarkable career, but also provides a fascinating glimpse into the history of music performance and concert life in England during the second half of the 20th century.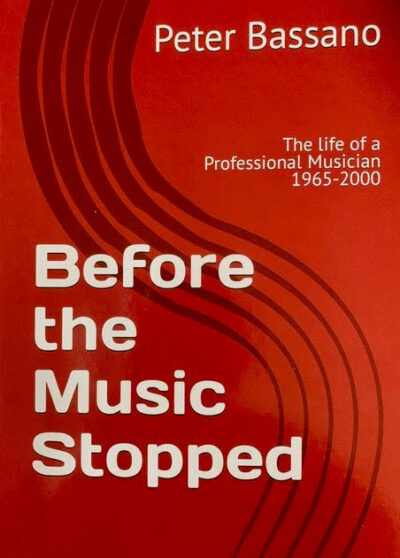 While some enter the music business because of family traditions, few can compete with the author's pedigree: the Bassano family, originally from the town known today as Bassano del Grappa, near Venice, was one of the primary musical links between Venice and England in the middle of the 16th century. Peter can count among his ancestors the five Bassano brothers who came to England to serve in the court of Henry VIII; another of his relatives, Jeronimo Bassano, was one of the foremost cornetto players in mid-17th-century Venice.
Our current Peter Bassano did not have the benefit of a royal appointment. Instead, he first took up the trombone when his father enrolled him the Young Peoples Band of the local Southend Salvation Army.
A brief review cannot do justice to the range of musical experiences that Bassano describes in this compelling book. From his early efforts to develop a solid trombone technique, his studies at London's Royal College of Music, to a major international career, Bassano did it all. As a member of London's Philharmonia Orchestra and as a freelancer, he played with the major orchestras and opera companies during a glamorous period of classical music in London, and performed under many of the major conductors of the era—from elderly Otto Klemperer and Sir John Barbirolli to young Riccardo Muti and Simon Rattle, among many others. He played incidental music for theater, film, and television, as well as pop music and the avant-garde. Along the way he turned to conducting. Most interestingly for our purposes, he also played early music.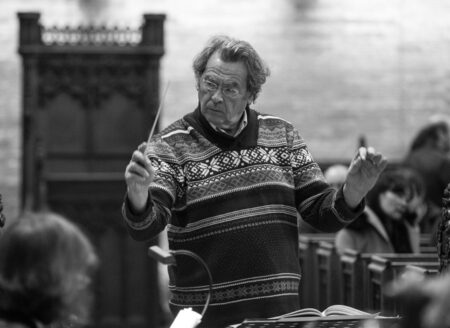 One might not expect that a trombonist would accompany plays at London's Old Vic and Sadler Wells with such stars as Albert Finney, Maggie Smith, and Derek Jacobi or land an unexpectedly lucrative gig with The Beatles playing "Hey Jude" (and even singing along with the "nana nah nahs"). Among the film scores that he played are Lion in Winter, Oliver!, Women in Love, The Meaning of Life, and Out of Africa. Fans of the BBC series I, Claudius might remember the distinctive brass opening that set the stage so brilliantly for Imperial Roman debauchery. Then there were all the great singers he accompanied in the pit at the English National Opera and Covent Garden. He describes the excitement associated with the London appearance of the Three Tenors and a "mystery" recording session in 1974 with Maria Callas. Bassano's description of the London Sinfonietta's performance of Edgar Varèse's Equatorial is one of many humorous anecdotes: the recorded tape apparently sounded like "a drunken Irish party with crashing and banging," eliciting "uncontrollable giggles in the trombone section."
But Bassano also played a seminal role in the historical performance movement, following in his ancestors' footsteps by taking up the sackbut as a member of the newly formed Sinfonia Sacrae in 1970.
Through Bassano's eyes we gain an intimate look at David Munrow ("one of the rare musicians who—without appearing to work hard at it—strongly influenced any performance in which he took part, whether as an instrumentalist, a conductor or presenter"), reminding us as well of Munrow's extraordinarily creative programming (such as the Dance Music of Four Centuries in 1974). Bassano writes movingly of his grief upon learning of Munrow's death by suicide in 1976.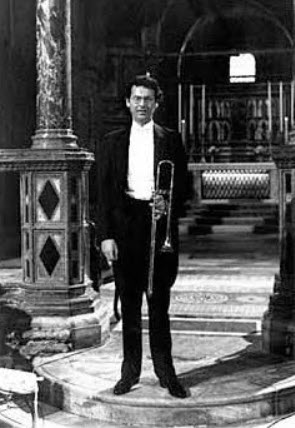 But it is conductor John Eliot Gardiner who seems to have had the most profound influence on Bassano. He first was exposed to Gardiner's historically informed approach to Monteverdi when he played modern trombone for an all-Monteverdi program at the Proms in 1969: "This was the first time I had ever heard any Monteverdi performed in this startling way," Bassano writes, "the musical encounter was like an electric shock going through me."
One senses that his relationship with early music is in some respects related to a growing interest in his remarkable ancestors. In the late 1980s and '90s, as a member of His Majesty's Sagbutts and Cornetts, he had the opportunity to organize a concert—along with members of the Monteverdi Choir— entitled "Venice Preserved" that commemorated the 450th anniversary of his ancestors receiving the grant to become court musicians to Henry VIII. He further explored Venetian music playing with the Gabrieli Consort, directed by Paul McCreesh.
Before the Music Stopped is not only a fascinating story of a musical life told by a passionate artist, but also a gold mine of information about British music and institutions in the last quarter of the twentieth century. Bassano is a thoughtful and engaging storyteller (sufficiently so that one can overlook the editorial imperfections and occasional misspellings that would have been avoided with better copy editing) and his generosity to his colleagues is palpable throughout. His Venetian ancestors would certainly be proud to know how much of their musical tradition was continued by their remarkable descendant.
Wendy Heller, the Scheide Professor of Music History at Princeton University, specializes in the study of 17th- and 18th-century opera from interdisciplinary perspectives, with emphasis on gender and sexuality, art history, and the classical tradition. Author of Emblems of Eloquence: Opera and Women's Voices in Seventeenth-Century Venice and Music in the Baroque, she is currently completing a book titled Animating Ovid: Opera and the Metamorphoses of Antiquity in Early Modern Italy and critical editions of Handel's Admeto and Francesco Cavalli's Veremonda L'Amazzone di Aragona.
Recent EMA Recording & Book Reviews
In a revealing look into the lives of 'ordinary' folks in 17th and 18th c. Germany, author Tanya Kevorkian taps a wealth of sources that detail city life, from religious beliefs to weddings to the rhythms and rules of town watchmen. With compassion and wisdom, the author notes that historians who look at street life "have to some degree replicated the perspective of the authorities."
Emily Zazulia's valuable 'Where Sight Meets Sound: the Poetics of Late-Medieval Music Writing' explores notational aesthetics in polyphonic music, where it's not obvious how you're meant to sing what's on the page.
Long undervalued, Alessando Scarlatti's vocal writing naturally weds singable lines with the Italian language. Ars Lyrica Houston's colorful new recording of a Scarlatti oratorio, with an outstanding cast, makes a brilliant case for this rarely heard music.