by Stephanie Manning
Published October 23, 2023
AGAVE: In Her Hands. AGAVE and soprano Michele Kennedy. Acis Productions. APL53714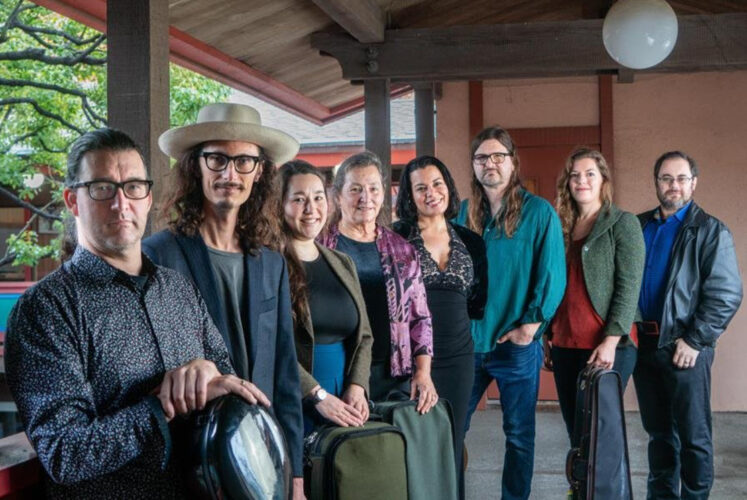 What a difference a single letter can make. In the case of AGAVE's latest project, that letter is "S," turning "he" into "she" to create "She's Got the Whole World in Her Hand." Margaret Bonds' setting of the classic spiritual appears at the tail end of the group's newest album, and by the time listeners get there, they will likely understand the significance of the change — the "she" who contains multitudes describes every composer included in the hour-long recording.
The San Francisco-based AGAVE is no stranger to uplifting underrepresented composers — their previous recording, American Originals, from 2021, spotlighted historic contributions from composers across the nation. In Her Hands, released September 5, applies the concept globally by focusing on women composers from the 17th century through the 20th.
The project is anchored by the light, versatile voice of soprano Michele Kennedy, making her solo recording debut. She appears throughout the album, including songs by Margaret Bonds that bookend the album: "Hold On" and "She's Got the Whole World in Her Hand." Members of AGAVE (formerly known as Agave Baroque) here perform on modern instruments and give these selections a folksy backdrop while Kennedy easily maneuvers above, passionate without being overly forceful.
Spirituals are far from the only thing in Kennedy's wheelhouse. The album, jumping rapidly between time periods and subject matter, challenges her on everything from Baroque ornamentation (Antonia Pandoani Bembo's "In Braccio di Maria") to Haitian Creole (Camille Nickerson's "Lizette, ma chère amie"). Some wayward intonation aside, such feats feel far from a challenge for Kennedy. Barbara Strozzi's heartrending "L'Eraclito amoroso" brings out the soprano's flair for the dramatic, with effortless register leaps encompassing the huge range of emotion. And in Pauline Viardot's stirring piano trio "Die Sterne," cellist William Skeen becomes almost a second voice himself, matching Kennedy's emotional energy as a duet partner.
The third member in this Viardot trio, pianist Henry Lebedinsky, partners again with Kennedy on some of the shortest, yet most memorable selections on the album. The lush soundscapes of "Sunset," "Night," and "To My Little Son" — all by Florence Price — are perfectly resonant in the acoustic of the First Presbyterian Church in San Anselmo, Calif. and are rendered delicately by the pair.
Woven in between excellent vocal selections like these are also instrumental works, with members of AGAVE in different combinations. Guitarist Kevin Cooper evokes a similar aura to the Price selections in his wistful solo outing, Catharina Josepha Pratten's "Forgotten."
Plenty of attention seems to have been paid to the pacing and order of the album, creating the push and pull of tension that provides intriguing contrast. Nowhere is this as well represented than in a trilogy of pieces toward the front half. The contemplative slow movement, Adagio ma non troppo, from Fanny Mendelssohn Hensel's String Quartet in E-Flat Major, punctuated at times by Skeen's thrumming cello pizzicato, is quickly followed by Claudia Francesca Rusca's lively Canzona Seconda à 4. The aura then reverts to brooding with Margaret Bonds' "Troubled Water," originally piano work arranged here for string quartet.
Although these works were written centuries apart, their placement unearths unexpected similarities — the opening of the Rusca could almost pass as a second movement to the Hensel. By mixing the selections in this way, the ensemble forges connections deeper than just the composers' shared womanhood, ensuring the hour-long journey feels truly AGAVE's own.
Stephanie Manning is a regular correspondent for ClevelandClassical.com and served as a fellow at the 2022 Rubin Institute for Music Criticism. A graduate of Oberlin Conservatory, she currently studies journalism at Concordia University in Montreal. For EMA, she recently reviewed Joseph Bologne's opera 'L'Amant anonyme.'
Recent EMA Recording & Book Reviews
In a revealing look into the lives of 'ordinary' folks in 17th and 18th c. Germany, author Tanya Kevorkian taps a wealth of sources that detail city life, from religious beliefs to weddings to the rhythms and rules of town watchmen. With compassion and wisdom, the author notes that historians who look at street life "have to some degree replicated the perspective of the authorities."
Emily Zazulia's valuable 'Where Sight Meets Sound: the Poetics of Late-Medieval Music Writing' explores notational aesthetics in polyphonic music, where it's not obvious how you're meant to sing what's on the page.
Long undervalued, Alessando Scarlatti's vocal writing naturally weds singable lines with the Italian language. Ars Lyrica Houston's colorful new recording of a Scarlatti oratorio, with an outstanding cast, makes a brilliant case for this rarely heard music.